MONTGOMERY – When Sandy Alexander took over as Montgomery's principal a few years ago, the community's notorious telephone and Internet challenges were already cause for concern.
"When you're the leader of a building with 140 students and 30 staff members and you have no cell service – I saw it as a security concern," Alexander told the Messenger last week.
Even Alexander didn't expect those concerns to become so obvious this spring, as gubernatorial orders shuttered schools to in-person learning in advance of a rapidly spreading pandemic finally arriving in the Green Mountain State.
Suddenly, students, families and staff were forced to rely on struggling cellular services and broadband access to manage children's learning for the remainder of the school year, something that, according to Alexander, had proven to be a challenge for their small Franklin County community.
Alexander said, as she fielded calls from her office throughout the opening months of the COVID-19 pandemic, she frequently heard from families with technology concerns.
The majority of calls coming from Montgomery families were related to technology, she said, and a large amount of those revolved around broadband. "A lot of it was a lack of reliability in Internet," she said.
In recent years, Montgomery has wrestled with Internet access as both a public safety issue and an economic issue.
A recent development initiative in Montgomery prioritized broadband and cellular services as one of the community's single largest barriers to economic activity. A subsequent report from Montgomery's broadband committee found communications challenges to also be "a significant public safety issue."
A 2019 survey from Vermont's public service department found much of the community outside of a stretch of Route 118 connecting Montgomery's two villages lacked access to upload and download speeds meeting the Federal Communications Commission's definition of "high speed Internet."
In 2019, the state reported only about a third of Montgomery households could access those higher speeds of Internet, a broadband deficit several of Franklin County's other more rural communities, like Berkshire and Sheldon, likewise struggled with.
Montgomery's story isn't unique in Vermont, either.
Vermont's public services department estimated in 2019 that about a quarter of the state likewise struggled with accessing upload and download speeds needed for meeting the FCC's standards for high speed Internet – itself a definition that some have criticized as inadequate.
For schools in some of Franklin County's most rural corners, those technology gaps hampered an already difficult and unexpected transition to remote learning.
According to the Franklin Northeast Supervisory Union (FNESU)'s superintendent Lynn Cota, the initial shock and subsequent challenges with technology were felt around her supervisory union, one that, alongside Montgomery, included other predominantly rural towns lacking consistent broadband access.
Those struggles extended beyond just Internet access, as well, as many students found themselves competing with family members for access to their homes' limited bandwidth, a challenge that still persists as schools partially reopened this week with students learning remotely three days per week, and in some cases, every day.
"The struggle we had in the past was not only did students struggle with brand new tools in a lot of cases, but also just the connectivity and trying to understand the expectations and sharing bandwidth," Cota said.
To that latter point, according to Cota, schools within FNESU have made it clear remote learning days won't explicitly require students to attend remote courses live, meaning students won't find themselves competing with family members who may likewise be working from home due to COVID-19.
"We recognize we still have those struggles," Cota said, "but I think we've been really deliberate about making sure it's clear our expectations are that, when it's remote, that it's not synchronous, because we know we don't have the bandwidth… that synchronous activity requires."
Educators like Cota and Alexander are also more confident with schools' partial reopening this fall and the remote learning expected to follow because, for at least half a week, students will still be attending school in person, allowing for instruction free from Internet connections jammed with multiple users.
At the Montgomery Elementary School, roughly 120 of the school's 140 students will be participating in the so-called "hybrid model" that blends two days of in-person learning with three days of learning from home, according to Alexander.
Another six students have opted for FENSU's virtual academy, according to Alexander, and several other families have opted for homeschooling.
For the small, mountainside school – Montgomery Elementary School sits above an uphill road looking over Route 118 – the coming school year has also brought optimism for its team of educators.
For remote learners, according to Alexander, the last family without broadband access altogether was connected within the last days of August, meaning an increasingly less likely chance that educators will see students holed up in cars in the school's parking lot to tap into the elementary school's wi-fi.
Meanwhile, while the educational gaps widened from the transition to remote learning are still largely unknown due to students' months-long absence from school, Alexander said she felt better about being able to properly address those gaps now that the school has had a chance to plan for a pandemic-informed school year.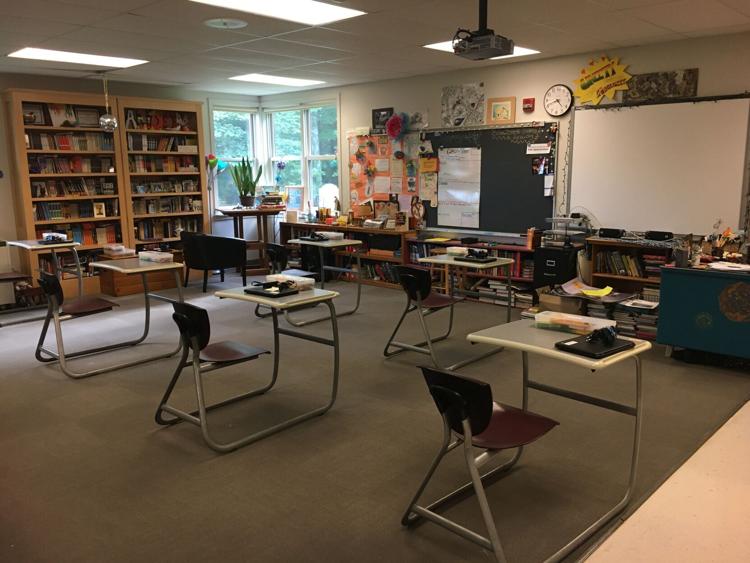 There are still concerns for those remote days, according to Alexander, who, as a local, likewise struggled with Montgomery's infamously "unpredictable" Internet services, but with students physically in school and consistent planning on administrators' part, she said she felt better about this coming school year.
Besides, for Alexander, who spoke with the Messenger only a few days before the first day of school, the excitement of another school year seemed to help outweigh some of the anxiety that came with teaching in a pandemic.
"I cannot wait for our students to walk through those doors," she said. "It's a different place without them."