FRANKLIN COUNTY — For the first two years of her daughter's life, Heather Garceau chose to stay home and raise her. 
It wasn't until she decided to go back to work in 2018 that she realized how challenging it was to find care in Franklin County. 
"That's when I realized how big the need was," Garceau told the Messenger. 
Fortunately, her education and background allowed her to start her own child care center. Almond Blossoms Schoolhouse opened in St. Albans City that fall, and a location in Fairfax followed quickly in the spring of 2019. 
Now, in 2022, having experienced a pandemic and record inflation, we hear we are living in the midst of a child care "crisis." But what does that mean? And how bad is it? 
The Messenger set out to begin to answer those questions by publishing a six-question, anonymous survey to learn about readers' experience with child care in Franklin County. Shared on our website and on social media, it garnered 45 responses, of which 41 were from women. 
"Accessibility, affordability, availability. Child care is everyone's business because everybody benefits economically," one survey respondent wrote.
More than half of respondents to the Messenger's survey said that while the rising cost and complicated logistics of child care have not impacted their ability to work, they do worry about those factors. 
But 31.8%, or 14 respondents, of which 11 were women, said they had to leave their job in order to care for their kids. 
"If people aren't able to work because they can't afford child care or they can't access child care, then the entire community is going to be affected," said Lisa LaBelle, owner of ABC Academy in St. Albans. "That's why I like to say we are the workforce behind the workforce. Because you can't go to work if you don't have child care." 
The U.S. Census Bureau estimates that approximately 71.5% of Vermont children under age 6 have parents who work full time. 
In Franklin and Grand Isle Counties, that means approximately 2,420 children are likely to need care. To meet that demand, 1,503 more spaces would need to be added in centers and programs across the region, according to 2021 data from Let's Grow Kids, a Vermont-based nonprofit. 
Distance and capacity
While there are 24 licensed centers and home care providers for newborns to children age 6 in St. Albans, there are 13 in Georgia, five in Enosburg and just two in Bakersfield. 
It is perhaps because of this scarcity in more rural parts of the county that some families — 23.3% of Messenger survey respondents — travel 10 to 20 miles for child care. 
Others are turning to close relations to watch their kids. 46.5% of survey respondents said they travel less than five miles and utilize family or friends.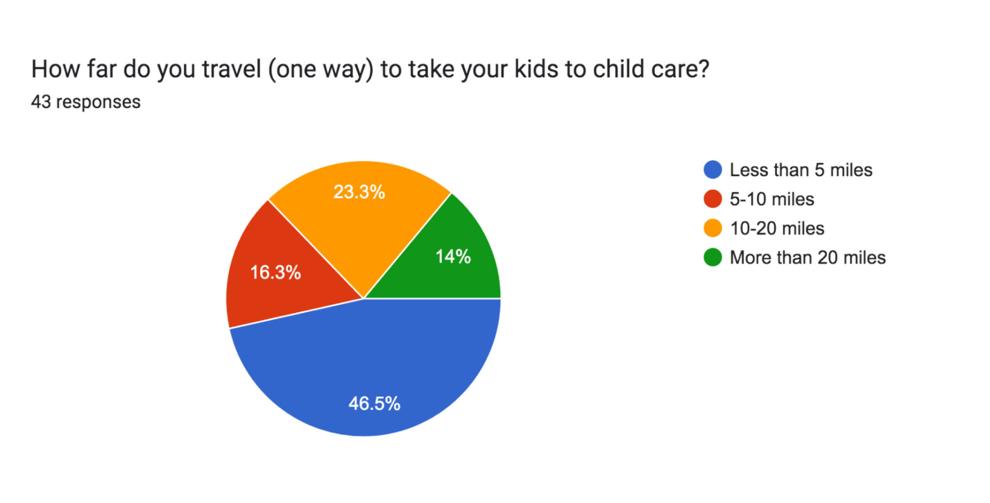 "If you live outside of St. Albans, you have very few licensed options," one survey respondent wrote. "The day care center we used for our child in Enosburg Falls originally closed a few years ago leaving my wife and I scrambling to find child care since we both work full-time."
Lisa LaBelle, owner of ABC Academy, expanded from Milton to St. Albans in 2021. She saw an opportunity to grow and fill a hole after the Y day care closed earlier that year.  
Open for 25 years, the Y in St. Albans was the only five-star accredited child care facility in the area. Sixteen employees lost their jobs and 38 families lost child care.
"There was a need in the community. I wanted to be able to help with that and support the families because St. Albans is fantastic," LaBelle said. 
Not only are providers few and far between, the ones that are around are at full capacity. 
Heidi Connell runs a licensed program out of her home in Swanton, and she is at her state-mandated capacity of 10 kids. She has five families on her waitlist and receives several phone calls a week from parents inquiring about open slots. 
"It's a nightmare, quite honestly," she said. "If [the state] were willing to bend a little bit and let somebody like me who's well-trained and been doing this forever carry a couple extra, we might solve the child care crisis a little bit."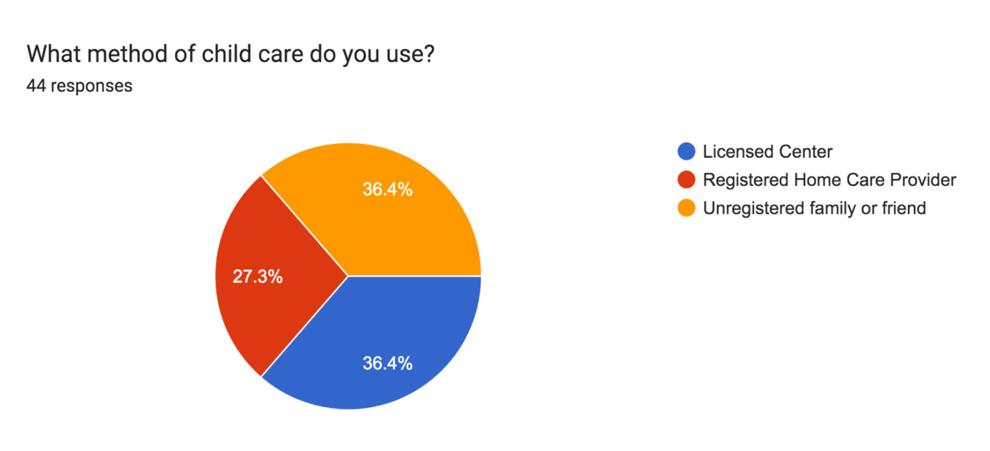 The St. Albans Early Learning Center, a division of Champlain Valley Head Start, will be full this fall too. Director Sandra Graves said it is really difficult to turn people away from the program, which is federally-funded and free to qualifying families. 
She can usually find families a spot at another CVHS location, but that might be outside of Franklin County. 
Next Generation, LLC in Georgia is also at capacity with 42 kids. Director Gracie Woodward said of the center's six locations, the one in Georgia has the longest waitlist, most likely due to its convenient spot just off Exit 18.
But at Almond Blossoms Schoolhouse in St. Albans, space will soon be opening up. Thanks to a $35,000 Vermont Community Development Program Implementation grant, Garceau has been able to renovate the center's century-old Victorian house to include more classrooms. 
"We actually just finished the work a couple of months ago, and now we're on to the next phase: finishing up the playground," she said. 
Renovations have increased the center's state-allotted capacity from 30 to 58 children, but Garceau has not yet opened some of those new slots due to staffing struggles. 
"I've held back on opening that last room because I want to make sure that we are bringing team members on who are meeting the qualifications and the quality that the center is known for," she said. 
Increasing costs 
Most respondents to the Messenger's survey, 39.5%, said they spend 15-20% of their annual income on child care. 
The average amount of income spent statewide for in-center toddler care is 25.3%, or $13,632 per year. That's the most expensive care in the United States, according to 2021 data published by Child Care Aware of America, a nonprofit advocacy group. 
"A friend of mine is facing having to pay between $280-350 a week for care for her newborn once they arrive," one Messenger survey respondent wrote. "That's absolutely insane and is more than my mortgage each month."
Providers said child care has become more expensive in recent years due to rising costs of food, utilities and because staff need to be paid a competitive wage. LaBelle, owner of ABC Academy, said she had to raise her rates significantly this year in order to retain employees. 
"It's a really important job, but if you're not able to make enough money to feed your family, you're going to go do something else," she said.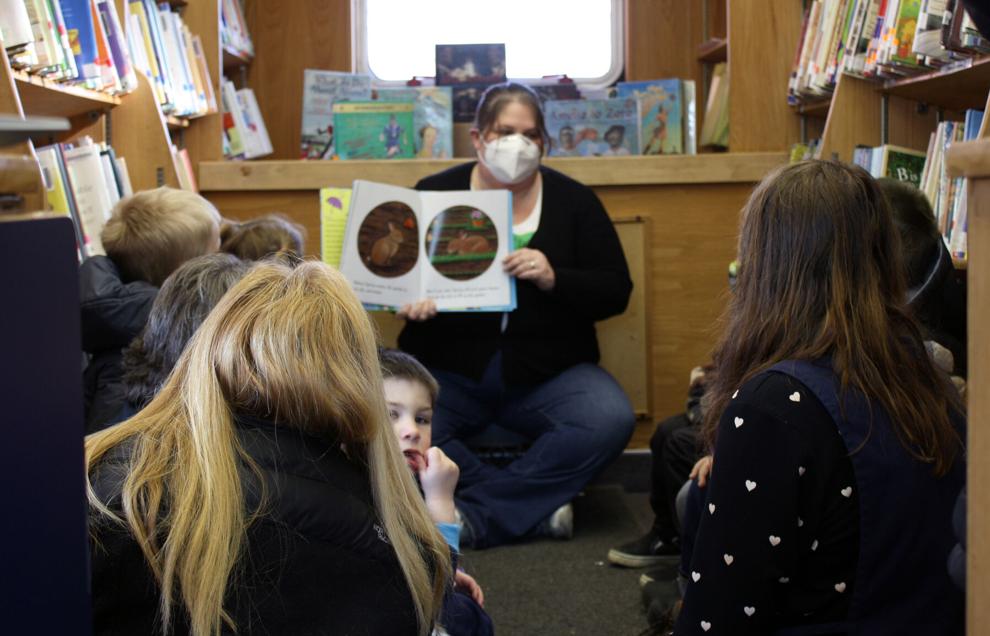 Most of the families who attend ABC Academy have been understanding of the cost increase. Woodward said the same is true at Georgia's Next Generation. 
Connell, the home provider in Swanton, said she raised her rates for families in 2022 for the first time in five years. She doesn't have any other staff to pay, but her own cost of living increased due to the pandemic, and she needed to raise prices accordingly.
Garceau at Almond Blossoms Schoolhouse also had to raise her rates in order to pay her staff what she said they are worth. 
"I am paying staff a lot more than what I was paying them two years ago," she said. "It's just crazy how much the cost of living and everything has gone up since the pandemic."
In May 2021, the U.S. Bureau of Labor Statistics reported the annual mean wage for child care workers in Northern Vermont's non-metropolitan area was $32,320. 
Georgia's Next Generation is fully-staffed, Woodward said, because the owners, Sarah and Dave LeBlanc, go above and beyond when it comes to benefits and pay. 
"They just really care about the child care crisis, so we have lucked out with staff retention," Woodward said. 
Teaching and training solutions 
This past spring, Heidi Connell realized a long-time dream and earned an associate's degree in early childhood education. 
"It's very exciting because I went back to school after a very long period of time of not being in school, and I really wanted to be that much better in my field," she told the Messenger.
Connell was a busy woman, studying while juggling her licensed home care in Swanton. When the kids were napping mid-day, she would turn to her books and coursework. 
Earning her degree was a personal goal, she said, but it does allow her to now pursue other professional opportunities if she so chooses. Connell could venture out of home care and open her own center or work at one that's already established. 
But even though Franklin County is in desperate need of slots, she can't increase the capacity of her current home program. 
"I do try to be pretty positive, but I think that the state makes it difficult," Connell said. "They really make people want to run, I'll be perfectly honest. But I'm not running right now."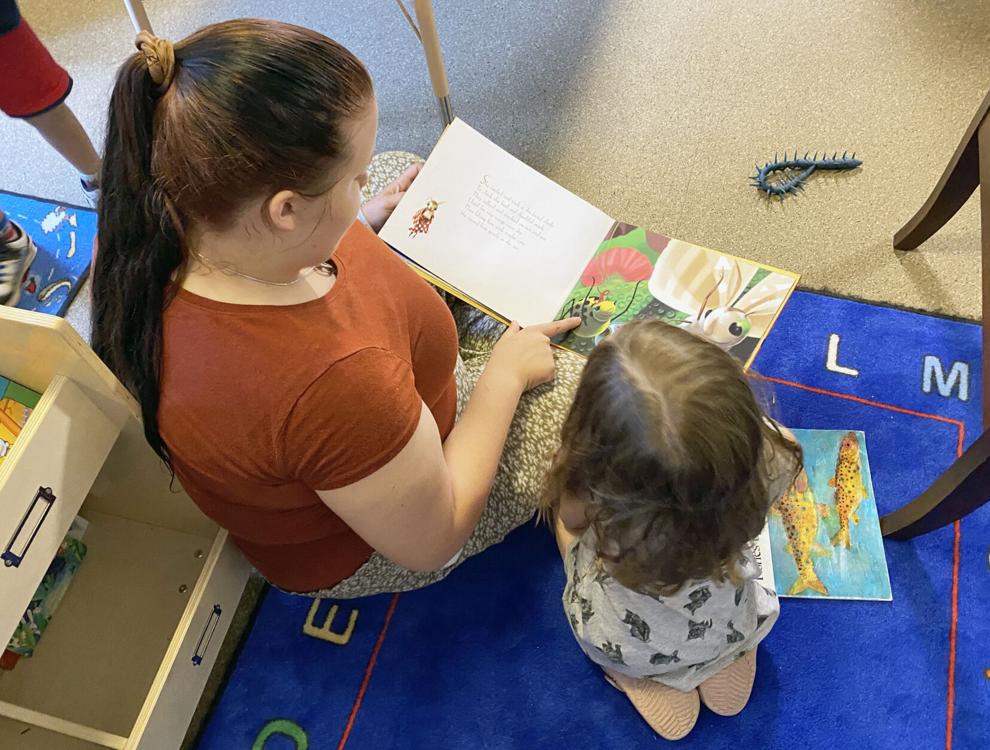 Across Champlain Valley Head Start's centers, there are six staff vacancies, Sandra Graves said. The program has never started a school year this way before. 
"We're in a workforce crisis," Graves said. "I think people left the field during the pandemic because it's been incredibly hard to do that direct service." 
At Northwest Career and Technical Center, Jennifer Konrad and Beth Richey are doing their part to help solve the crisis by getting more students interested in, and trained for, child care jobs. 
The school's two-year Human Services program is open to juniors and seniors and has been gaining traction in the last few years, Konrad said. For the upcoming year, it is already at capacity with 16 students enrolled. There's a waitlist too. 
While Human Services encompasses students interested in mental health, social work and the elderly, it also includes early childhood education. 
During the program's first year, students take a course during which they complete the nine-hour Northern Lights training that is required as part of child care licensing in Vermont. Students also become certified in pediatric CPR and first aid. 
In the second year, students can participate in Vermont's Early Childhood Education Pre-Apprenticeship program, which gets them paid experience in NWCTC's preschool or a local classroom, and credit toward a college degree. 
Champlain Valley Head Start requires a bachelor's degree for teachers and home visitors and an associate's degree for teaching associates. When asked if those qualifications were hindering filling open positions, Graves said the program was evaluating options. 
"We do set the bar high," she said. "We are really looking at that, but I don't want to sacrifice quality either."
Upon completion of Human Services or the similar program at Cold Hollow Career Center in Enosburg, students can take their earned credits to college or enter the workforce lower on the career ladder.
"The conversations I have with centers are similar every year: staff are turning over and not enough applicants are qualified. So I'm excited that my students are going off to college and hopefully some of them will come back and work in the field," Konrad said. 
Hard, rewarding work
For Kayla Decoste, a child care worker at Almond Blossoms Schoolhouse, the most rewarding part of her job is getting to be a positive influence on a child's life. 
Her colleague Kendra Lillquist agrees. On Tuesday this week, she served a lunch of pasta and green beans in the toddler classroom with a smile on her face. 
"What I enjoy most is watching kids' personalities blossom, being a positive influence on their day-to-day life and teaching them lifelong skills," Lillquist said. 
It is safe to say that kids receiving care in Franklin County know nothing but the pandemic, which might make them feel more isolated and puts the responsibility teaching essential social skills on the backs of providers.  
But despite the struggles child care workers are facing — low pay, long hours and high demand — for many, it is still a dream job or even the carrying on of a family tradition. 
After helping to raise her younger siblings, Connell became fascinated with children's social-emotional development. LaBelle's grandmother ran a home care program, later inspiring her to enter the profession herself. And when Woodward was looking for a career change, her mother-in-law encouraged her to work at Next Generation. 
"I started dating her son, and then I was looking for a change, so I just kind of started as support staff here, and I ended up working my way through college and fell in love with it," Woodward said. 
At NWCTC, Konrad and Richey try for a tricky balance: conveying the difficult reality of the profession while sharing its rewards. 
"Beth is so good at saying this is really hard work," Konrad said. "We do have students who are natural nurturers and helpers, but right up front we say this is challenging, and you have to be really intelligent and thoughtful and patient.