GEORGIA – Georgia officials agreed to close most of the town's municipal buildings to the public until further notice during an emergency meeting held Monday morning in response to the possible spread of COVID-19.
While the town's offices will still be staffed, the offices were closed to the public as of Monday.
Staff will still be able to handle and process requests from the public remotely and through the town's drop box, the town's selectboard agreed during Monday's emergency meeting.
Permitting, according to Georgia officials, would be conducted by either phone or email through the town's zoning office.
While dog registrations are still due to the town, officials agreed to waive late fees for registering until May 1.
The town's public boards will continue for the time being meeting in public over matters officials deem "essential," with officials asking that anyone planning on attending a public meeting ensure they have not had contact with anyone showing symptoms of COVID-19.
The selectboard also agreed to allow sick staff members to call-in ill and tap into accrued sick leave pay even if employees had not accrued enough sick leave, effectively allowing staff to "go negative" on accrued time if health concerns warranted it.
As for what would happen if those health concerns were later confirmed to be a case of COVID-19, the selectboard agreed to "wait for guidance," in the words of the selectboard's vice chair Steve Lamos, as to how to handle an employee's pay.
Georgia's fire department and its accompanying conference room are now likewise closed to the public, with the selectboard's chair Matt Crawford telling the Messenger in an interview Friday the town planned to rely on the fire department as an emergency response command center.
During Monday's meeting, Georgia's fire chief Keith Baker said the fire department would likely limit its own access to the building to emergency responses and not run any training sessions out of the building for at least a month.
"I think keeping people out of there… is probably a good thing," Baker, who also serves as the fire department's infections control officer, told the board.
The Georgia Public Library will also be closed until further notice, with the library's staff now exploring ways to provide services remotely – though programming like virtual book clubs and story time – and circulate books while limiting staff and patrons' possible exposure to COVID-19.
A lot of the library's work could be handled remotely in case library staff needed to stay home, librarian Birdget Stone-Allard told the selectboard Monday.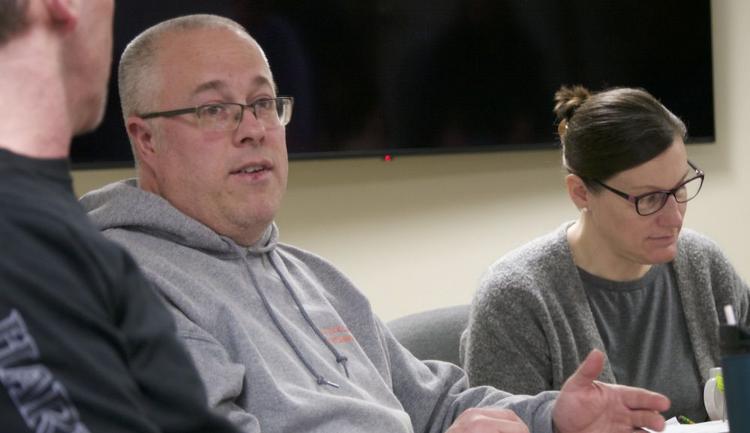 The library still sought to "provide a sense of normalcy" for families as schools and other services close in response to the pandemic, according to Stone-Allard.
The town has meanwhile revised its first response policy according to guidance from the Centers for Disease Control and Prevention (CDC) to allow Georgia's first responders to avoid exposure to patients who may have screened positive for COVID-19.
"If [dispatch gets] a call from somebody in the Town of Georgia who screens positive for COVID-19, they are not dispatching Georgia First Response," Georgia First Response's chief Andrew Dunsmore said. "They're only sending AmCare."
The policy, according to Dunsmore, was generic enough for use in other infectious disease outbreaks so Georgia "can use this and not have to change it in the future," Dunsmore said.
Georgia's highway department, like its fire department, has also been closed to the public as of Monday morning.
Georgia's actions came as the known number of cases of COVID-19 in Vermont continues to grow, with state officials confirming Monday that 12 individuals — eight from Vermont and four from other states — had tested positive for COVID-19.
While most were sent home to self-isolate, some have been hospitalized and at least one – an older man in Chittenden County – has been determined to be in "critical condition."
There remains no known cases of COVID-19 in Franklin County as of Monday afternoon.
Crawford, speaking to a room of Georgia officials, led Monday's meeting with a message he had seen that he felt summarized why he and other officials, including town administrator Amber Baker, thought their precautions were necessary.
"I did see a Tweet that said something along the lines of 'Are we doing too much? Are we overreacting?'" Crawford said. "Really, there's no way to know if that's ever going to be the case, but we will know for sure if we didn't do enough."
More information on steps Georgia is taking to mitigate COVID-19 risks is available online at https://www.townofgeorgia.com/.
Information on COVID-19 in Vermont is available at healthvermont.gov/covid19.