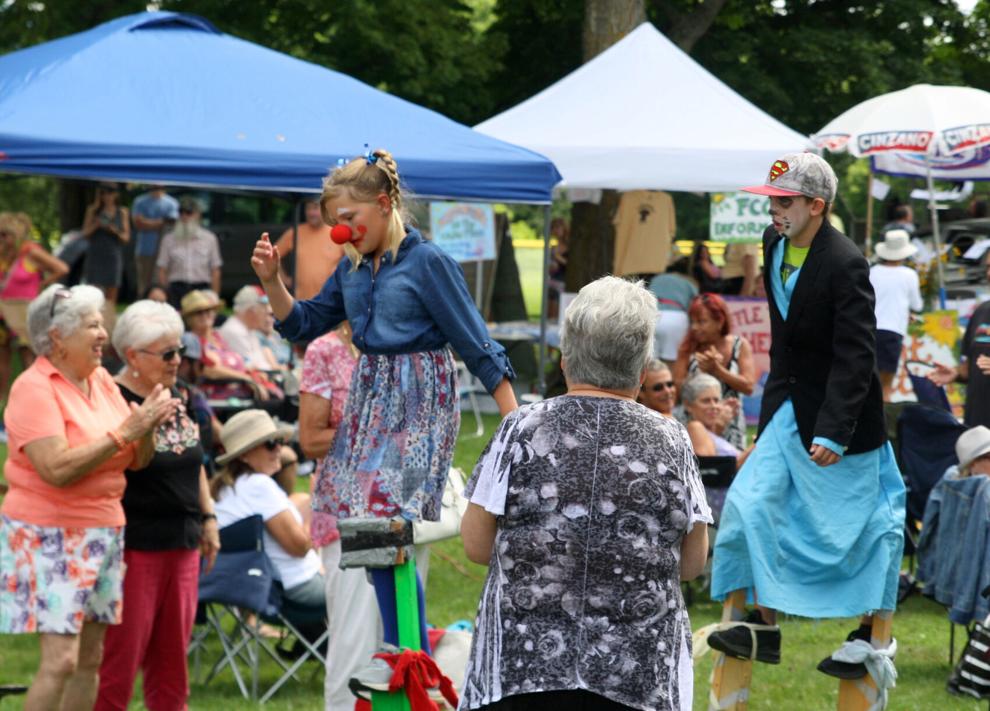 EAST FAIRFIELD — As the sun sunk toward the horizon Sunday, the crowd grew and grew on the green of the East Fairfield Meeting House to hear a jig or two in the valley.
"It's perfect," event organizer Michele Bessett said from the food tent.
Stretching from noon to dusk this past Sunday, East Fairfield's Jig in the Valley served as the community's 30th annual fundraiser for the Fairfield Community Center. The weather couldn't have been better as people settled in for a day of music surrounded by food, friends and family.
Bands featured during Sunday's event included the Dale and Darcy Band, the Missisquoi River Band, Big-Ass Revue, Carol Ann Jones & The Superchargers, the Joe Moore Band, the Nobby Reed Project and Shake.
And just like the years before, all the musicians donated their time to provide attendees with a sampling of Fairfield's creative heritage.
"This area has always been rich in musicians," Bessett said.
While the performers were the days' highlight, attendees could also grab art pieces or food from vendors set up on the peripheries of the green.
At the "Pickle Shack," Justin Lussier sold the pickled goods he produces just down the road. He said he and his family homestead, and they've been at it for the last decade to build their own local food system.
At this point, Lussier said the family spends less than $500 at the grocery store per year. 
For events like Jig in the Valley, he sells the extra produce that he grows. His wife, Amanda Corey, gets to do the smelly part of pickling.
"You can't go into the kitchen when it's pickling season," he said.
Outside of the food and the music, a silent auction and raffle held during Jig in the Valley raised money for the FCC, which funds programs such as the center's community meals, its food shelf and the six-week-long Black Creek Adventure summer camp.
Bessett pointed out that the center will also be getting a new pavilion soon to help in its mission. Initial site-prep for the grant-funded 20-by-40 foot pavilion is expected to begin this week, FCC board member Julie Wolcott said, and she expects the new structure on the green to help community members be more comfortable when they interact with center programs. 
"The biggest use is to serve the people," Wolcott said.
Alongside being a good tool for the nonprofit, Wolcott said the completed pavilion will also be rented out for private use.