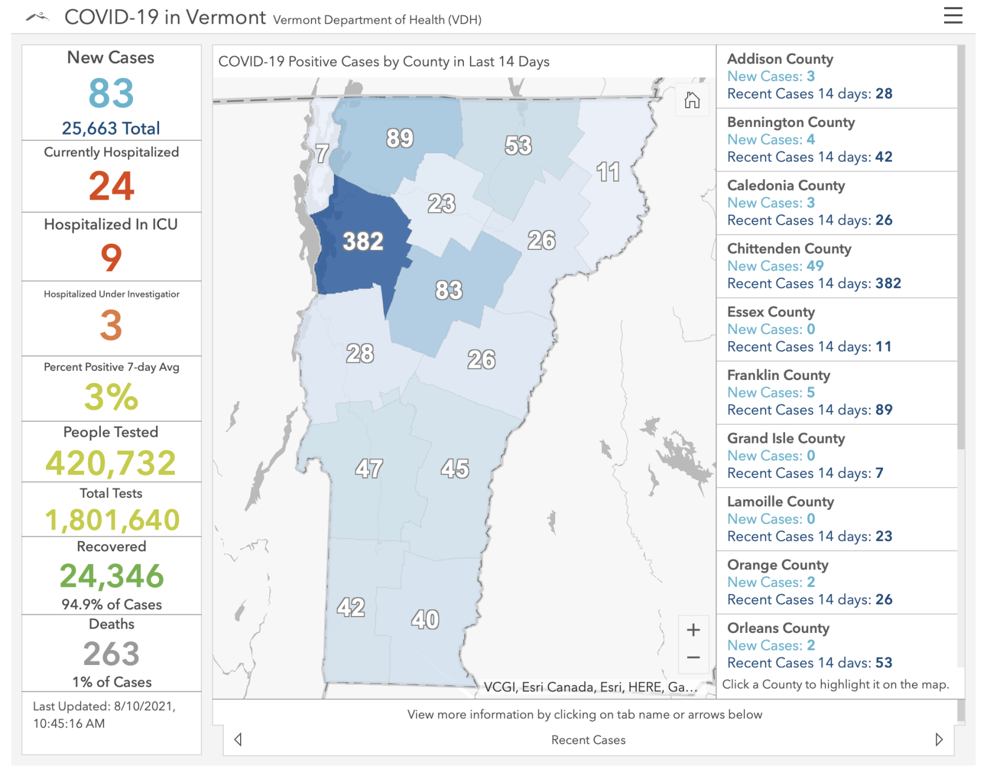 Franklin County saw a dramatic increase in cases of COVID-19 over the past 14 days, with 89 new cases popping up within its borders.
As a state, Vermont is following national trends, with an additional 963 cases appearing in the state over the last two weeks. Case rates increased 84% over last week, according to data from the Vermont Department of Financial Regulation (DFR).
Cases rise in Franklin County
Franklin County ranks second in case count in the state, coming in behind Chittenden (382 cases in the past 14 days) and just above Washington (83 cases in the past 14 days), according to data from the state's COVID-19 Dashboard.
Statewide, 24 people are currently hospitalized as a result of COVID-19. Nine are hospitalized in the ICU and three remain under investigation.
The majority of these hospitalizations are occurring in the unvaccinated population, said Vermont Health Commissioner Dr. Mark Levine at an Aug. 10 press conference.
The Center for Disease Control and Prevention marked Franklin County among those with "high" levels of COVID transmission, the strongest category in their transmission designation.
Other counties reporting "high" levels are Chittenden, Orleans and Essex counties. Counties reporting "substantial" levels are Bennington and Orange counties.
In late July, the CDC came out with new guidance that all people regardless of their vaccination status should wear masks in indoor public settings in locations showing "substantial" or "high" levels of transmission, according to the CDC website.
Although cases increased since the beginning of July, reaching the peak of the surge at the end of July, DFR Commissioner Michael Pieaciak said the rate of increase in the state is slowing down.
Nationally, cases rose in the U.S. over the last seven weeks largely due to the Delta variant which accounts for more than 90% of all COVID cases in the country.
Cases in Vermont rose in 12 out of 14 counties.
"This isn't where we wanted to be."
Vermont remains the most vaccinated state in the country and as a result sees the lowest hospitalization rate when compared to other states as well, Pieciak said.
"This isn't where we wanted to be," said Gov. Phil Scott at the Aug. 10 press conference. "But we need to accept that we're going to be managing this for quite some time. Fortunately, we built a very strong foundation for defense here in Vermont."
Vermont's vaccination rate continued on a steady growth this past week with an additional 2,763 Vermonters choosing to get the jab within the last seven days. Vermont's percent vaccinated is 84.6%, according to data from the DFR.
Scott on vaccine requirements
Scott said he plans on requiring vaccinations for staff at certain state institutions including prisons, the Vermont Veterans' Home and state-owned psychiatric facilities, the exact details of which are still being determined by the Department of Human Resources.
Scott also praised businesses which are instituting vaccine mandates, specifically hospitals and long term care facilities which work with more high-risk individuals.