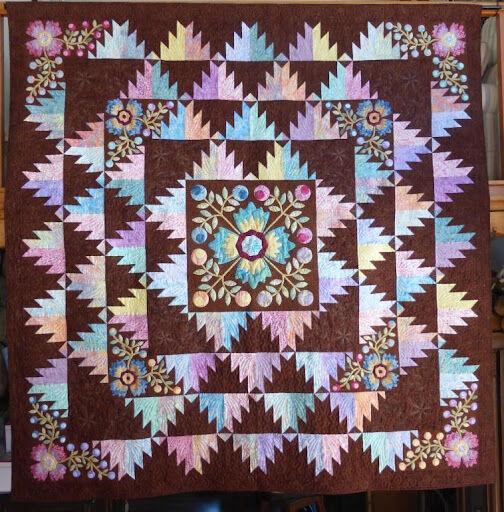 ST. ALBANS — After an 18-month hiatus, the Franklin County Quilters Guild will return to in-person meetings in September.  
"We hope to meet indoors, but we may all have to bring a lawn chair and gather in the parking lot if weather permits. Still, it will be nice to see everyone again," incoming Guild president Laurel Schaap of Montgomery said.
The Guild's membership will hold its first in-person meeting since COVID-19 hit last March at 6 p.m. on Wednesday, Sept. 15, at the Church of the Rock on Route 104 in St. Albans.  The meeting will be an ice cream social which has become a Guild tradition over the years.  The setting provides an opportunity for Guild members to reconnect each year.
In-person Guild meetings were cancelled starting in March 2020 along with the annual April quilt shows in 2020 and in 2021.  By September 2020, the guild was able to meet once again via Zoom each month.  Despite the change in the format and platform of the monthly meetings, Guild members enjoyed a robust year of programs including quilt trunk shows and workshops with nationally- and regionally-known quilting celebrities and monthly sewing days on Zoom. 
The Guild was also even able to celebrate its 30th anniversary during the middle of the pandemic.  Each member received a guild birthday present thanks to the many generous donations from local Vermont quilt shops and large quilt businesses across the United States. 
With just under 60 members, the Franklin County Quilter's Guild has grown to be the largest quilt guild in Franklin County.  The guild was established in February 1991 to promote an interest in the art of quilting for guild members and for the community and has met monthly ever since.  
The Guild has many ongoing community projects and makes quilts for the Family Center, Home Health, Laurie's House, breast cancer survivors and people in the community who have lost their home.  Every year, the Guild also makes a large, bed-sized quilt for a local charitable organization; the quilt is used for fund-raising purposes by the recipient organization.  
To support the Guild's educational and charitable efforts, members make an annual raffle quilt and sell raffle tickets to raise monies.  This year's raffle quilt is called Chocolate and Sherbet and is pictured above.  It recently won a blue ribbon at the Vermont Quilt Festival held in June.  Email franklincountyquilters@gmail.com if you'd like to purchase raffle tickets which cost $2 each or 3 for $5.  
The guild invites all quilters, from beginner to expert, and anyone who has a desire to learn more about quilting or how to quilt, to join in the fun on Sept. 15, at the Church of the Rock.  Doors open at 5:30 pm.  We will be following current State of Vermont guidelines regarding face coverings.  Don't forget to bring a lawn chair, just in case.  
For more information, email franklincountyquilters@gmail.com or visit the guild's website.  The guild's membership booklet can be found here.  This booklet contains information about the Guild to include its history, past activities and ongoing charitable endeavors.  A membership form to join the guild can be found here.