ST. ALBANS — In 2020, three people died in accidents on Franklin County roadways.
The number of traffic-related deaths in Franklin County every year are only ever single digits, but the three reported in 2020 still showed a marked dip from 2019, when five died on local roads.
In this way, Franklin County seems to contrast with the rest of Vermont, where, despite a decline in overall traffic likely prompted by pandemic restrictions, deadly vehicle accidents climbed from 2019.
According to the Vermont State Police (VSP), 62 people died as a result of vehicle accidents in 2020, aligning 2020 closely to the 61-deaths-per-year average recorded over the last 10 years.
The St. Albans Police Department's (SAPD) Lt. Paul Talley, a crash reconstructionist and instructor, said available data was too limited to draw any concrete conclusions around driving habits near St. Albans.
Police issued almost as many driving with excessive speed charges in St. Albans between 2019 and 2020, a short increase in speeding more generally seemed negligible at less than a single percent.
"There's been a little bit of an increase, but it's pretty close," Talley said.
There were fewer stops in spring, around the time when SAPD, like most Vermont police departments, held back from stopping traffic except during emergencies to avoid exposing officers and drivers to COVID-19.
Only about half as many traffic stops were reported in April in 2020, according to Talley.
However, despite noticeably fewer traffic stops during Vermont's initial shutdown in spring, 2020 would see 15 more traffic stops for speeding than 2019 by SAPD officers, Talley said.
Talley added he "wouldn't doubt people are driving faster," but he hesitated to speculate further about traffic habits during the pandemic, again citing a lack of hard data.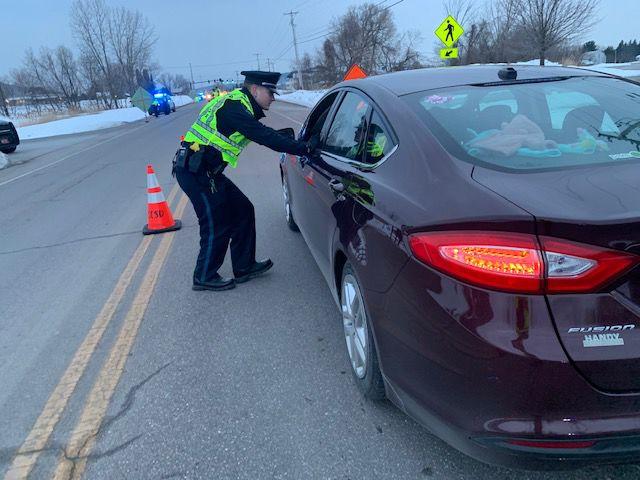 One fatal accident was reported in SAPD's area of coverage in 2020, when a Highgate woman was hit by a vehicle near her home in April.
In July, a popular radio personality died in a motorcycle crash in Georgia. Days later, a Richford man died after his vehicle left the road near Swanton. Alcohol and lack of a seatbelt were a factor, police said.
Sgt. Jay Riggen, a state trooper involved in VSP's traffic safety programs, said there could be a number of reasons Franklin County didn't see the sort of trends the rest of Vermont had.
The county is predominately rural, meaning trips to grocery stores or work most likely require a car.
Franklin County is also a county of commuters, with roughly 10,000 locals traveling largely by car to Chittenden County for work in a given day.
Riggen said it was possible people in Franklin County had followed Gov. Phil Scott's shutdown orders in March more closely than other parts of the state, though there would be no way currently to prove it.
It was also possible that drivers were more closely following social distancing recommendations, meaning fewer cars with passengers who would be among those injured in more serious car accidents.
"The 'Why?' for that gets complicated," Riggen said. "Were they staying home more during the shutdown? Were they more socially distant than others?"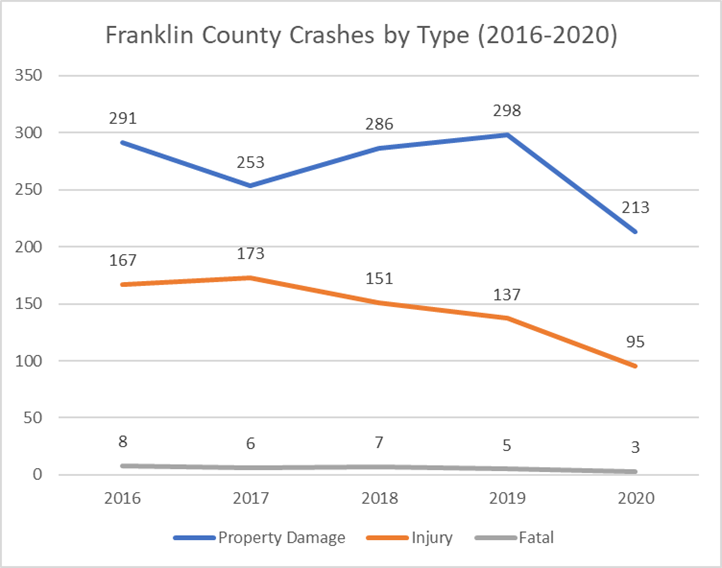 With respect to the statewide spike in traffic deaths, Riggen suggested there were several possible reasons explaining how, despite a reported dip in traffic, fatal accidents remained high:
Most police departments had rolled back their enforcement of traffic laws to only more extreme and dangerous cases in a bid to limit officers' and the public's possible exposure to COVID-19;
A "stay home, stay safe" order kept people off the road, freeing highways up from the day-to-day traffic capable of organically slowing traffic down;
It was possible more reckless people were on the roads this year, Riggen said, as more safety-minded drivers may had been staying home under a safety-minded "stay home, stay safe" order; and
A once-in-a-century pandemic added a significant amount of stress for some drivers, adding to the typical distractions.
Riggen stressed that latter point during his conversation with the Messenger, noting people may be dealing with families infected by COVID-19 or an unexpected loss of work.
"That's not to be understated — the relevance of what stress does to safe driving," Riggen said. "When we are actually distressed, we have blind spots in our field of view."
In reality, according to Riggen, it was probably a confluence of reasons spurring this year's spike in traffic deaths, particularly as the summer came around and the lifting of public health restrictions put more drivers on the road.
July, Riggen said, was the "single deadliest month in 12 years."
"When you add stressful times with a rollback of enforcement and a rollback of those restrictions, that all intersects into one deadly summer," Riggen said.