FAIRFAX – Not even a pandemic can keep fireworks from popping over Fairfax this Fourth of July.
While COVID-19 has forced many communities to cancel their usual summer celebrations, Fairfax has kept its Fourth of July plans in play with creative workarounds, inverting traditional parade routes, tapping into the Internet and making its firework show visible from the safety of one's home or car.
According to Fairfax's recreation director, Brian LaClair, rethinking their events for COVID-19 have actually presented an opportunity for the recreation department to widen their reach for some of those Fairfax residents who might've otherwise skipped over the town's gatherings.
"Pretty early on into the pandemic, we recognized things just weren't going to be normal for the rest of the year," LaClair said, "but we realized there was a really great opportunity to create an accessible alternative plan for all of our Fourth of July and all of our summer events."
To that end, traditional Fourth of July celebrations will be turned on their heads this year.
The typical parade through town replaced with what LaClair called a "reverse parade," where it's the audience who drives down the town's Main Street while clubs and organizations line the street and abutting yards with the static displays taking the place of a parade's traditional floats.
Fireworks will be fired off from a locale where most of Fairfax's village residents should be able to view the display from their home, while parking lots have been opened at Bellows Free Academy and at the J & L Field near Erica's Diner for drive-in viewing for those without a vantage point at home.
Even the concerts the town had hoped to bring to a second annual "Party in the Park" will see some shakeup, with those concerts being professionally filmed and broadcast live from one of Fairfax's parks over the Fairfax Parks and Recreation Department's website and social media page.
"With all of these things, we hope that people who maybe have limited mobility or generally wouldn't go out to big events might feel more comfortable participating in these things," LaClair said.
The town's workarounds for its Independence Day celebration have drawn praise from even the governor's administration, which called out Fairfax's Fourth of July plans during a recent public address as an example of a town having "gotten creative" in order to continue its celebrations.
"We know towns like Killington and Fairfax have gotten creative in order to make these events possible," Vermont's commerce secretary, Lindsay Kurrle, said earlier this month, "and we appreciate the work they've done to operate within our guidance and to keep public health at the forefront."
Fairfax is one of a handful of towns that have managed to schedule celebrations amid the COVID-19 pandemic, during which many of the mass gatherings and festivals that typically color Vermont summers have been cancelled over concerns about those festivals being places where COVID-19 can easily spread.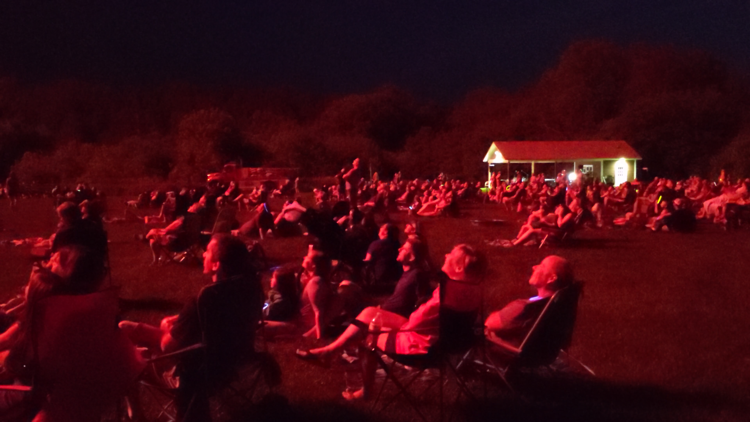 LaClair said Fairfax's recreation department looked at ideas other communities around the state and nation had turned to in order to accommodate the pandemic, pulling the "reverse parade" idea from nearby Jericho and consulting with counterparts in Killington for other Independence Day plans.
The recreation department also had some experience with this Fourth of July's virtual component well before the pandemic. Under LaClair, Fairfax Parks and Recreation has built up a relatively strong social media presence with regular live streams for advertising recreation opportunities in the community.
As public life slowly restarted following COVID-19's reported peak in Vermont and limited gatherings were allowed to resume, Fairfax's recreation department continued tapping the virtual world, with livestreamed concerts continuing as a staple for weekly Fairfax Friday farmers market events.
For this coming Independence Day, LaClair said the department was planning something more "professional" for its livestreamed recording, bringing in audio-visual specialists to film a pair of live performances – an acoustic set from songwriter Carol Ann Jones and a set by band-backed local Troy Millette – planned for the leadup to the night's fireworks.
Beyond the Fourth of July, the department has also planned to make its annual Fairfax Egg Run a virtual experience and has resumed its annual Ducky Race fundraiser on the Lamoille River, with both events looking to raise funds for the town's community center project.
While the rest of the year remains uncertain, LaClair said he expected many of the shakeups this year, like the emphasis on livestreaming and virtual experiences and the wider accessibility those bring, to become more of the norm even after the COVID-19 pandemic eventually passes.
"The silver lining for everything we're experiencing right now with Covid is that those pieces of accessibility are here to stay," LaClair said. "That is huge for so many people and hopefully will have a positive impact on so many people's lives who originally weren't able to experience these things."
Fairfax's Fourth of July "Reverse Parade" is scheduled that Saturday from 1 p.m. to 2 p.m., stretching from Nan's Mobile at the northern edge of Fairfax's village space and running through the village to Miner's Country Store near the village's south.
That evening's live performances and fireworks show, colorfully titled "Party out of the Park," is scheduled to start with livestreamed music at 8 p.m.