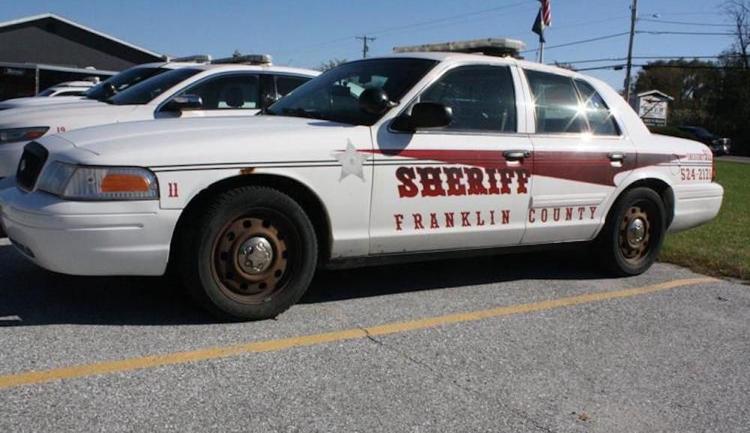 ST. ALBANS – The Franklin County Sheriff's Office (FCSO) is warning locals that calls from a sheriff's deputy advising them about a warrant for their arrest is a scam.
In a social media post shared this weekend, the sheriff's office reported receiving several calls about a sheriff's deputy calling locals and warning that, because they failed to show up for jury duty, they were subject to an arrest warrant and a $100 fine.
"Please hang up the phone and do not provide any personal information, such as date of birth, social security numbers or credit card information," the sheriff's office wrote.
Scams have continued to trouble Vermonters statewide, with the sheer volume of reported scams affecting Green Mountain State consumers holding steady from their 2018 highs reported early last year by the Attorney General's office.
According to the Attorney General's office, there were 5,447 scam reports filed with the attorney general's Consumer Assistance Program (CAP) in 2019, a volume nearly matching the 5,471 scams reported to CAP in 2018.
The most popular scams in 2019, according to a CAP press release, were those perpetrated by callers portraying officials from the Social Security Administration or a business requesting social security numbers.
"These agencies mail communications and would never threaten you for information or payment over the phone," CAP recommended in a release earlier this month. "Be wary responding to unsolicited contacts and never provide personal information to unknown contactors, especially over the phone."
Scams phishing for social security numbers accounted for almost a fifth of all scams reported to CAP in 2019.
After social security number phishing, the next most popular scams of 2019 according to CAP were:
Computer tech support;
Fake sweepstakes;
Phony relationships;
Spoofing and reflector calls;
Debt collection threats;
Grandchild imposter;
Internal Revenue Service (IRS) imposter;
Amazon credit card phishing; and
Online classified listings.
According to CAP, scam reports accounted for more than 40 percent of all consumer calls with CAP, "making scams one of the most common consumer issues affecting Vermonters."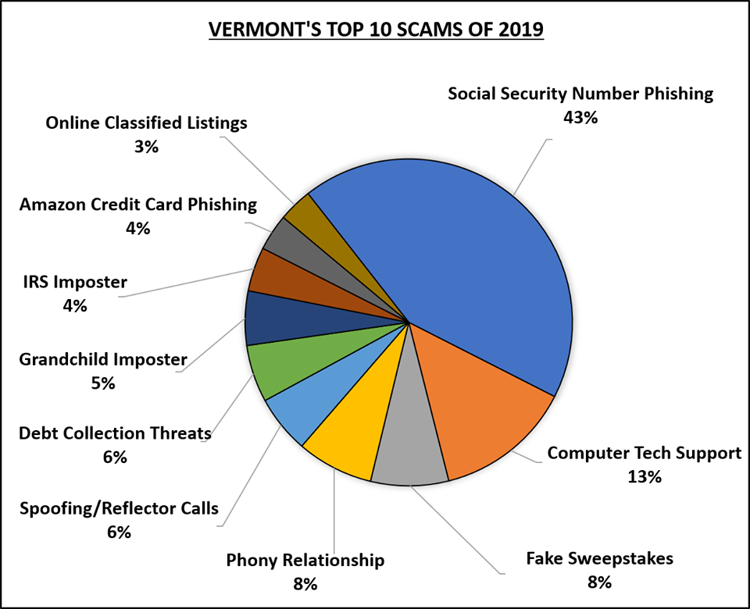 CAP issued three scam alerts last year.
In March, the consumer protection program issued a warning regarding a computer tech support scam where a phone call or pop-up message on a computer claims to be technical support from a well-known company and request remote access to one's computer.
"The scammers ask for payments to rid your computer of viruses and may gain remote access to your computer, compromising personal information," CAP wrote in their press release.
Another warning was issued in December regarding a Medicare card scam, where, during the open enrollment period for health insurance, scammers posed as Medicare and requested Medicare card numbers and Social Security numbers to issue new cards.
The Medicare scam also involved the spoofing of local phone numbers.
CAP asks that Vermonters report scams and sign up for the state's scam alert system by either going to CAP's website at ago.vermont.gov/cap or by reaching out directly to CAP at 1-800-649-2424.