HIGHGATE SPRINGS — Amid the high waters that the dairy industry is dealing with, state and local officials made time to visit one of Franklin County's most forward-thinking farms.
"Those cows represent a piece of my family," said Guy Choiniere, owner of Choiniere Family Farm. "I use the cows, their health and their quality of life to learn. To keep my family healthy."
At the fourth annual State House to Farmhouse event — presented by a combined effort of 15 grassroots organizations from around the state — 22 farmers, legislators and interested parties gathered at the Choiniere Farm on Monday to hear how the family transformed a commercial meat and dairy operation into a grain-free, certified organic and ecologically sustainable meat, dairy and poultry farm.
See 30 photos of this year's Statehouse to Farmhouse event
The event is an annual series at eleven farms throughout the state encouraging local legislators to visit Vermont's farmers and understand the agricultural world better than they can from Montpelier.
"It all begins with our soil," Choiniere said. "And the grass — fresh grass is the healthiest grass to eat for cows."
The result: happy and clean livestock, delicious meat and dairy and wide swaths of healthy and abundant grasses that the family's livestock graze on for most of the year.
While the Choinieres are finding success in their chosen model, a report from the Vermont State Auditor in May 2021 said the number of dairy farms in Vermont decreased from 4,017 farms in 1969 to 636 farms in 2020, citing economic challenges and environmental impacts.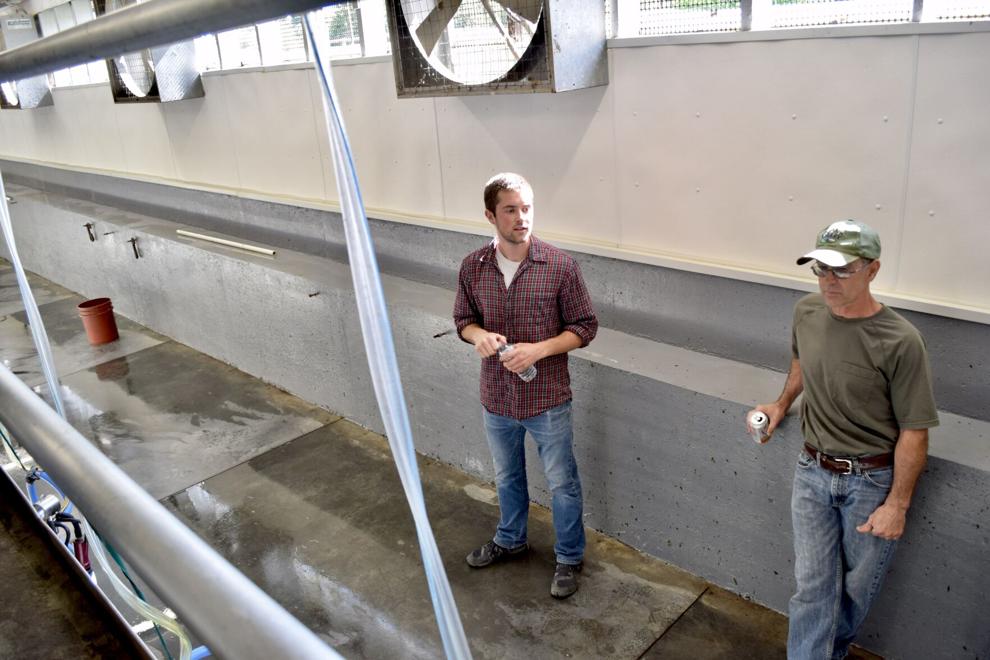 The Choiniere Farm
The fourth-generation certified-organic, grass-fed, grass-milk meat and dairy farm is owned by Guy and Beth, their son Matt and daughter Hannah. Together, they have 80 cattle and 600 acres, on which they breed their own replacement cattle to keep the herd going. The family also has chickens, pigs and the occasional stray duck.
Most recently, Guy and Matt built a $65,000 milking parlor to make milking more efficient and ergonomic to maximize milk collection and keep cows less stressed during milking.
Five-thousand trees are planted on the property to help enforce soil beds to prevent cow pollution.
But the Choiniere Family Farm wasn't always the haven for cows that it is today: it began with Guy's grandfather in 1945, and when the farm finally came to Guy as a young man, he had big plans.
Going organic
"My father and I, we had lots of talks," Guy said. "Lots of talks about this."
Becoming certified organic and then certified grass-fed and grass-milk would take remediations, utilizing grants from the USDA and accessing programs and training on how to transition a conventional grain-fed facility to grass while keeping production up.
It would also take giving up antibiotic treatments and grain and feed corn forever — risks many aren't willing to take.
"A lot of the hesitancy to transition to grass fed is that farmers may be afraid their cows are going to get sick and die," Guy said. "But that doesn't happen...our cows are living longer, healthier lives. We replaced the cost of expensive inputs with education. Once you build experience and knowledge, the return is greater."
Guy said he saw costs cut by a third when he took grain away and they found that the cows were producing just as much milk feeding only with grass. With rotational grazing and maintaining a healthy and stress-free herd, their cows are living longer and producing milk for longer than they had on a grain diet, Guy said.
Today, the Choinieres are one of thousands of farmers who are members of Organic Valley, a national farmer-owned cooperative that buys milk from small, local, organic and grass-fed dairies to make their products such as cheeses, butter, cream cheese and sour cream.
"It's a very big deal for us to be a part of a farmer-owned co-op," Matt said.
The Choinieres also have a farm store open 24/7 taking cash and Venmo payment, offering ground beef, beef cuts, whole chickens, stock bones and veal cuts, as well as year-round eggs from their pastured chickens.