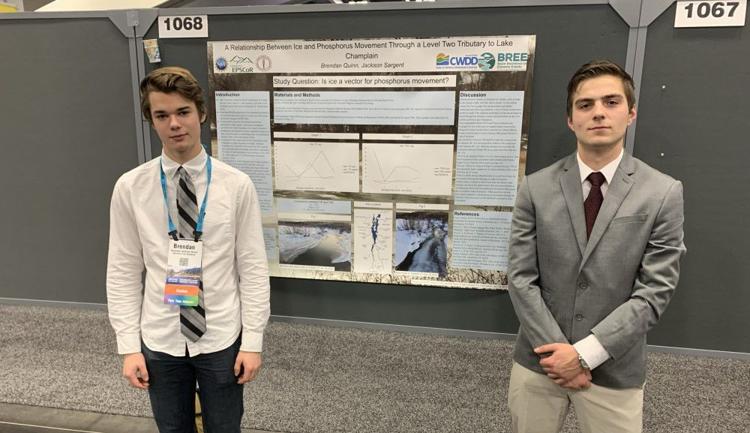 FAIRFAX – A new study is suggesting researchers tracking phosphorus in Vermont's watersheds should give more attention to ice – and it comes courtesy of two high school students at Bellows Free Academy – Fairfax.
For about a year, BFA sophomore Brendan Quinn and senior Jackson Sargent collected samples of ice and water from a site along the Black Creek in Fairfield, looking to answer the question of whether ice provided another vector for phosphorus pollution.
Those samples were sent to Saint Michael's College in Colchester, where they were tested for phosphorus and "suspended solids" – a term referring to the scatterings of soils and sediments carried through waterways that can sometimes bring phosphorus downstream.
According to the two students, the results were clear enough for them both to, in unison, answer "yes" when asked if ice could bring phosphorus into a watershed.
"When we actually sent these samples to St. Mike's to be analyzed, the person at St. Mike's was actually very surprised," Quinn said. "There were really, really high phosphorus levels."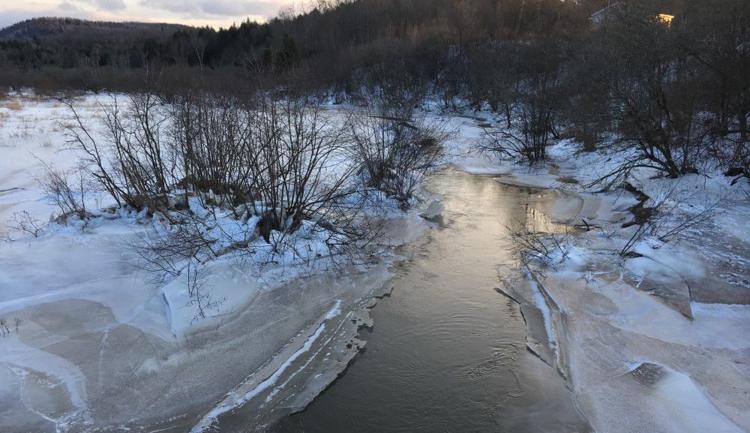 Thomas Lane, the BFA high school teacher who coordinated their study with a Vermont Established Program to Stimulate Competitive Research (EPSCoR) program, suggested the students' study could provide a "preliminary study" for inciting future research.
"At our level, I would hope that somebody would say 'Oh, these guys have done this study that implicates that something's happening here,' and maybe somebody at [the University of Vermont] or St. Mike's would pick up on that," Lane said. "When it comes to phosphorus movement in Lake Champlain... wintertime has not been looked at."
"A lot of people hadn't done that research before," Sargent said.
"It's interesting because, in science, if the fieldwork is hard, I think there's a tendency not to do it," Lane said. "Most people don't like going out and getting their feet wet."
Quoting a colleague, Lane added, "A lot of the science that's easy to do has been done. It's the hard stuff... where there's still lots of room."
With Lane's support, the two students collected samples from the shores of the Black Creek between the winters of 2018 and 2019.
They selected the creek due to its role as a tributary to the larger Missisquoi River, a waterway regularly cited in state reports for the outsized effect phosphorus pollution has had on its watershed and the resulting blooms of cyanobacteria in Missisquoi Bay.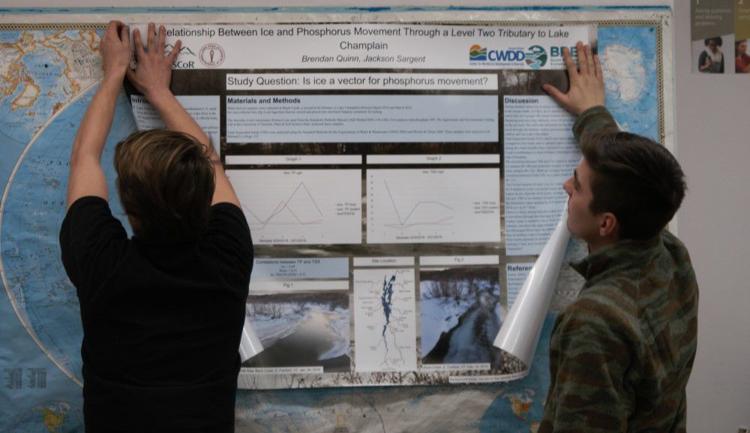 Phosphorus is a vital nutrient needed for plants to grow. When washed into waterways, however, the nutrient can help fuel the potentially toxic bloom of cyanobacteria more commonly known as blue-green algae.
Data collected by Quinn and Sargent found that, during the winter, the levels of phosphorus in ice easily outpaced the water still flowing below, leading the two to wonder what could happen when snow melts would wash ice further downstream into the Missisquoi River and, ultimately, into Lake Champlain.
They also wondered what that would mean as the widely reported effects of climate change leads to more frequent snow melts. "I think that, since the amount of thaws have increased, it would load more phosphorus into the lake," Sargent said. "You have more ice chunks flowing into the lake than you would if it was just once a year."
As a follow-up to that research, Sargent said he would, as a part of an independent study with Lane, actually look into that question and possibly study, through publicly available satellite imagery, the annual number of ice thaws in either Black Creek or the Missisquoi River.
"I think we're going to find more break-up events, and as you've shown, they carry a lot of phosphorus," Lane said to Sargent during their interview with the Messenger. "But you never know until you actually look at the data."
Quinn and Sargent also suggested the study showed wintertime testing could better inform state reporting on the Lake Champlain Basin, with Quinn saying, "If they were to sample during the wintertime, [the state] could have a more accurate State of the Lake report."
According to the two students, who showed their research at the annual American Geophysical Union's Fall Meeting in San Francisco, reactions to their work were more generalized, often coming from people who appeared less familiar with the questions of phosphorus pollution dominating headlines in Vermont.
"Your audience at AGU – they're not familiar with Vermont and they're not familiar with phosphorus movement," Lane said.
"I think one thing that caught a lot of attention was animal and human harm," Quinn said.
As a classroom experience, both Quinn and Sargent said their study provided important hands-on exposure with the sciences, something they said might not come from the typical day-to-day work of traditional science classes.
Both said they hoped to pursue a future in the sciences, something Lane said he hoped experiences like their study of Black Creek could help foster.
"The whole realm of science involving field work takes capable people," Lane said. "It's practical experience and it's students being aware that science is more than what you think of happening in a lab coat in a lab."
"We got to do field research," Quinn, who has another project in the works with Lane on the effects of natural barriers like wetlands on phosphorus loading, said. "The field research we do in class – which is almost never – is very, very different from the research we do here."
"It's important that we got to try out an idea, pursuing more information about what we're trying to prove, putting that together and presenting that and proving what we found was in fact legitimate," Sargent agreed. "I think that was the important takeaway."