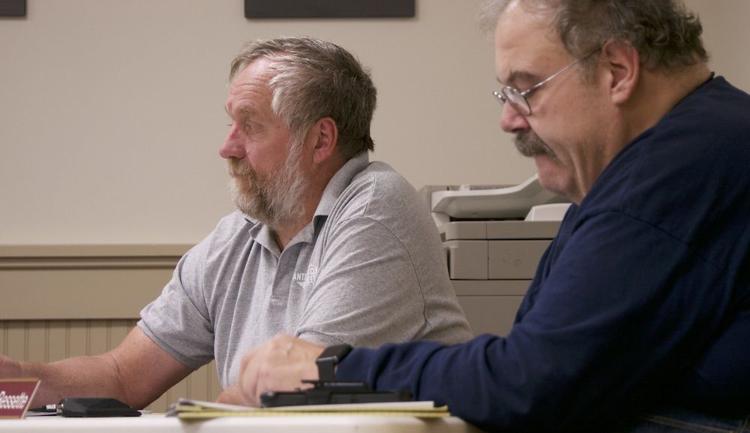 FAIRFAX – A well, a crosswalk and 100 acres of forest are among the items on the Town of Fairfax's priority list for 2020, the result of a short planning period during the Fairfax selectboard's latest regular meeting.
The list itself, scrawled onto a whiteboard set up in the board's meeting space, was relatively short:
1) A second well to supply water to the town;
2) A crosswalk spanning Route 104 in the town's center;
3) The next phases of sidewalk development;
4) Municipal broadband; and
5) The town's 100 Acre Woods.
According to town manager Brad Docheff, the idea behind the board prioritizing for 2020 was for the town to explore some of its more involved issues, "rather than wait and see what the agenda brings to the board."
"I know there are some bigger picture topics that we've all talked about, especially with meeting with some of our other boards," Docheff said. "Let's do some strategic planning."
The selectboard almost immediately suggested the town once again look for a second water source to expand access to municipal water in Fairfax.
In a follow-up phone call with Docheff, the town manager explained that a moratorium had been in place on Fairfax's municipal water utility for nearly a decade due to capacity issues.
While the town had previously explored drilling secondary wells for municipal water, Docheff said, "We haven't really hit that threshold in a way that's cost effective for the town."
"Obtaining a second water source would just be nice for the town to control its growth more and plan accordingly, and encourage other kinds of development," Docheff said. "People won't have to drill a well just to move to town."
The selectboard's vice chair Randy DeVine then added a crosswalk to the board's priority list.
Earlier this year, Fairfax had explored possibly stretching a crosswalk over Route 104 near the highway's intersection with Maple Street, one of the busiest intersections in town due to the regular commuter traffic to Chittenden County and school traffic from the nearby Bellows Free Academy – Fairfax.
High costs ultimately discouraged the town from building a sidewalk this year, but Docheff outlined a plan during a previous selectboard meeting to include the crosswalk in a larger redesign of sidewalks on the corner of Maple Street and Route 104.
The plan would likely be included in a grant application to the Vermont Agency of Transportation's Bike and Pedestrian Program early next year, according to Docheff.
Selectperson Duane Leach recommended the town look at its next phases of sidewalk construction, which would ultimately extend sidewalks from Fairfax's village center toward the town offices and Nan's Mobil.
"The first [phase] is being used like crazy," he said.
Selectperson Stephen Bessette asked that the town continue exploring its options for expanding broadband, and DeVine added that the town should prioritize developing its 100 Acre Woods as a recreation area.
"Let's get that up and running and usable," DeVine said. "Not that it isn't already, but we have to get out there."
Docheff warned that, in setting up a priority list for 2020, the town was not committing different funding items to its upcoming budgets.
Instead, he said the list would help guide upcoming selectboard meetings and guide town staff as Fairfax gets ready for the next year.
"The meetings we would have would be explorations and deeper dives into these deeper topics," Docheff said. "We wouldn't spend $100,000 on a sidewalk at that time, but [ask] how are we going to get there."