Seven months ago, Vermont state law banned the disposal of food scraps in the trash or landfills.
Since then, there has been an overall uptick in composting across the state and in Franklin County.
"Food waste recycling, in all its forms — from food donation to animal feed to composting — has increased each year since 2016," said Josh Kelly, materials management section chief at the Vermont Agency of Natural Resources.
On July 1, 2020, the final phase of Act 148, Vermont's 2012 recycling and composting law went into effect. Residents must now separate their food scraps — like banana peels and coffee grinds — into buckets or bins and either compost in their backyards or utilize local food waste drop-offs or curbside pick-up.
Businesses can donate edible food to food shelves and separate food waste into collection dumpsters that food scrap haulers pick up and bring to composting facilities.
In Franklin County, most towns utilize the Northwest Vermont Solid Waste Management District (NWSWD) for waste drop off and pick up. NWSWD Executive Director John Leddy said the organization's drop off sites, which are located across the county, saw a doubling in food scrap drop off after the ban went into effect.
"Our largest site, which is the Georgia Recycling Facility, was typically receiving between six and eight totes a week," he said. "We are now averaging 12."
Totes are 32-gallon containers. From July to December 2020, an average of 82 total totes across all NWSWD facilities were dropped off per week.
How much food waste do Vermonters generate?
According to the 2018 Waste Composition Study by the Vermont Department of Environmental Conservation (DEC), nearly 20% — or 77,000 tons — of Vermonter's trash is food waste.
Using a formula from the Environmental Protection Agency, the DEC calculated that if Vermonters were to compost that material instead of putting it in the landfill, it could reduce greenhouse gas emissions equal to taking over 9,000 vehicles off the road each year.
Kelly said the next Waste Composition Study, which is conducted about every five years, will take place in 2023.
"That is when I am hopeful we will see better results," he said. "I hope we see a decline in the percentage of food waste in the trash."
What effect has the pandemic had on food waste trends?
Across the state and in Franklin County, trends show more food scraps are being generated at residences than at restaurants, businesses and schools.
This is due to people spending more time at home over the course of the last year.
"People are home more, which is what we can say factually, and so they have a little bit more time on their hands to become aware of just how much waste they are producing," Kelly said. "Every single cup of coffee they drink during the day is producing coffee grounds that were being put in the trash, but now are being composted."
Kelly said he has been extremely impressed with the number of Vermonters during the pandemic who are bringing their food scraps to their local drop off facility or who found a private hauler.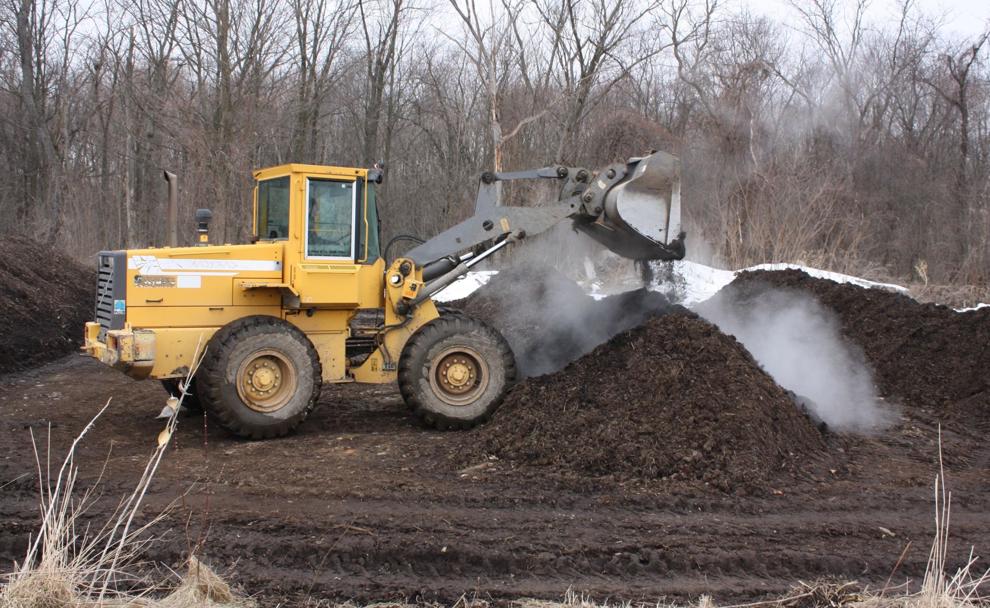 The number of private food scrap haulers in Vermont, people who pick up food scraps curbside and bring them to a facility, has also increased during the pandemic.
"People who maybe have more time or who lost a job started a new business," Kelly said. "It's pretty low risk taking the Subaru out on the road and picking up a couple of five-gallon buckets. You can grocery shop and on the way back collect people's buckets and off you go."
One of those new food scrap collection businesses is I'm Diggin' It, LLP, which started in August 2020 and is based in Georgia. I'm Diggin' It is currently accepting subscribers in Georgia, St. Albans, Colchester and Milton.
During the pandemic, subscriptions to NWSWD's home pick up service increased dramatically. From the time the program started in 2016 to the end of 2019, 300 households registered for curbside pick up, but in just the six months between January and July 2020, 100 more households registered.
"It took four years for us to get 300, and then just a few months to get to 400," Leddy said.
How is the ban being enforced?
The Vermont Agency of Natural Resources (ANR) has enforcement authority under 10 V.S.A. Section 8003(a) for solid waste laws and all of Vermont's 11 landfill disposal bans, which includes the food waste ban. Kelly said ANR prioritizes compliance efforts on the largest producers of food waste, like supermarkets and colleges and universities. It also investigates all complaints it receives.
"We're really not in the business of looking at residents' trash bags," Kelly said. His department's time is better spent providing proactive education to residents and businesses.
What happens to a tote of food waste that is contaminated?
All food waste that is collected and composted by NWSWD is brought to Hudak Farm in Swanton.
"Richard Hudak uses it on his vegetable fields and doesn't want contaminants, like bits of plastic in there," Leddy said.
Because of that, NWSWD staff sort through every tote of food waste they collect and pick out small pieces of contamination, like plastic utensils or bags or disposable containers.
"Our staff is very diligent," Leddy said. If a food waste container is severely contaminated, like if all the food waste is in trash bags, NWSWD will leave the container behind and put a sticker on it. The resident will have to fix it, or dispose of the whole thing in the landfill. "Not following directions definitely has human implications," Leddy said.