SWANTON – The emerald ash borer, a small penny-sized beetle originally from Asia, has been spotted in a Franklin County insect trap, according to the Agency of Natural Resources (ANR).
A notice sent to several local municipalities reported an insect trap near the Sandy Point boat landing on Swanton's shoreline had captured an emerald ash borer beetle, a nonnative pest that's gradually inched its way through parts of Vermont since 2018.
What is the emerald ash borer beetle, though, and what does its arrival mean for the ring of Franklin County communities now considered under a "high risk" for future infestations?
According to Elise Schadler, a program manager with ANR's Urban and Community Forestry Program, the emerald ash borer beetle is a small, invasive species whose larvae's appetite for ash trees can spell those trees' death within a matter of years.
"The emerald ash borer is an invasive forest insect," Schadler said. "It's a very small beetle about the size of a penny… and it's a problem because it feeds on all species of native North American ash species."
Vermont has three species of ash trees – the black ash, the green ash and the white ash – strewn through its forests and, according to Schadler, dotting Vermont's urban and suburban areas, as well.
She estimated that somewhere between 5 and 7 percent of the trees in Vermont's forests could be one of the state's three species of ash, a percentage that grows significantly higher as one travels into parts of the Champlain Valley or crosses the water toward the Champlain Islands.
Franklin County's forester Nancy Patch told the Messenger Thursday black and green ash trees in particular might especially be prominent near Highgate and Swanton, where ANR first reported a sighting of the emerald ash borer earlier this week.
As of the moment, however, inklings of an infestation remain relatively small.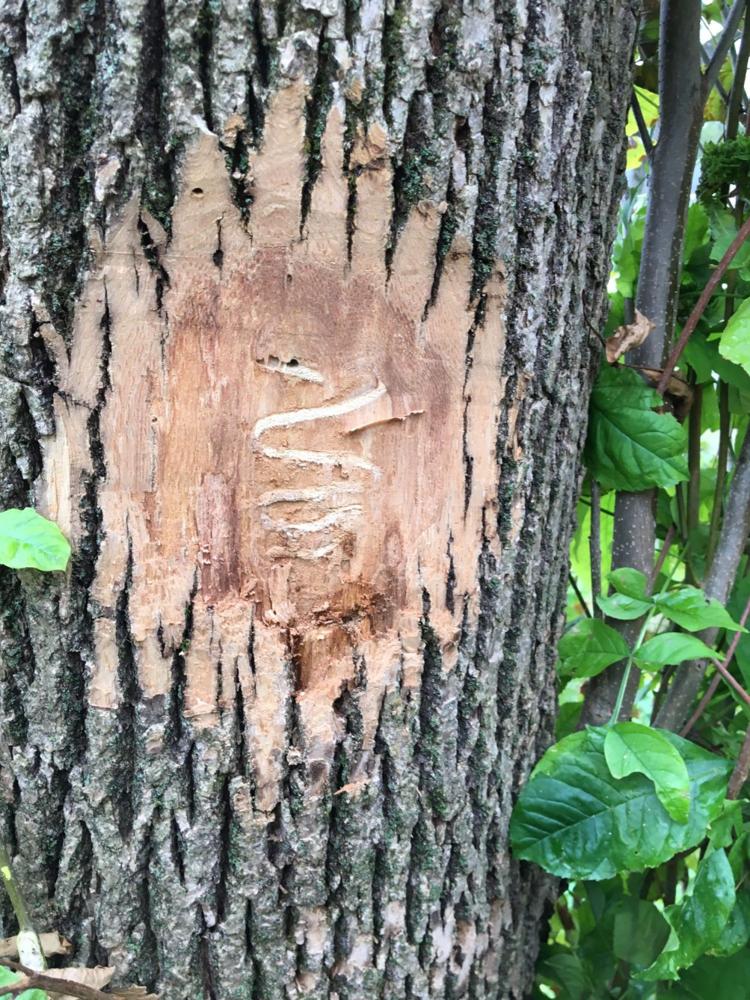 Only a single adult beetle has been found within Franklin County, caught in an insect trap hung near the Sandy Point boat launch. Other traps are still perched around the county and will come down only at the end of the month, when emerald ash borers' typical flight season gives way to a sedentary winter.
That may be because the signs of an infestation can take time to develop, though.
According to Schadler, it typically takes years before trees infested with emerald ash borer look like they're battling an infestation. Once those signs – its foliage thins, "D"-shaped holes begin appearing in the trunk – appear, however, it could only be a matter of year or two before the tree dies.
Widespread infestations likewise take time to develop, with Schadler saying it might typically take as long as a decade for an environment to show signs of the significant infestations of emerald ash borer that have plagued communities in the Midwest.
Once that decade passes, however, virtually all ash tress within that area could die due to an infestation of the small pests, save for a few so-called "lingering ash" trees managing to resist an outbreak of emerald ash borer.
Locally, an infestation of emerald ash borer could spell a number of problems.
A popular tree for urban and suburban plantings, ash have become a familiar foliage along roadsides and within Vermont's cities and towns.
What that means for Vermonters, however, is that as emerald ash borer larvae eat their way through trees and take their toll, the threat of trees collapsing on homes or over bustling highways becomes a very real safety hazard.
"These trees start to fall apart pretty quickly once they're dead," Schadler said. "We are really going to see those trees start to fall apart or have irregular branch breaks."
Meanwhile, the ash trees clustered together in Vermont's forests play their own role in a local environment, functioning, according to Patch, as nutrient cyclers whose presence helps nurture healthier soils and life more generally in the forests.
Several noninvasive insects rely on ash and, while some species might adapt to a life without, others may not.
"There's so much we don't know," Patch said, "but any time you remove something from an ecosystem, it has a ripple effect."
For the people of Franklin County and other parts of Vermont, there are several things they could do to help steel their properties against the invasive insect, however.
According to Patch, the state is encouraging landowners with ash trees to try and preserve their trees to guarantee sources of seeds once the initial surge of emerald ash borer washes through the region.
The state is looking for all stages of tree development, too, guaranteeing surviving seed spreaders and adolescent trees that might be overlooked due to their size, according to Patch.
"We want to make sure there is a source for seeds on the landscape," Patch said. While the state may seek to remove ash trees along bustling roadsides, "it's the exact opposite in the forest," she said. "We want to keep those trees."
To that end, treatment is possible. Certain non-neonicotinoid pesticides exist that can be taken up by trees with minimal damage to other species of wildlife, and officials like Patch are advising people interested in preserving their ash sign up immediately rather than wait until signs of infestation appear.
Some in the area already have, the Franklin County forester said Thursday. "There are lots of people who are interested in doing this," Patch said.
Officials are also asking people to keep stands of trees alive in the forest where possible, recognizing that, until an infestation blows through, it's still practically impossible to guess which ash trees may have the kinds of resistance to emerald ash borer some have found in the Midwest.
A heartier list of recommendations for the average Vermonter exists online at vtinvasives.org, though, according to Schadler, much of what's recommended ultimately comes down to moving unknowingly infested ash wood from infected areas – the likely source of emerald ash borer's arrival to Vermont.
Only about 10 percent of Vermont's landscape is currently believed to be infested, and, per Schadler, "we want to keep it that way as long as possible."