ST. ALBANS – According to new state guidelines, students returning to school in the fall will be met with daily health screenings and new measures for physical distancing as Vermont's schools reopen to in-person learning.
Under guidance issued by Vermont's Agency of Education and Department of Health, students can expect temperature checks as they board their buses, new rules for limiting interactions with other students and other measures to prevent outbreaks of COVID-19.
The measures, outlined in a 25-page report from the state, were intended to reflect what Vermont's education secretary called "novel and unprecedented challenges" spurred by the COVID-19 pandemic in a preface to those guidelines.
"Educating students, ensuring they make progress and safeguarding their health, welfare and nutrition has been made vastly more difficult by the presence of the virus," Secretary of Education Dan French wrote.
Those guidelines touch on everything from daily wellness checks to requirements that students be seated six feet apart when possible and maintain assigned seats aboard buses and in cafeterias in order to limit possible exposures to COVID-19.
Schools in Vermont were closed to in-person learning in March in order to slow COVID-19's spread, a step taken by most school districts in the U.S. as the pandemic deepened through the spring.
By April, an order from Gov. Phil Scott had extended those closures through the end of the school year.
COVID-19 is a respiratory disease easily spread through the respiratory droplets released by people when they cough, sneeze or even just exhale around others.
While COVID-19 typically manifests with only mild or moderate cold- or flu-like symptoms, the disease can, in some cases, result in serious and even life threatening illness.
In order to prevent spreading the disease, the state's guidelines asks that students who were possibly exposed to COVID-19 or are displaying symptoms often attributed to the disease remain home and isolated from fellow students and school staff.
As students are dropped off for school or board school buses, they'll be asked questions about possible exposures and receive a daily temperature check provided by either staff at school or by staff on the school bus, as one of the most common symptoms of COVID-19 is a fever.
For students unable to answer those questions on their own, state guidelines ask the school to work with parents or caregivers to manage their children's daily screenings.
Under the state's guidelines, students and staff will also be required to wear face coverings whenever possible, whether those coverings be cloth masks or face shields intended to protect one another from the respiratory droplets capable of spreading COVID-19.
Students with medical or behavioral reasons for not wearing a facemask won't be required to wear a mask, but those cases would need to be reviewed by school nurses and health care providers.
The guidance also asks schools to encourage staff members who are older than 65 or have a preexisting health condition putting them at risk of COVID-19's more severe symptoms to speak with their health care providers about the possible risk remaining in school presents.
During school, students are expected to be organized into "cohorts" and assigned seats and spaces in larger, more communal areas in order to limit possible interactions between students that could spread COVID-19.
Group sizes will remain beholden to the gatherings limits put in place by the governor's state of emergency order for managing the state's economy and government amid the COVID-19 pandemic.
Beyond those blanket requirements, schools in Vermont will function according to one of three possible "stages" depending on the possible risk of exposure to COVID-19, with movement between those stages dependent on regional experiences with COVID-19 and consultation with state education and health officials.
In case of a closure, otherwise dubbed "Stage I" within the state's guidelines, schools are expected to continue to remote learning models they'd used through the spring of 2020 in order to continue educating students through the closure.
Under Stage I, schools who've transitioned to remote learning will also be required to continue providing the remote meals services like the pickup sites and bus deliveries that had become the norm during the first months of the pandemic.
"Because of the lifelong impacts on health and learning caused by malnutrition, it is important to ensure that students have uninterrupted access to adequate nutrition through the food service program," the guidance reads.
According to the guidance, those rules are "particularly important" due to the economic damage caused by COVID-19 and the ensuing orders to close most business activity in order to manage the disease's spread and keep it within Vermont's health care capacity.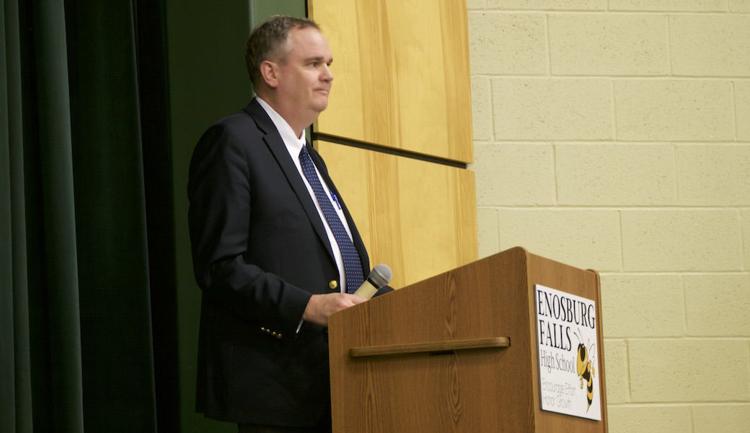 A University of Vermont study suggested that a quarter of all Vermonters struggled with food insecurity during the early stages of the pandemic as businesses closed and unemployment soared.
Schools are also required to plan for providing mental and social-emotional supports for students with special health and educational needs in case an outbreak means schools will have to temporarily transition to remote learning.
Even as schools transition into Stages II and III, during which schools will be opened to in-person learning again, schools are encouraged under the education agency's guidelines to plan for possible remote learning or other models involving both virtual and in-person education.
As schools open in Stage II or Stage III – current guidelines suggest schools will reopen at Stage II in the fall – they're required to also maintain physical distancing mandates through the use of single-lane hallways when possible or strictly scheduled use of shared spaces like playgrounds.
Under Stage II, communal spaces like gymnasiums and cafeterias might not even be open and be limited only to use as classrooms where students can be physically distanced from one another. Those spaces reopen under Stage III with strict cleaning requirements.
Schools are also given requirements for cleaning areas where students or staff who've tested positive for COVID-19 have been and have also been ordered to set aside space for isolation if someone begins showing symptoms of the disease.
In response to the Scott administration's announcement that it planned to resume in-person learning in fall, the head of the Vermont – National Educators' Association – the state's branch of the national teachers' union – argued the announcement had seemed rushed.
Since then, the organization had pulled together a task force with its own recommendations for Vermont's reopening of its schools, including guidelines for routine testing for COVID-19, mandated access for broadband and additional time to plan for schools' resumption.
Their recommendations also call for more intentional collaboration with local unions and community members as schools plan their reopening.
"The voices of educators must be heard as we develop what schools will look like when we reopen," Vermont-NEA's president Don Tinney said in a statement, "but we cannot reopen schools until the health and safety of students, educators, and parents are assured."
According to the Agency of Education's guidelines, those guidelines were created through consultation with the state's health department and leaders from organizations like the Vermont Superintendents Association and the Vermont School Nurses Association.
The agency also warns that guidelines may change as the pandemic continues through the summer into fall and experts' understanding of COVID-19 continues to develop.
"This document... is our best judgment based on the information we have now," French wrote in the guidance's preface. "However, we expect to update this document as new information becomes available."
A full copy of the Agency of Education's guidelines can be found online at https://bit.ly/2Nlbk92.