ST. ALBANS CITY – In a presentation to St. Albans City Council Monday, economist Jeff Carr said the city's proposed local options tax could raise more than $650,000 annually for the city and echoed his last appearance before city council by calling it a "logical extension" to the city's redevelopment.
"It's a logical extension, the way the community has used the TIF," Carr said, referring to the tax increment financing district supporting much of St. Albans City's revitalization. "This is a way for you to keep the positive momentum going."
The local options tax – or LOT – as proposed by St. Albans City would be a 1 percent sales, rooms and meals tax charged on purchases made within city limits on top of existing sales, rooms, meals and alcoholic beverage taxes already charged by the state.
Both the municipal pool project shared with St. Albans Town and the completion of the city's network of sidewalks would be funded through bonds paid off with money raised through the proposed LOT. After a multi-year project to replace sidewalks and curbs in the city's neighborhoods ended last year, about a $1.5 million of work remained. City officials have said the initial funding ran short because the cost of concrete and other supplies increased over the four years of the project.
Should the LOT be defeated but the municipal pool and sidewalks project approved, city officials were clear Monday the projects could not happen.
"It is dependent on passing the local options tax," St. Albans City Mayor Tim Smith said when the council reviewed the city's sidewalk plans Monday. "If the local options tax piece on Town Meeting Day does not get approved, then the sidewalks are a moot point."
"So no LOT in the city, no pool?" Tim Hawkins, the city councilor representing Ward 1, asked when the city reviewed the pool project with town officials later that night.
"Correct," St. Albans City Manager Dominic Cloud confirmed.
The LOT does not apply to telecom purchases, motor vehicle purchases or the use tax charged on goods purchased out of state and brought into Vermont.
Essentially, according to Carr, the LOT only covers things already covered by sales taxes or rooms and meals taxes in Vermont, including online purchases from retailers such as Amazon. Purchases not covered under a sales tax, like vehicles, or items otherwise exempted from state sales taxes would likewise be exempted from an LOT.
"People are not going to pay the additional percentage point if it is not covered under the state's sales tax or the state's meals and rooms and alcohol tax," Carr said.
According to estimations shared by Carr, the LOT is projected to capture almost $657,000 in the 2021 fiscal year if passed by voters on Town Meeting Day. Those numbers could swell to as much as $787,000 by the 2030 fiscal year, according to Carr's projections.
Those projections were shorter than previous estimates shared by Carr with the city council. According to Carr, earlier estimates, which were about $125,000 higher, were skewed by businesses in St. Albans Town that were accidentally included in those estimates due to a shared zip-code.
Carr raised the possibility of opposition to the LOT by business owners and city residents concerned about affordability within the city, but asked that people "put it in proportion" when considered how significant – or insignificant – a 1 percent tax could be.
"People are obviously concerned it's an increase, but you have to put it in proportion," Carr said. "On a $150 restaurant bill, what's 1 percent? It's $1.50. If someone is concerned that that is going to affect someone's behavior... the experience is that it doesn't."
Another concern raised by councilors came from what would happen if the city overcommitted funds raised through the LOT and an economic downturn started cutting into sales made within St. Albans City.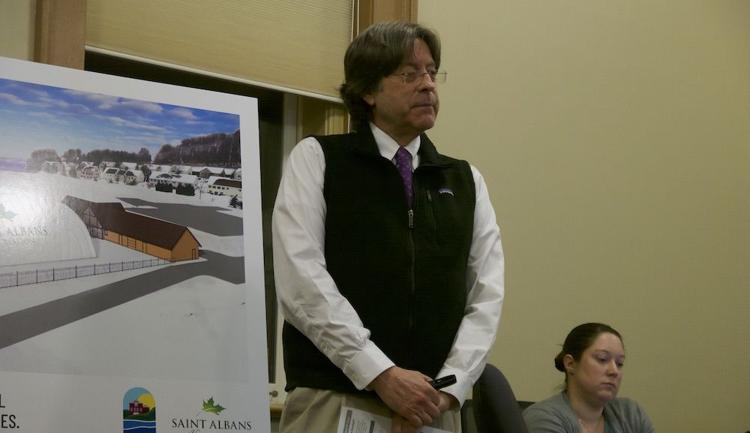 According to Carr, by earmarking funds for "capacity building" with infrastructure and amenities intended to draw more residents into St. Albans City, the city was better fortifying itself against possible recessions.
"Almost as important as you have this source is what you use it for," Carr said. "I believe what you've decided – which is use it for capacity building and infrastructure – makes those ups and downs less difficult."
Likewise, the 5 percent of LOT funds the city is currently planning to commit to a so-called "rainy day fund" made for a "right place to start" as far as committing LOT funds to emergency reserves, according to Carr.
"If we have difficult financial situation and revenues are off... if you're using it for debt service and haven't used all your capacity, it's manageable," Carr said. "It's not going to have that much of an impact."
As for whether the city would expand the amount of LOT funds committed to reserves, that was a question the councilors agreed they would have to tackle should the LOT possibly pass.
"It becomes us, as the council, to ensure that we don't get out of control with LOT money," Hawkins said. "There's got to be some type of cutoff – and I don't know where that is – but we need to be able to answer that question come Town Meeting Day."
Aside from earmarking 5 percent of the LOT to a reserve fund, sidewalks and the municipal pool project, city officials are also planning to commit 7.5 percent of revenue from the LOT to improving access to recreation programs for the disadvantaged and elderly, and another 5 percent of revenue to replenish the city's Redevelopment Fund.
Currently, 22 communities in Vermont – including neighboring St. Albans Town – have created their own LOT for supporting municipal operations and development.
Another ten, according to Carr, were putting LOT proposals on ballots for this upcoming Town Meeting Day.
"Increasingly, this is becoming the norm," Carr said. "All around you there's a local options tax... and in the middle of the town is this little clear area, and that's the city."
The St. Albans Town LOT – a 1 percent sales, meals and rooms tax – earns approximately $850,000 a year and was tapped by town officials last year for building a new garage complex for the town's public works department.
The town is also looking to leverage its own LOT funding for supporting its half of the shared municipal pool proposed for the Hard'ack Recreation Area and for preliminary architectural work on plans for either restoring or replacing its 120-year-old town hall.
Both possible expenses are on the town's ballot for Town Meeting Day.
Only the Town of Killington in Southern Vermont has rescinded on a LOT after passing it, opting to replace its local options sales tax with a local options rooms and meals tax better suited to its tourism-oriented economy.