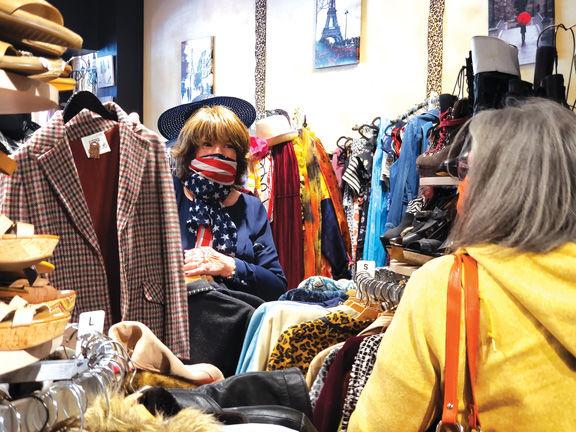 ST. ALBANS — There were fewer people mulling about in downtown St. Albans on Tuesday than is typical for a sunny spring day, but most stores were open with customers inside.
And those customers were politely complying with requests to keep their distance and wear masks, merchants said.
At Eaton's Fine Jewelers just four customers may enter at at time. Manager Jennifer Williams-Thompson said that when a fifth customer arrived, she waited patiently outside until space opened up for her to enter. Customers have been "friendly, happy to be out and about," she said.
Some downtown merchants are requiring masks, others are strongly recommending them. At As the Crow Flies, Jessica Gaudette has masks available for customers who don't have one, along with hand sanitizer. "Everybody's been really respectful, wearing a mask," Gaudette said. "People have been excited to come in."
Sarah Heckon and Kathy O'Donnell were in As the Crow Flies on Tuesday, after visiting Breezy Acres and Rail City Market. "We missed the social aspect of hanging out," said Heckon. "It's fun to see new things and talk to people and get the news."
Stores selling non-essential items were allowed to reopen on Monday provided they limited customers on-site to just 25 percent of capacity and had a plan in place to keep the store sanitized and customers and staff physically distant from one another.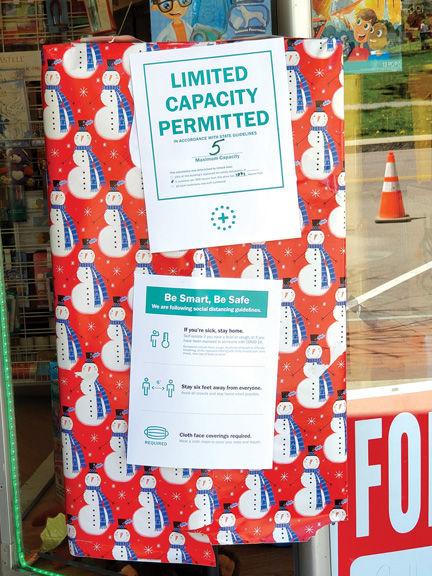 Most downtown stores are opening at reduced hours.
"It's so hard to know what to do," said Gaudette, of deciding what hours to open. Many of the customers who purchased items curbside or for delivery while the store was closed are working from home, she said, adding she hopes they'll be visiting on the weekends.
As the Crow Flies will be open 10 a.m. to 1 p.m. Tuesday to Thursday, 10 a.m. to 4 p.m. on Friday and 9 a.m. to 3 p.m. on Saturday. Gaudette said her staff will be returning, although for reduced hours. "Probably, we'll go back to seven days a week pretty quickly," she said.
The Eloquent Page is also open for reduced hours. Owner Donna Howard said the store will be open 12-5:30 p.m. Monday to Saturday and will probably reopen on Sunday's 11 a.m. to 3 p.m..
Books coming into the shop will be quarantined for 72 hours before being placed on shelves for purchase, said Howard, which is what the American Library Association recommends.
Customers in the shop are being instructed on how to maintain their distance when they arrive.
"Most of my customers want to browse," said Howard, which made sales during the recent closure a challenge. There were some sales and some gift certificate purchases, including from a second home owner in the area who said she wasn't sure when she'd be allowed back to Vermont to use them, but wanted to support her favorite St. Albans businesses.
At the Frozen Ogre, folks wanted puzzles while the store was closed, said owner Eric Stumpf.
The store reopened Monday. "We had a lot of people coming out," he said. "Mostly regulars, with some pent up demand, then a lot of people out and about to see who was open."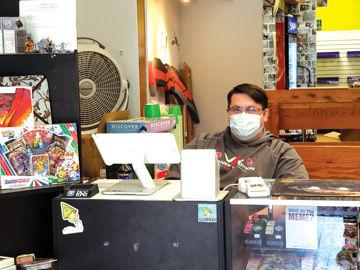 The Frozen Ogre requires masks. Stumpf said he refused entry to one group of people without masks, who left and then came back with masks on.
Because he sells games, science kits, art supplies, puzzles and other items people pick up and handle, Stumpf said he can't feasibly keep track of what each customer touches and disinfect it before the next customer comes in. Requiring masks minimizes the risk of a virus being left behind on an item someone else then picks up.
Stumpf also has a number of items on sale, because his store is relocating to Kingman Street in June.
Frozen Ogre isn't the only store leaving Main Street. What a Yarn is shifting to phone sales.
"Main Street is going to look a lot different," said Stumpf.
Fashion Scentz is also reopening with a sale. Everything in the clothing store is 50 percent off.
Owner Sue Lanoue, who was helping a customer when the Messenger stopped in, said people need to get out and about again. "I'm excited for things to get back to normal."
She also suggested that staying home if you're sick and wearing a mask if mildly ill might become the new normal.