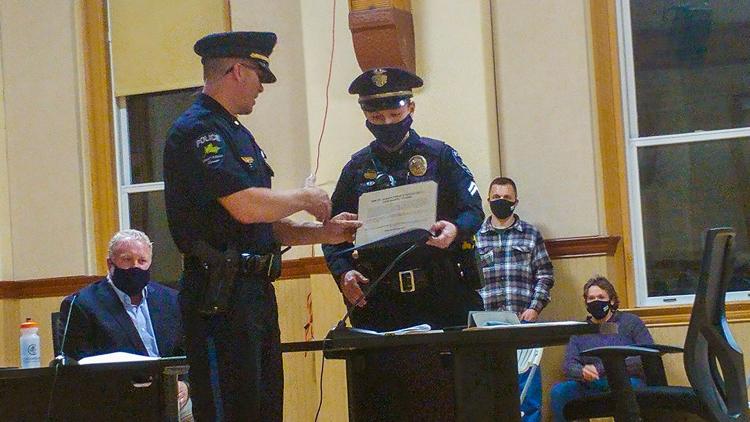 ST. ALBANS CITY — Monday night's St. Albans City Council Meeting began with the issuance of three awards from the St. Albans Police Dept., two to officers and one to a community member.
Corporal Kristine Koch was given the department's lifesaving award for her actions on July 18. Central Dispatch received a report of a baby not breathing. When Koch arrived on scene, less than a minute after the call was made, the mother handed her the 1-year-old boy and Koch performed lifesaving measures, which resulted in him once again breathing and moving.
"The immediate lifesaving actions of Corporal Koch were pivotal in the survival of the patient," said Interim Police Chief Maurice Lamothe.
Lamothe said he has visited the family twice since the incident. He reported the boy is doing fine, and the mother cried both times, telling him about Koch's actions in detail and saying "Corporal Koch saved my baby."
Koch received both a certificate and a bar for her uniform.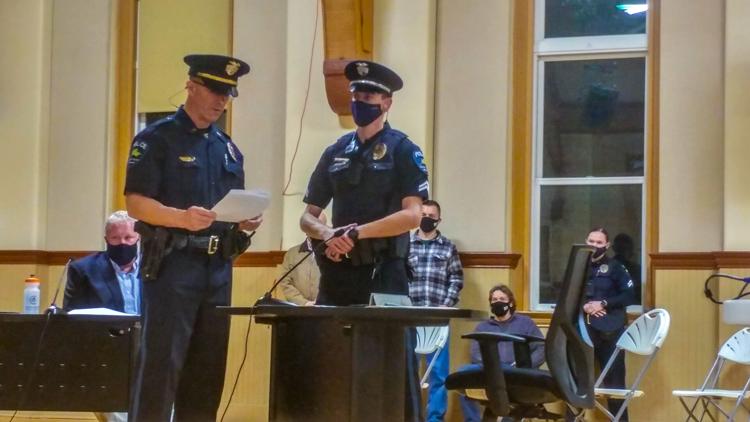 Corporal Zachary Koch received a commendation for "exceptional performance" after persuading a man who was contemplating suicide to come down off of the wall at the top of the city's parking garage on July 29.
In a second instance that same month, Zachary Koch was able to persuade a man who had cut himself in a suicide attempt to get medical help, according to Lamothe. The man even chose to ride to the hospital with Koch, Lamothe told the council at a previous meeting.
The third award presented Monday night went to Scott Munn, a city resident Lamothe said has a history of looking out for his neighbors.
On July 26, Central Dispatch received a report of a domestic altercation at a building where Munn lives. Munn, Lamothe said, could hear a woman telling a man to get away from her. He went to her apartment and escorted her to his apartment where she stayed until police arrived. The woman reported being strangled by the man.
In a related incident on July 30, the man threatened to shoot himself and others. While the man was not displaying a firearm, Lamothe described him as "highly agitated and aggressive toward people in the area."
Munn isolated the man by holding him against a fence until police arrived.
Munn, Lamothe said, "displayed personal courage in putting himself at risk to serve others."
"I appreciate your service to the community," he told Munn. "It takes a lot of courage to do that, to help your fellow human beings."
Lamothe did add that the department is not encouraging people to put themselves in jeopardy.
Munn received a Civilian Citation, which is given to a civilian who has assisted police with apprehending a suspect or combatting crime, or whose actions helped to save a life.
Awards issued by the SAPD are decided by a committee comprised of an officer from each rank and a civilian employee of the department. Anyone in the community may nominate an officer or a civilian for an award.