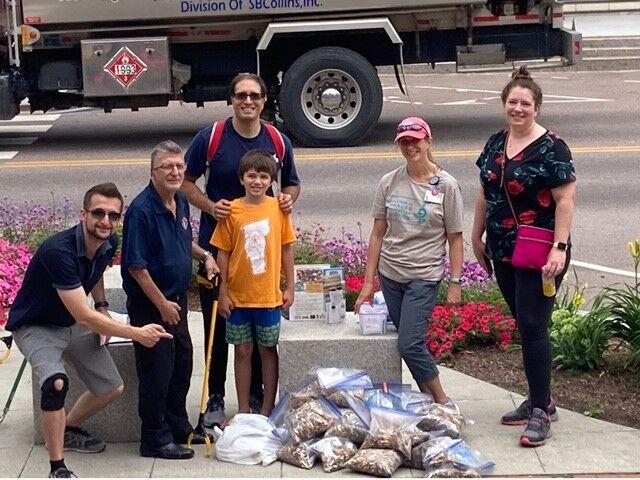 ST. ALBANS — Thanks to the Franklin Grand Isle Tobacco Prevention Coalition, the county's streets are a little cleaner.
Volunteers with the group picked up 18,702 cigarette butts in downtown St. Albans this past July, and they're looking to bag even more in the years to come.
During the cleanup, a group of 29 volunteers removed cigarettes from the public areas surrounding the intersection of Catherine and Lake streets, near the train station, along Federal Street, in Taylor Park and throughout the Post Office shopping plaza. It's the fifth year they've been making the effort.
"We've had over 100 volunteers over nine cleanups. From kids to retirees, we had a great outpouring of interest and help," Coordinator Amy Brewer said.
Since starting its effort in 2016, the nonprofit has been able to collect over 162,000 cigarette butts throughout the counties thanks to volunteer support. The next major cleanup is scheduled for May 7 on Green Up Day.
While cigarette butts can often be found littered throughout St. Albans, Brewer said the largest concentrations tend to be near major manufacturing centers due to their high density of workers. In comparison, Taylor Park is one of the cleaner areas.
"We're seeing fewer in our parks this year. I don't know if it's related to COVID. I can't tell why that is, but we still see high concentrations around curbs and sidewalks around businesses," Brewer said.
The Franklin Grand Isle Tobacco Prevention Coalition is also involved in efforts that reduce cigarette litter overall, such as adding signage that reminds people to mitigate littering and helping people quit the habit.
For example, the group is holding a Virtual Quit Smoking Group starting this Friday, Sept. 17, to help individuals begin the process of quitting smoking. Interested individuals need to register for the event by visiting MyHealthyVT.org, or by calling Catherine Marrin at 802-393-5423.
"(Cigarettes) don't biodegrade easily," Brewer said. "When released into waterways, they're able to release toxins. So they are litter and a somewhat dangerous litter as well."