ST. ALBANS — Watching a local baker compete on the national stage this month might inspire you to get out the rolling pin and holiday sprinkles earlier than usual.
Last night, Adam Monette, the culinary arts teacher at Northwest Career and Technical Center (NWTC) in St. Albans, made his debut on the latest season of Food Network's "Holiday Baking Championship."
During the two-hour episode, the cast's 12 bakers were tasked in the Preheat with making seasonal donuts. Monette won the segment with his pumpkin butter filling and dusting of sugar, earning him an advantage in the Main Heat.
At the episode's end, he sailed through the double elimination and will appear again at 8 p.m. on Nov. 8. The last baker standing after eight weeks wins $25,000.
"If you love to bake, it's a dream come true," Monette told the Messenger. "You've got an unlimited pantry, so as long as you keep it under the guidelines, you can make whatever you want, and that's so fun."
Nominated by a former student, Monette participated in an extensive interview process and baking try-out before he was selected to join other contestants from across the country.
"The people I had a chance to meet were really interesting and talented," he said. "I'm still in contact with almost the whole cast."
Monette is no stranger to competition. In 2017, he represented the U.S. at Trophée Passion, a bi-annual challenge hosted by the Academie Culinaire de France at the Élysée Palace in Paris.
A native of St. Johnsbury, Monette grew up in a French-Canadian family who put food at the center of every gathering.
"There were always lots of mouths to feed," he said. "The food was humble, but always very, very good."
After receiving an associate's degree in baking and pastry, Monette attended the now-closed New England Culinary Institute. He worked in restaurants throughout the state before taking the culinary position at NWTC in 2011.
Though Monette couldn't give away many details about the show, he did tell the Messenger about the origins of his culinary interest and how he's sharing those traditions with his own family.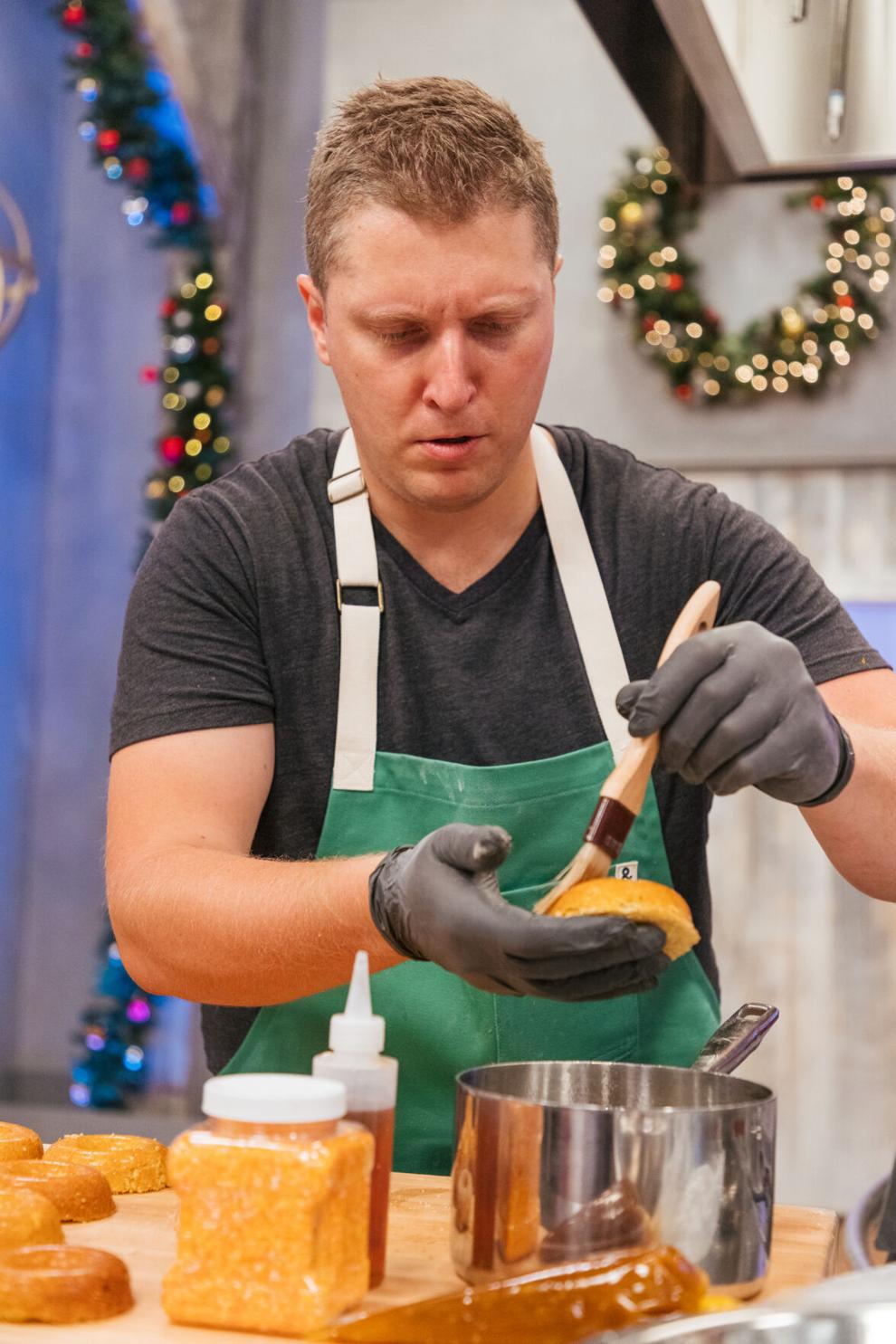 Q: How have your students at NWTC reacted to your new fame?
A: I was kind of astonished by the response and just how many people watch the show.
I have a student in my class, who if he said two words to me this entire semester, I would be surprised, but when he learned about this, he just opened up. He said, 'My family and I watch this every holiday. We love the show.' He has been asking me all these questions.
It's one of those shows that touches a lot of families, and I think that's what's really cool and special. It's very communal. Everybody gets together and they watch it, they share something and you know, it's a real positive experience.
Q: Do you have plans to watch the season with your own family?
A: My family is very excited that I'm on it and is very excited to watch. I'm a little apprehensive. I really have no interest in watching myself on television.
I had a great time, a great experience, but I don't want to watch videos of our wedding let alone something like this.
If I do end up sitting and watching, it'll be a chance to see what the other talented individuals made, because a lot of the time I was just so encapsulated in what I was doing.
Q: Where did your initial interest in baking come from?
A: My mother's family definitely instilled a love of food in me for sure.
My mom's a great cook and baker and so is my aunt and my grandmother. My mom would never let us cook at home because she knew that we would make a mess. And she was right, and we would never clean it up. So the only way was to cook up at our grandparents' and our cousins'.
The holidays were always centered around family and food. On the holidays, my grandmother made Tourtiere, a Canadian meat pie. We'd have date bars, apple pie too. It was always very, very good, and there were always lots of mouths to feed.
Q: How are you passing those cooking traditions onto your daughters?
A: My oldest is six and my youngest is four, and they both love to help me in the kitchen, but are amazingly different. When I bring out the onions, one wants to be in another house, and the other lets her eyes run and is fine with it.
If I bring home a pastry or something that I've made at school, they are my best and worst critic. My daughter Olivia, she's cute, but she's ground me and put me in my place for sure. It's very humbling.