SWANTON — When the COVID-19 pandemic heightened food insecurity across the state, an unlikely but necessary superhero emerged in northwest Vermont: Captain Veggie Man.
He can't fly or travel at light speed, but on Sept. 5 at the Swanton Village Green, his bright green cape billowed in the breeze as he pulled sweet corn, red bell peppers and purple cauliflower from the back of a flatbed truck.
Captain Veggie Man is Leon Thompson, a Swanton native and St. Albans resident who in the last year, with the help of Tim Camisa and other volunteers, has given away thousands of pounds of vegetables to the community for free.
The vegetables are grown organically, without pesticides and herbicides, on 25 acres of land at Vermont Organics, a soil company in St. Albans Town co-owned by Camisa and Mike Rooney.
There's a problem with food delivery in our communities, Camisa told the Messenger. There are too many middlemen between the farmer and the grocer, which heightens the price of fresh, locally-grown produce.
"The people in need can't afford it," he said.
Captain Veggie Man was born out of the pandemic, when Thompson and Camisa realized they could help those struggling by giving away the extra vegetables from the Vermont Organics fields.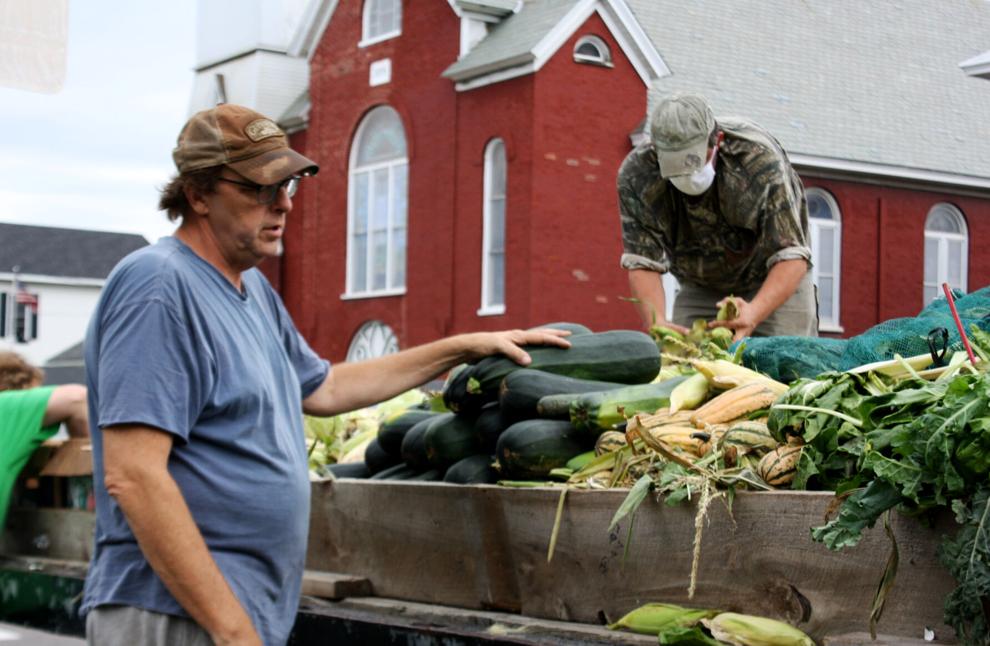 "If people don't have to spend money on vegetables, they can use that money on other things they might need," Thompson said.
Captain Veggie Man made his public debut in St. Albans City's Taylor Park on Aug. 26, 2020. In one hour, hundreds of pounds of fresh-picked vegetables had been given away for free to more than 50 people.
By the end of the 2020 harvest season, the team had picked and donated about 40,000 pounds of food to people in St. Albans, Enosburg Falls, Swanton and the Old North End of Burlington. Thompson said the group chooses densely populated areas where people who might not have access to transportation can walk to the distribution site.
"We get so many requests to come to different places," Thompson's wife Jennifer Williams Thompson said. "Unfortunately we can't go everywhere because we all work other jobs too."
Just 10 minutes into Sunday's distribution event, the line was already 36 people deep. Most clutched reusable grocery bags, which Thompson, Camisa and regular volunteers Donny Rivait and Bonnie Plouffe, filled to the brim with zucchini, cabbage, melon and kale.
Folks walked away from the truck with heavy bags hoisted high on their shoulders.
This was the team's fourth event of 2021, and every week the lines grow longer and the community stronger, Thompson said. The Captain Veggie Man Facebook page, where people share recipes and heartfelt testimonials, is followed by close to 1,500 people.
Brenda Lee, who lives across the street from the Village Green, said she saw the line start to form while unpacking her car. When she walked over to see what was happening, she was shocked to see the sign for free vegetables.
"I love veggies, but they are so expensive," she said.
When a neighbor wandered into the line behind Lee without a reusable grocery bag, she ran back across the street and inside her house to get him one.
GALLERY: Captain Veggie Man team distributes free food to Swanton — Sept. 5, 2021
Jordan King, a community health worker with the Abenaki Nation of Missisquoi, was present Sunday after reaching out to Captain Veggie Man about a collaboration. Many folks stopped by her table to pick up information about wellness programs.
"It's hard to make connections, so I need to partner with people who have bigger followings," she said. "I have a community garden, so Captain Veggie Man seemed like a great fit."
Camisa, a St. Albans native, said distribution events will continue for the next eight weeks. Vermont Organics is making equipment investments which will increase the shelf life of food, making it available to more people for longer.
"My two takeaways are that people really need this and that they don't want to take too much for fear of people behind them not getting enough," Camisa said. "It's extremely humbling."