FAIRFAX — When a local star athlete fell ill earlier this fall, members of the Franklin County community sprang into action.
In late August, Lucy "Goose" Stillman from Fairfax was admitted to the University of Vermont Medical Center, ill with all the signs of meningitis.
As the graduate assistant coach for St. Lawrence University field hockey, she had been traveling with the team to a game at St. Michael's College in Colchester when she experienced a back pain so debilitating her father had no choice but to take her to the emergency room.
"That's when it hit me that this was incredibly serious, because she's so strong physically, and she said she couldn't walk," her father, Scott Stillman, told the Messenger.
Over the course of the last 40 days, the spinal cord illness and its subsequent side effects — including a cardiac event and being intubated — have left the former Rice Memorial field hockey team captain without basic motor skills.
But there is hope.
On Oct. 7, Lucy was moved from Massachusetts General to Spaulding Rehabilitation Hospital, where she'll spend the next two to three months working to regain some mobility. Her physical fitness prior to the incident might have kept her condition from being fatal, her father said.
Her family told the Messenger they are incredibly grateful for the thoughts, prayers and donations they've received from friends, neighbors and members of the local sports community.
In mid-September, the St. Lawrence University field hockey team started a GoFundMe, and on Thursday, the St. Albans-based Kevin Smith Sports launched a charity apparel sale.
"The number of people who have become aware of our situation and have reached out to us, it's just been phenomenal," Scott said.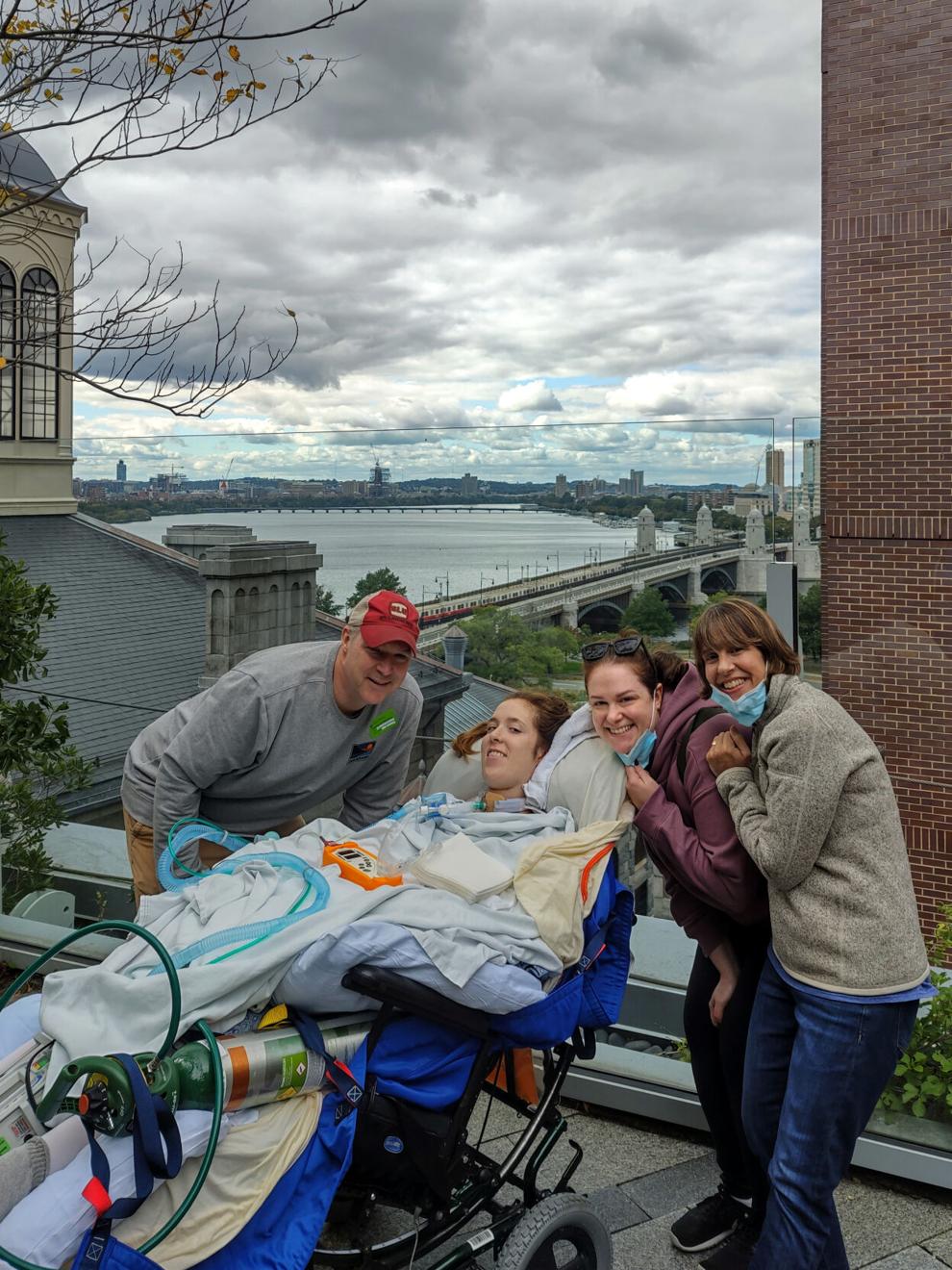 'A natural athlete'
A self-described "hockey guy," Scott Stillman always looked forward to having kids and getting them involved in the sport.
He put ice skates on Lucy and her older sister, Addie, as soon as they were old enough and took them to Collins Perley Athletic Complex in St. Albans. Lucy seemed born to skate.
"Lucy was just a natural athlete," he said. "She took to it and did everything she could up in St. Albans with the hockey program."
After years of participating in recreational and travel sports throughout her adolescence, Lucy attended Rice Memorial, where she played field hockey, ice hockey and lacrosse.
For field hockey, she was selected to the Twin State team and was a Capital Division co-player of the year and a First Team All-League selection in 2013 and 2014. She also earned the Outstanding Senior Female Athlete Award and the Outstanding Performance in Field Hockey Award while at Rice.
Lucy played field hockey at the collegiate level at St. Lawrence, where she studied communications and became interested in sports broadcasting. She was captain of the team her senior year and returned to pursue a master's degree.
Scott remembers Lucy spending hours in the garage deadlifting and bench pressing, running miles around the family's neighborhood in Fairfax.
"She's active and takes care of her body," he said. "Those are things that really helped her survive this whole thing. Her physical fitness level was so high."
Road to recovery
At UVMMC in late August and early September, Lucy received aggressive treatment for the swelling and infection of the fluid surrounding her brain and spinal cord. Despite doctors' efforts, her condition did not improve, and she experienced a major cardiac event.
She was resuscitated, and after two days in the intensive care unit at UVMMC, she was airlifted to Mass General in Boston. She was intubated there for more than two weeks.
Though Lucy suffered a disabling spinal cord injury around the time of the cardiac event, her parents are finding solace in small signs. Lucy can shrug her shoulders, speak and move her left arm. 
"We knew that she was fine when she was bickering with her sister, mouthing words to her," Scott said.
Though Lucy's sister Addie recently moved to Oregon, she flew across the country as soon as Lucy was moved to Boston.
"They are two years apart and very close friends," Scott said. "Lucy's whole condition and outlook improved when her sister showed up. It was just a real blessing to have that happen."
Lucy will spend the next two to three months at Spaulding, where she'll first work on breathing independently. She's already only using ventilation support at night and her tracheostomy tube has been downsized.
Because of the severity of her spinal cord injury, the Stillman family does not know what the next months and years will hold.
"There are so many unknowns," Scott said.
Community support
The St. Lawrence field hockey team started a GoFundMe for the family with a goal of $10,000 on Sept. 13. But in just one day, donations flooded in, raising over $18,000.
As of Oct. 14, the campaign has raised more than $43,000.
The Vermont Shamrocks, a travel ice hockey program for girls for which Lucy once played, started wearing "Play for Goose" stickers in late September. The St. Lawrence Saints started the hashtag #ONEFOURlucy, paying tribute to her #14 jersey.
Kevin Smith, owner of Kevin Smith Sports in St. Albans and South Burlington and a longtime friend of the Stillmans, spoke with Scott early last week about starting an additional fundraiser.
"Kevin reached out a few days ago and said, 'You don't have to do anything, Scotty. We're just going to take care of everything,'" Scott said, his voice cracking.
On Thursday, Kevin Smith Sports launched a web store loaded with apparel that can be purchased in support of Lucy. T-shirts bearing the logos "I play for Goose" and #ONEFOURlucy can be ordered in the colors of St. Lawrence or Rice Memorial.
All proceeds will go to the Stillman family, Smith told the Messenger.
"I saw the logo the Shamrocks were circulating, and I thought, 'Wow, this is where we can step in,'" Smith said.
Smith heard community members talking about Lucy in early September, soon after news traveled that she'd been admitted to the hospital.
"People were talking about her early on, but the message gets lost as people go about their lives," Smith said. "We have to keep the message out there, and we can't let that light diminish."
Members of the St. Albans area sports community are also reaching out to the Stillmans, reminding them that "Franklin County girls never quit."
"She's just gritty," Scott said. "In sports, she wasn't always the most gifted athlete, but nobody worked harder than her. We just need to keep telling ourselves that she's gonna get through this."