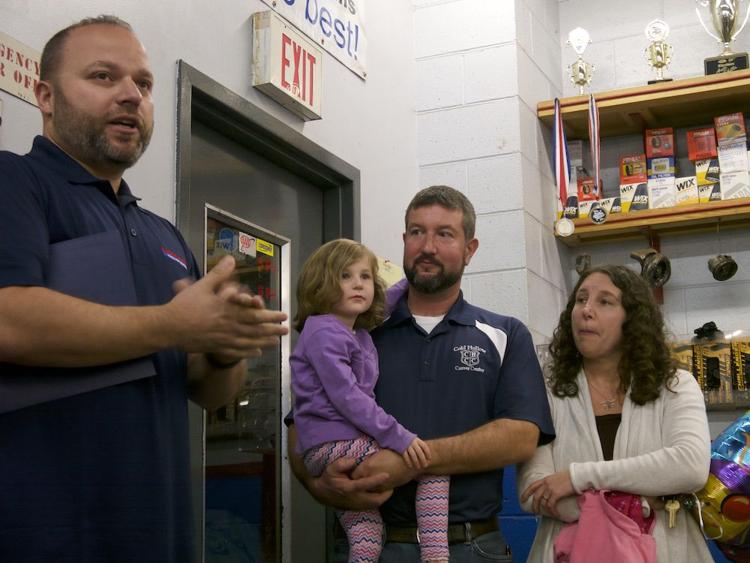 ENOSBURG FALLS – When the Cold Hollow Career Center's Baxter Weed entered the technical center's automobile shop Thursday afternoon, he had no idea he'd won national recognition for his work there.
"I was one hundred percent surprised," Weed said.
Amid cheers of "surprise!" from the audience, the veteran automotive technology teacher received a second-place Harbor Freight Tools for Schools Prize for Teaching Excellence Thursday, one of 15 teachers nationwide receiving such a title this year.
Winners of the Tools for Schools Prize for Teaching Excellence are selected from a larger pool of applicants nationwide. Around 750 teachers applied for the award nationally this year, with the list ultimately whittled down to three first-place winners and 15 second-place winners.
Weed was the only teacher from Vermont recognized this year.
According to Harbor Freight Tools' Mike Levin, Weed stood out due to "his ability to connect with his students and level set them." There was a piece around equity within Weed's application that Levin said really spoke to him as he presented the award.
"'A normal mix of students in my program ranges from the top of the academic ladder to the bottom, but that all goes out the window, because none of them are practiced experts when they start in the program,'" Levin read. "'This allows for different relationships to form and the opportunity for students to show their strengths they've never had the opportunity to show before.'"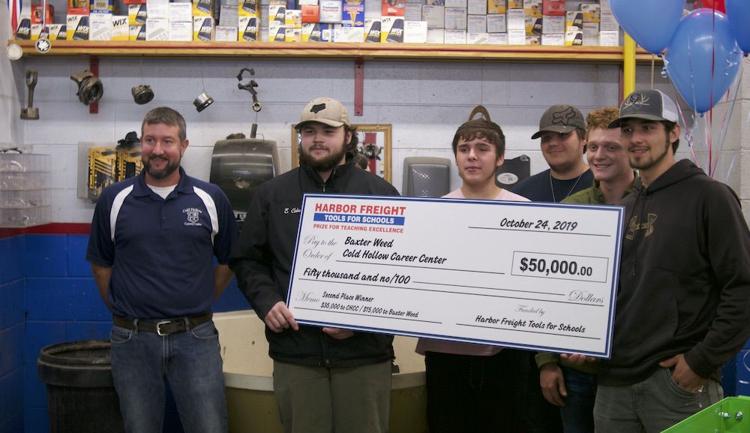 "Everyone, no matter where they're coming from or what town they're coming from or where their place in the high school is, when they come here as a Cold Hollow student, we're all starting from the same place," Weed explained later. "Some may know a little more than others, but there's no assuming."
Administrators at the Cold Hollow Career Center said they were proud of Weed receiving recognition for the work he was doing with students and of how it reflected the technical center as a whole.
"We are definitely one of the smallest tech centers in the state and probably in New England, and we have one of the best automotive teachers in the country, and Harbor Freight has recognized that," said Cold Hollow director Nathan Demar.
According to Demar, in the ten years Weed taught at the technical center, he'd gone out of his way to connect students to opportunities outside of the classroom, regardless of whether or not they're directly related to the automotive work done in Cold Hollow's garage.
"He meets students where they are and moves them, whether it's in their academic skills, their technical skills or their employability," Demar said. "He treats them like the young adults they are and helps them experience success in an area they love."
"I think Baxter being recognized is a reflection of the program and the opportunities he's trying create for these kids," said Franklin Northeast Supervisory Union's superintendent Lynn Cota. "He takes the role very seriously as somebody who tries to open doors for opportunities for them and their future."
With Weed's award came a celebratory check for $50,000 – $35,000 of which was presented to the school and another $15,000 was presented to Weed to spend as he saw fit.
Weed and Demar said they hoped to use the funds to reorganize the career center's garage space, cleaning it up for newcomers while possibly reorienting some of the storage space for classes.
"I'd like to make it more inviting when people come in," Weed said. "We have a lot of eighth graders and seventh graders come through, and just to have a nice redone floor and spruce the place up – there's not a large budget for that."
According to Levin, the overall Tools for Schools initiative comes from Harbor Freight Tools' owner's personal connection to vocational education as well as recognition of the doors technical education can open for students.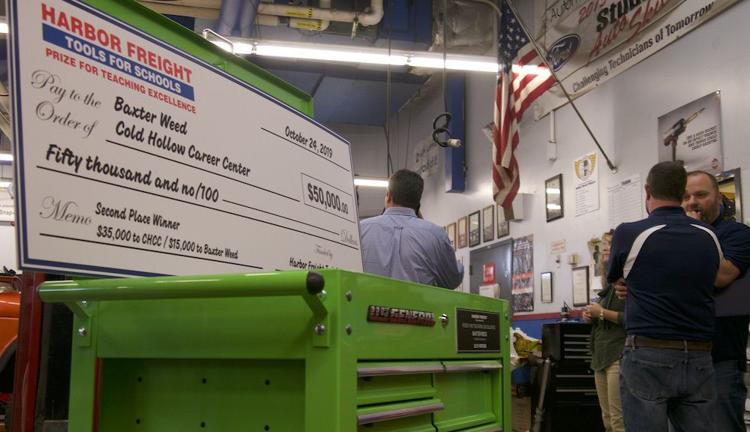 "As much as everyone wants to say everyone should go to college, not every student's cut out for that," he said. "Some students want to be an auto mechanic or be a welder or be a plumber, but that's something you need to start early."
That idea, Demar said, is at the core of what Cold Hollow does.
"Some of our kids haven't been successful in school yet, but they come here and start solving problems," Demar said. "They realize that maybe they're not book smart or classroom smart, but they're really smart when it comes to problem solving."
Weed, who beamed a smile when he said this award was "validating of the work I've been doing for the last 20 years," said other teachers around the state were just as deserving of the award, and he encouraged those teachers to try for it.
"There's plenty of teachers out there around the state that are more than worthy of getting the same thing," Weed said, before adding with a grin. "They should apply."