FRANKLIN COUNTY – David, an immigrant farmworker employed on a Franklin County farm, has worked on dairy farms in the northern U.S. for about eight years now.
Over those years, David said there had always been immigration authorities patrolling nearby.
New to the farmworker, however, were the interior checkpoints Border Patrol began operating in Franklin County.
Speaking through an interpreter, David told the Messenger Border Patrol's checkpoints were only a recent sight for the veteran farmworker, and he said he feared what it meant for the 2,000-strong population of migrant workers who call Vermont home.
"This is something new for me," David said. "It's troubling."
Earlier this summer, U.S. Customs and Border Protection (CBP)'s interior checkpoints captured headlines around Vermont as the practice, sidelined in the Green Mountain State, returned to roadways in Northwest Vermont.
While it seemed the most heavily debated checkpoint could be found at a bridge connecting South Hero and Milton, information provided by immigration officials to Sen. Patrick Leahy's office pointed to Franklin County as the ground zero for checkpoints.
According to that information, shared by the senator's office with Messenger, 17 of the 25 checkpoints staffed by Border Patrol in the 2019 fiscal year were in Franklin County.
Advocates report many of those checkpoints were centered on Richford and Montgomery, and, according to Leahy's office, four immigration-related arrests occurred as a result of those checkpoints.
Border Patrol's interior checkpoints have proven controversial in Vermont, spurring pushback from the state's congressional delegation and advocacy groups opposed to what they feel is a violation of individuals' privacy rights.
Advocates – including David, who campaigns with the human rights group Migrant Justice – also fear the effect the checkpoints might have on the state's population of farmworkers, citing a chilling effect that could force migrants into hiding rather than risk a confrontation with authorities.
"Personally, it hasn't changed my life much – I feel some fear, but not a whole lot – but others in my community are more worried," David said to the Messenger. "People don't go to the store to buy food, or they don't go out to buy lunch.
"People are making decisions not to go out because of the fear that they feel."
Border Patrol, which is allowed to stop and search travelers within 100 miles from the U.S. border, maintains that interior actions like checkpoints "serve as a vital component of the U.S. Border Patrol's national security efforts."
"Enforcement actions away from the border are... performed in direct support of immediate border enforcement efforts and as a means of preventing smuggling and criminal organizations from exploiting existing transportation infrastructure to travel to the interior of the United States," a statement provided by Border Patrol read.
According to Border Patrol, in the 2019 fiscal year that ended Sept. 30, federal immigration agents in the Swanton Sector, extending from New York's North Country to Maine, made 136 immigration-related arrests as a result of interior checkpoints.
Mixed into those immigration-related arrests are other law enforcement actions, like drug seizures or negligent vehicle operations. A representative from Border Patrol shared an incident where five were arrested at a New York checkpoint for marijuana possession, and according to information provided through Leahy's office, another drug seizure had occurred at a checkpoint in Franklin County.
Critics of interior checkpoints, however, counter the results of the program do not warrant the costs the checkpoints incur or their effects on local communities.
In a September phone call with the Messenger, the head of the American Civil Liberties Union's Vermont branch James Lyall said violations of the Fourth Amendment's protections against warrantless searches and reports of racial profiling often followed deployments of interior checkpoints elsewhere in Vermont.
"At the most fundamental level, any checkpoint where all travelers are subject to stop and seizure or subject to seizure without any suspicion of wrongdoing, that flies in the face of what it means to live in a free society," Lyall said.
In a statement to the Messenger, a representative from Border Patrol wrote U.S. law allows for immigration agents to "without a warrant... board and search for aliens in any vehicle," citing previous court cases that affirmed that authority was permitted under the Fourth Amendment.
Senators Leahy and Bernie Sanders, I – Vt., as well as Rep. Peter Welch, D – Vt., have been uniformly critical of Border Patrol's exercise of authority in the region, signing a joint statement in 2018 objecting to what was then only a proposed extension of checkpoints into Vermont.
"While these checkpoints will cause needless delays for travelers and hinder commerce between Vermont and Canada, we are not convinced they will make Vermont or the United States any safer," the three legislators wrote. "Rather, they appear to be another escalation of the Trump Administration's aggressive yet wasteful use of immigration enforcement resources.
"We are concerned these interior checkpoints may result in the warrantless searches that violate the constitutionally protected Fourth Amendment right to privacy for everyone in our country and will instill fear in our immigrant communities – regardless of immigration status," their statement continued.
Since issuing that statement, Leahy and Welch introduced legislation seeking to shrink CBP's jurisdiction from 100 miles from the U.S. border to only 25 miles, echoing legislation proposed by all three in 2018.
All three legislators have also called for federal investigations into the effectiveness of interior checkpoints.
With the Border Patrol's jurisdiction stretching 100 miles from the U.S. border, much of Vermont sits within the Border Patrol's jurisdiction.
While 2019 saw the first deployment of checkpoints in Vermont in years, CBP had already staffed temporary checkpoints along highways in other New England states, and as recently as 2014 immigration authorities had looked at – and ultimately defeated – plans for a permanent checkpoint near Hartford, Vt., Seven Days reported that year.
Interior checkpoints returned to the limelight this year with the heavily-publicized installation of a temporary checkpoint on Route 2 between South Hero and Milton.
According to information provided by immigration authorities to Leahy's office, four checkpoints had been set up and taken down on Route 2, and news reports tracking the Route 2 checkpoint confirmed at least one immigration-related arrest at the checkpoint.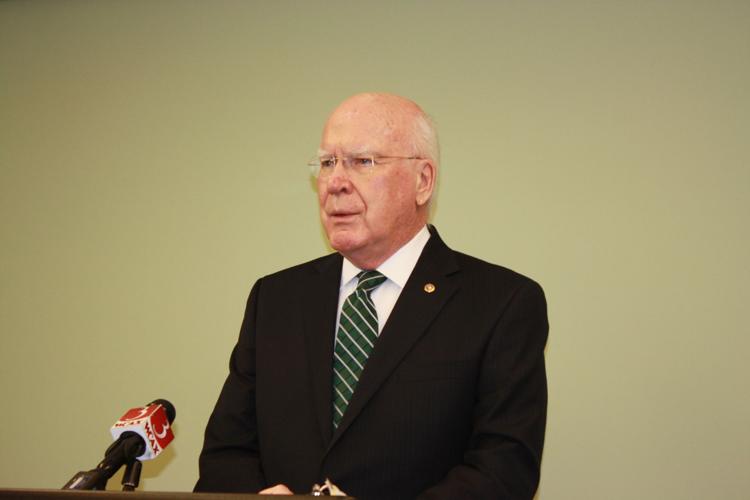 Another four were established in Lamoille County, according to information provided to Leahy's office and subsequently shared with the Messenger.
Border Patrol has yet to resume the use of checkpoints in Vermont since the start of the 2020 fiscal year starting in October, according to information shared by Leahy's office.
In response to checkpoints, members of the migrant community, partnering with campaigners in Migrant Justice and Vermont residents at large, had formed a "response network" of sorts to warn away motorists when a checkpoint appears and spread information about migrants' rights if they are stopped by a checkpoint.
"We're human beings. We're workers. We don't come to this country to do damage to anybody. We work honorably and we work hard everyday to support our families," David told the Messenger.
"It is a difficult moment in the community right now... But as a community, we aren't defeated."