BERKSHIRE – On Monday afternoon, students from Berkshire Elementary School (BES) gathered beneath the maples of a nearby sugar bush, emptying buckets from more than 100 taps and sneaking bites of frozen sap when their teachers allowed.
Standing atop a hill within the bush to speak with students, Levi Irish, a middle school special educator and BES's farm-to-school coordinator, questioned the students about the science behind what they were doing.
"What does 'RO' mean?" Irish asked.
"Reverse osmosis," answered one of the elementary students. "It takes out some of the water."
Irish asked how many students had sugared before, and more than half of the students raised their hands.
"My favorite part of sugaring is collecting the sap with my family," one student said.
According to Irish, having learning opportunities like the nearby sugar bush, situated in a piece of property currently owned by the Town of Berkshire, allows students a chance to learn about both their community's history with sugaring and about the food that eventually ends up on their plate.
While initially started independently of the school's growing farm-to-school programming, BES's sugaring project has become a natural fit for that initiative, according to Irish, offering another way for students to learn more about local agriculture and their foods.
It was actually farm-to-school grant funding, with some support from Damian Branon and Leader Evaporator, allowing the school to expand the amount of taps used within BES's sugar bush, growing from the 79 taps used last year to the more than 100 taps now used by the school's sugaring program.
"In this community we have an opportunity to know that our food could come directly farm-to-table, forest-to-table," Irish said. "We want our kids to know the history and know their food is literally traveling less than five miles to their plate."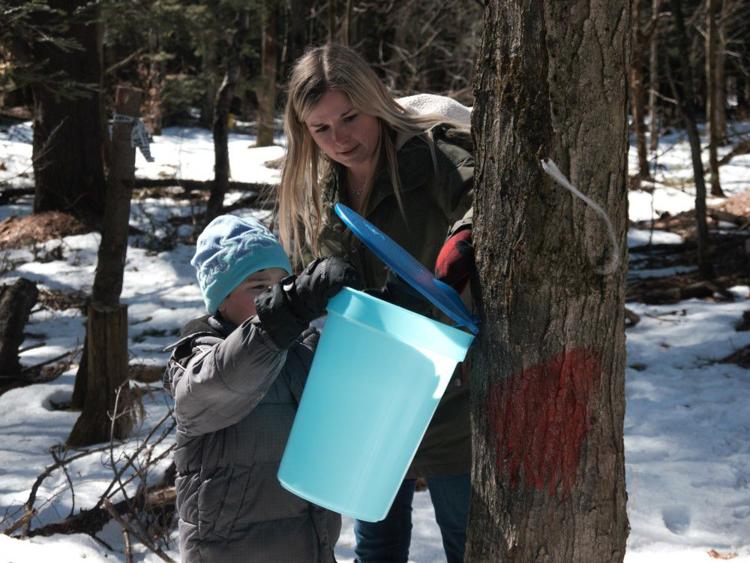 To that effect, Irish and several other members of BES's staff, including teachers Cynthia Teague and Breanne Boultby, have helped organize the school's sugaring program with help from area farmers so their elementary students have a chance to experience sugaring firsthand.
Teachers have tried to connect students to those local ties as well, inviting local sugarers Jamie and Bradley St. Pierre to meet with students and help in BES's sugar bush.
The students themselves handle a lot of the work in the bush, hanging and emptying buckets around the woods and having a hand in setting up some of the bigger pieces of hardware, like the bush's gathering tank.
"They don't just read about it and write about it, but actually do it," Boultby said. "It becomes real."
Had schools not been ordered closed by the governor earlier this week due to the ongoing outbreak of the novel coronavirus responsible for COVID-19, the teachers would have brought the students' sap to nearby sugar makers, where students would have observed the boiling process in person.
Whether that will happen still was open ended, but teachers said they still hoped to allow the students a chance to experience boiling once classes eventually resume. "We're hoping kids will be able to boil that when they get back," Boultby said.
Irish said they could also see the amount of taps used in their program expand to as much as double the amount they were already using as the program transitions into the school's middle school classes. "We see ourselves expanding to double the size of where we are right now," Irish said.
She also said there was hope among staff the school would one day house its own sugarhouse, like other schools in the area with similar sugaring programs. "But that's a while out from here," Irish said.
Irish also said the sugaring program would be moved from its current home within the school's third- and fourth-grade classes and into the middle school classes, with other courses related to farm-to-school taking sugaring's place among the elementary classes.
It seemed the students were happy with where the program was now, however, with teachers more than once telling the Messenger they were consistently surprised with how excited students were.
"Kids just surprise me about this," Irish said. "They're just so excited."
"We're sneaking in learning," she added later with a grin.