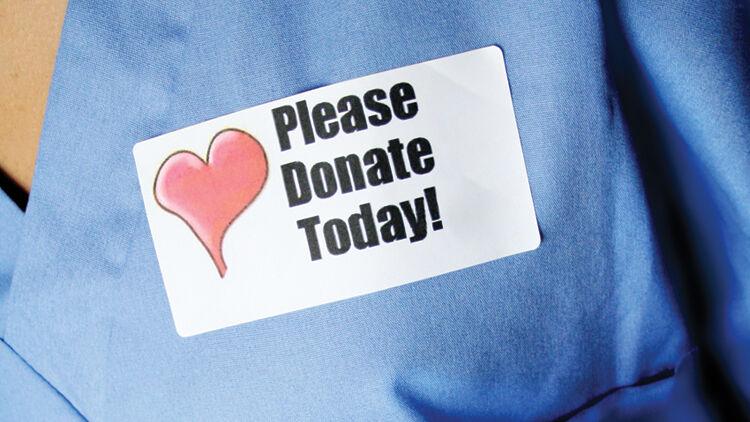 ST. ALBANS — On Sept. 10, the northwest Vermont community will have the opportunity to donate blood in honor and remembrance of the lives lost on Sept. 11, 2001.
The drive, to be held 1 p.m. to 7 p.m. at the VFW Post on Lake St., will be hosted by the St. Albans VFW Post 758, the Vermont State Police, St. Albans Police & Fire and the Franklin County Sheriff's office, said Kay Cook, the volunteer who spearheaded the organization of the event.
Although anyone can participate, the event is aimed at giving those who work in local public safety departments the opportunity to donate blood, Cook said.
Hospitals in the U.S. are in a critical need for blood right now, said Brad Howort, account manager at American Red Cross Donor Services.
Cook, who has spent her last two years of retirement working with the Red Cross, running her own drives from her house in Franklin, said she's hopeful this event will draw the big turnout that is expected.
During the height of the pandemic, Red Cross donation events were booming with good turnout, but Howort said he believes the blood supply hasn't been as low as it is now since 2019 and donor turnout is extremely low.
"It has been quite a while since we've been in this position," Howort said in a June 16 interview with the Messenger. "We're seeing the lowest donor turnout that we have seen in the state in many years."
Howort said that the pandemic has affected every aspect of blood donations.
Not only are people not as willing to come in to donate with their schedules filling up when pandemic restrictions were lifted, hospitals have been seeing a substantial increase in the amount of surgeries to perform because patients are now getting procedures done that they put off during pandemic heights, Howort said.
However, Howort thanked the St. Albans community for continuing to come out and donate. He said in June that over the past year and a half, St. Albans has collected more blood than any other city in Vermont.
Howort has been running a 9/11 Blood Drive in Burlington for four years now, an important event for him, being a New York native who lost his best friend who worked for Cantor Fitzgerald in the North Tower.
"The rallying cry, back then, was 'Never Forget,' and now we're 20 years down the road," Howort said. "People have gone on with their lives, so I feel it's really important to remind everybody that we can't forget that day."
The opportunity to donate blood in remembrance of 9/11 is a way to turn a horribly tragic event into the chance to provide something completely positive, Howort said.
Cook said the event provides a space to create a tangible amount of good in the world.
"It is such a great cause for more than one thing. We're talking number one, the Red Cross, but we're also trying to remember 9/11," she said. "It's really a full gamut of great things going on."