ST. ALBANS CITY – Advocates from Vermont's migrant farmworker community repeated calls for Hannaford supermarkets to join a program supporting better working conditions on farms during a press conference in Taylor Park this weekend.
Organizers from the Burlington-based Migrant Justice were joined by spokespersons from Ben and Jerry's, and the Milk with Dignity program's supervising body to herald the program's early successes and call for its expansion.
The Milk with Dignity program commits participating milk buyers to preferring farms following a set of housing and working conditions standards, and to offering a premium for milk purchased from those farms to support compliance with the program's standards.
The program is supervised by a Milk with Dignity Standards Council through an open bilingual hotline and annual audits of participating farms.
Ben and Jerry's, the South Burlington-headquartered ice cream maker with a plant in St. Albans, was the program's first signatory in 2017.
Since then, according to the Milk with Dignity Standards Council, 100 percent of Ben and Jerry's northeast supply chain is enrolled in the Milk with Dignity program, now accounting for 20 percent of Vermont's total dairy production and 64 farms in all.
According to organizers from Migrant Justice, the largest share of those participating Vermont farms could be found in Franklin County.
On Saturday, Migrant Justice's Marita Canedo said it wasn't clear how many farms would be affected by Hannaford joining the Milk with Dignity program, but added "we know for sure there are certain farms in the northwest area of Vermont" that would be involved in the program.
Hannaford, thus far, has yet to respond directly to the Milk with Dignity program, according to Canedo.
An emailed request for comment from a Hannaford spokesperson was not returned by press time on Sunday, but a spokesperson from the supermarket chain previously told the Burlington Free Press the company expects "all our suppliers to follow the law and treat workers fairly."
"We require our suppliers to comply with standards of engagement… including provisions for: how they treat and compensate workers; maximum allowable working hours and days; premium pay for overtime; and workplace health and safety," they told the Burlington-based newspaper.
According to Canedo, organizers behind the Milk with Dignity program believed those commitments required the third-party oversight of an organization like the Milk with Dignity Standards Council to be effective.
Saturday's press conference was organized by Migrant Justice largely to discuss a report detailing the Milk with Dignity program's first two years in effect following Ben and Jerry's agreement to join the program in 2017.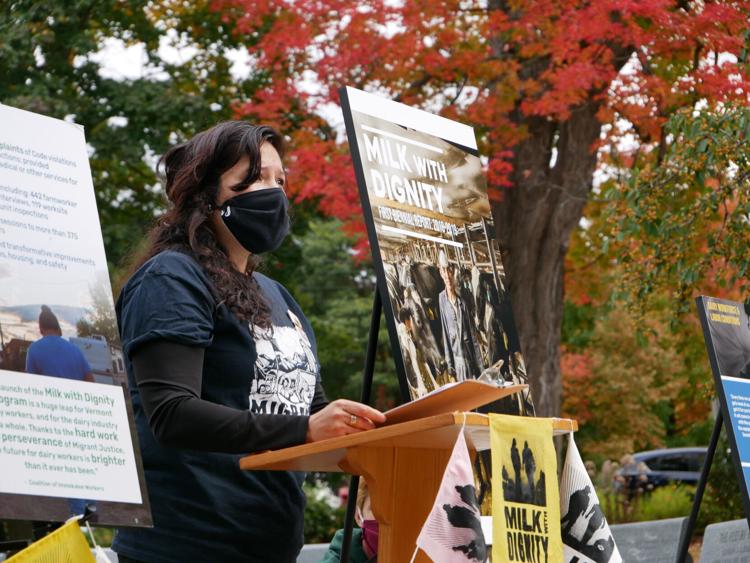 Farmworkers celebrated the program's success Saturday, speaking to both the conditions they experienced on Vermont dairy farms not belonging to the program and to improvements they saw once their farm began participating in Milk with Dignity through Ben and Jerry's involvement.
One farmworker, who only gave the first name Adrian, described through an interpreter experiences of living in a cramped, bedbug-infested home with nine other workers and facing hostility from their employer whenever he and other workers raised concerns around their housing situation.
"In my experience outside the program, employers aren't friendly," he said. "They're disrespectful, they can be abusive, they discriminate because you don't' speak the same language or you aren't from here, and they treat you differently because of who you are."
Life on a different farm now participating in the Milk with Dignity program, however, apparently contrasted like "night and day," the farmworker told a small Taylor Park audience Saturday.
"The truth is, I've experienced a huge change in conditions and treatment in the areas of housing, in hours and wages and in the treatment from bosses, which is more friendly than before," Adrian said.
Another farmworker, José Ignacio de la Cruz, an organizer with Migrant Justice, described at one point living in a garage with other workers where the farm's owner kept their tractor.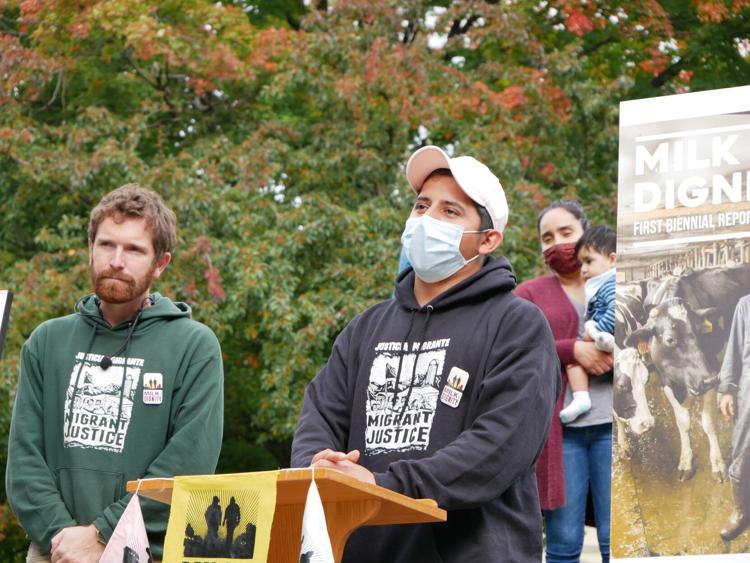 "We had to live with pest infestations of cockroaches and rats, and when it gets cold, that's when snakes moved into the house," he said through an interpreter. "In the winter, there wasn't heating and it would get very cold."
Ignacio said at least one farmworker was sent to the hospital for several days due to a disease likely caused by their garage's rat infestation.
On another farm where workers were paid below the minimum wage, Ignacio said he and several other farmworkers were able to lobby the farm's owner into paying higher wages, but warned "not all farms end with that same happy story."
A Migrant Justice survey supported by Tufts University and circulated on Vermont dairy farms not participating in the Milk with Dignity program found most migrant farmworkers regularly working for more than eight hours a day and, in some cases, might never see a day off during a seven-day week.
Responses also pointed to consistent issues with chemical and environmental risks and a lack of protective equipment.
According to Canedo, several of the issues raised through the Milk with Dignity campaign would be magnified amid an ongoing pandemic, ranging from concerns with cramped housing and protective equipment to economic fears as COVID-19 upended an already struggling dairy industry.
As of Saturday, Canedo said there were no known cases of COVID-19 among Vermont's farmworkers, but that there was still a lot of fear among workers due to the pandemic.
"The fear is there for sure," Canedo said.
Matt Maxwell, a dairy farmer from Newport, Vt., who regularly speaks in favor of the program at Migrant Justice events, again endorsed the Milk with Dignity program during Saturday's press conference in Taylor Park.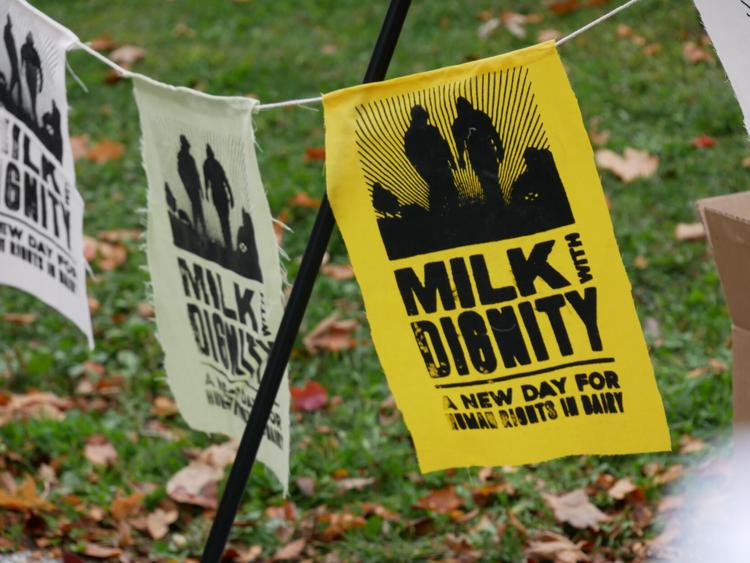 The Newport farmer said the program had brought a sought-after "stability" in communications and the relationship between him and his farm's workers. "We're really thankful for the program and the kind of structure and accountability it's brought on both sides," Maxwell said.
According to a press release from Migrant Justice, 25 events had been planned for Saturday around the Northeastern U.S. calling for Hannaford's involvement in Milk with Dignity.