ENOSBURG FALLS – With the opening of 242 Texas BBQ, a little bit of Texas has come to Enosburg Falls.
If the name sounds familiar, that is because David and Cyndi Maibaum are already recognized in Franklin County as seasoned veterans of the county's food scene.
The previously had a food trailer that, every summer, would park along Route 242 in Montgomery, drawing fans from as far away as Quebec City and New York City.
David traces his brisket-making days even farther back than the Montgomery food truck, to the Lone Star State where he served in the U.S. Air Force. "I got to Texas, and the second I got there I fell in love with barbecue," David said.
"That's what you do in Texas," he said. "At any given time at night in the backyard, you look either way and all you see is smoke. All your neighbors are doing it."
A few years later, around the time David joined the Border Patrol, he met his future wife Cyndi and, as he put it, "I basically discovered she's an unbelievable cook, and the rest is history."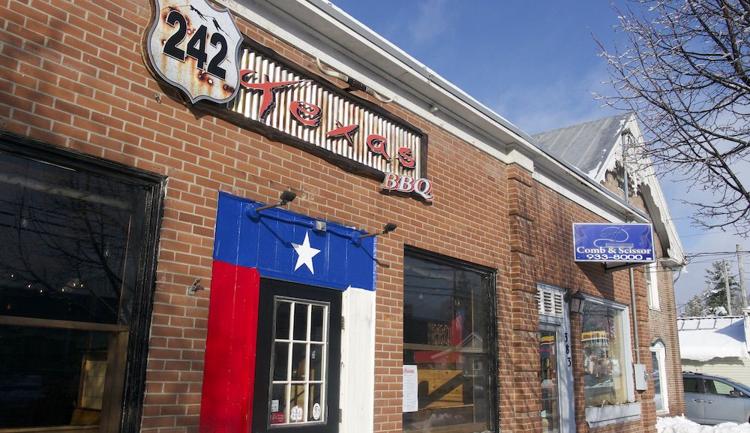 David said, between work and barbecuing competitions, he would help Cyndi with her catering business, providing the weekend barbecue when requested by Cyndi's customers.
They brought that passion to Vermont when David transferred from the southern to northern border, David said.
When they found a food truck that seemed to map to exactly what a barbecue truck would need, things sort of fell into place. "We didn't plan on doing this up here," David said. "I saw on Craigslist a food trailer that had everything we needed to start, so two weeks later we were up and running."
242 Texas BBQ opened along Route 242 only a handful of miles from Jay Peak, where the Maibaum's reputation grew and where, every summer, the two still plan to keep the original 242 Texas BBQ open for business.
"We wanted to bring a little bit of Texas here and introduce people to our world," Cyndi said. "We love food, we love to entertain and we wanted to be around people."
"Barbecue is a celebration," David said. "You barbecue when the baby's born. You barbecue for birthdays. When every customer comes through the door, it's like a celebration any time of year."
242 specializes in a Central Texas style of barbecue, meaning every day's brisket is cooked "low and slow," David said, with a big emphasis on pepper and smoked with white oak David admitted was hard to come by around the hardwood of Vermont.
"I pay through the teeth for it, but that's how much we care about the product," David said.
That care spreads to the other parts of the menu, too, David and Cyndi said, as, every day at around 4 a.m., they fire up the restaurant's kitchen to prepare everything they can in house.
"When we started this, that's one thing we really, really stressed," David said. "We're going to put as much emphasis on the sides as we do the meat."
"We're very meticulous about what we put out to the customers," Cyndi said. "We want to make sure they enjoy the food."
242 Texas BBQ's Enosburg Falls home – formerly belonging to Bleachers – is still brand new, with the doors only opening last weekend.
The building was already an almost perfect new home for the barbecue restaurant, according to David, and some dressing up courtesy of Cyndi.
The walls are lined with a sort of Texan flare that carries even into the street, where a welded sign courtesy of Jon Johnson and Mountain View Auto Body hangs overhead and the likeness of the Texan flag frames the door.
There were still some moving pains when the Maibaums met with the Messenger, but David said 242 Texas BBQ's few days they were open had already brought hundreds of customers through the door and a slew of positive reviews.
"We put everything we have into this business," David said. "We truly care about our customers and we want them to have the best experiences possible.
"We hope we can provide a product that's not only unique to Enosburgh, but all of Vermont."