MILTON – On Saturday morning, Leslie Piela, wearing a jean jacket and smile beneath her mask, stood behind the counter. Her husband Mike worked the blender, its whirring drowning out the drizzling rain. 
The Pielas are the owners and creators behind Lakelife Nutrition, a place for shakes and boosted teas, which opened Oct. 22 on Middle Road in Milton. 
Earlier this year, owners Leslie and Mike Piela, who live in South Hero, saw the former Domino's location come up for sale and knew it was the perfect opportunity. 
"Over the winter, I had a chance to reflect on what I wanted to do next, and I knew I wanted to serve something that tastes good while talking about health," Leslie Piela said. 
Piela was a registered nurse for 20 years before she became a wellness coach. She believes Lakelife's shakes and teas are not only delicious but healthy. 
Every shake, whether it be caramel apple or snickerdoodle-flavored, has 24 grams of protein. The teas, like blue raspberry and "Champ" can be either "boosted," "lit" or "megalit" meaning they have added caffeine from B-vitamins and other natural ingredients like ginseng and ginkgo.
Shakes cost $6 while teas are $7. 
Piela said some of the recipes she developed herself while others were shared by others in the nutritional shake community. 
"There is tremendous support amongst people in this business," she said.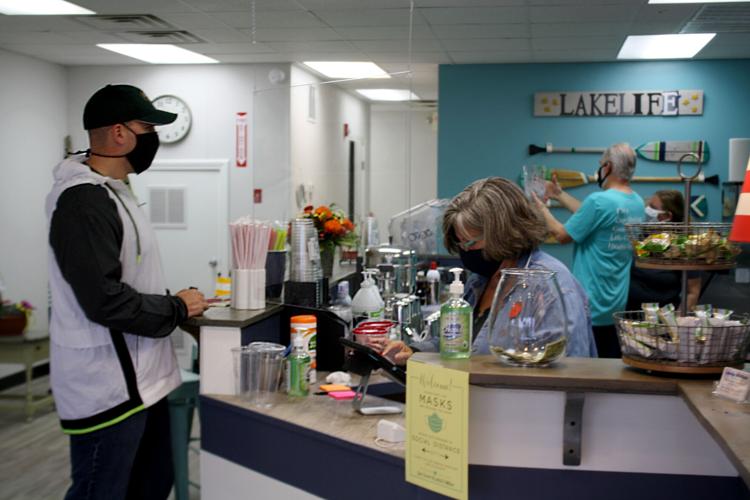 Some of the shop's most popular shake flavors at the moment include Almond Joy, birthday cake and cider donut. 
"I love that I get to serve something I enjoy while getting to know new people and talking to them about health," she said. 
Piela said Lakelife Nutrition is a happy, "no-drama" zone. She wants people to come in, sit at the counter and feel taken care of. 
When she and her husband began moving into the space at 49 Middle Road, Piela said it needed to be "loved on" — but she had a vision for it almost immediately. 
It's now painted a bright, sky blue and decorated with repurposed objects. The counter, a driftwood gray, is made from an old barn door, as well as the hanging American flag. Leslie Piela, who is also an artist, painted the flag, as well as the oars on the far wall, herself. 
Lakelife Nutrition has been leveraging social media to spread the word about its opening. Customers who "checked in" on Facebook received $1 off their purchase last weekend. 
In the coming weeks, Leslie said she hopes to be able to offer online ordering as well as curbside pickup to make visiting the store more efficient and convenient. 
"I love having the ability to make a real impact and change someone's life," Piela said.