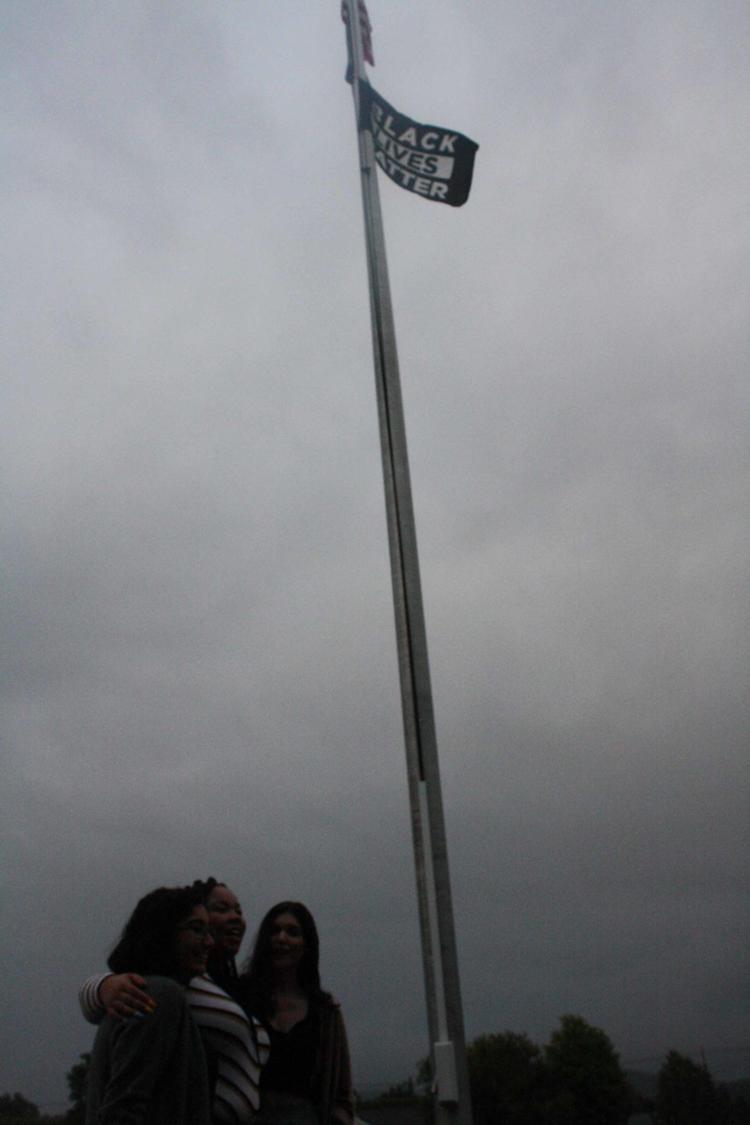 The theft of Milton High School's Black Lives Matter flag in the early morning July 1 has given way to a variety of reactions in the Milton community over the last few days. 
The flag, which was raised in September 2019 after a two-year long push from students at MHS, was re-raised Wednesday night in an im-promptu ceremony hosted by school leaders. 
Emily Hecker, a member of the school board, said a member of MHS' maintenance staff went out almost immediately after the incident to purchase a new flag for the school. Maintenance personnel also repaired the rope of the flagpole, which had been cut during the theft. 
"Our main objective was to send a message to students and people of color in town that we stand with them, and weren't going to tolerate this kind of behavior," she said. 
Hecker was present at the flag-raising Wednesday night and said she thought there was a good turnout.
"A lot of people showed up," she said. "Students, staff, community members and a few other school board members were there." 
Hecker said her initial reaction to the news that the flag had been stolen was a combination of sadness and anger. 
"I am concerned that the people of color in our community feel less safe as a result of this vandalism," she said. 
Kaleb Wright, a senior at MHS, said his immediate response to the theft was disbelief. 
"My immediate response was 'oh my gosh, what?' and then my face just turned red as I filled with anger," he stated in an email to the Independent. 
Wright stated he feels there has been an uptick recently in racist messages and content from his peers and fellow community members.  
"It immediately made me want to be a detective," he stated. "But I now know that regardless of who did it, it's the hateful message from the act that struck me most awry." 
Hecker said she also has been incredibly distrubed by the conversations around race happening in the community, especially on social media, where comments in Milton community Facebook groups have stirred up heated debate. 
"It's so upsetting," she said. "There are some people in our town who need to examine their heart."
Discussions about the flag have continued almost non-stop for the last 48-hours in two Milton-specific Facebook groups. 
Hundreds of comments are piled beneath videos of the flag being re-raised and under an announcement stating that the student group, Milton Students for Social Justice, will be holding an anti-racism protest July 7. 
Some Facebook users commented the schools should not be taking political stances. Others commented an "all lives matter" flag should be raised instead. 
"I am very unsurprised of the comments attempting to condemn racial justice efforts on Facebook," Wright stated. "I would push back on these comments by saying it's the students making the environment political. We happen to have amazing teachers who support our efforts when they feel the cause will have a positive outcome. We seek a change in our community and school facilities."
Mariam Pakbaz, another senior at MHS and one of the students who helped get the first Black Lives Matter flag raised, said fighting for social justice isn't political. 
"It's about human rights," she said. 
Pakbaz hopes many of her fellow students at MHS will come out in support on Tuesday. 
"I expect to see a lot of faculty, because they have been supportive from the beginning," she said. "But for students it's harder I think because of social pressures." 
Following the theft, Superintendent Amy Rex sent a statement via email to MTSD students, families and staff July 1. 
"On behalf of the district, high school Principals Mary Jane Stinson and Anne Blake, and most importantly, on behalf of our black and brown students, I am angry," the email stated.  
"I am angry that the person or group of people who are responsible for desecrating the symbols that represent the values we hold true as a learning organization, as a community and as citizens of this Nation, feel empowered to threaten us with hate." 
Rex pledged to stand "taller and stronger" in her efforts against racism and stated the school district will continue to strive to be an inclusive community for all. 
Rick Dooley, chair of the MTSD school board, issued a statement on behalf of the entire board July 2 on social media and in a letter to the Independent.
He stated as both board members and as community members, the board is extremely disappointed by this action.
"As white board members, none of us can come close to imagining what it is like to be Black in this predominantly white town; to be the sole student of color in a classroom; to have one's very humanity threatened by merely demanding to be seen and heard," the statement reads.
The individual responsible for stealing the flag is still unknown. Sergeant Paul Locke said the Milton Police Department is actively searching for the individual by asking for community assistance. MPD is asking anyone with additional knowledge about the incident to contact MPD at 893-2424 or Miltonvt.gov/Police.
The Milton High School Anti-Racism protest, organized by Milton Students for Social Justice, will take place at 5 p.m. July 7 in front of Hannafords Supermarket on Route 7.