When I walked into Black Flannel Brewing and Distilling last week, a line of customers reached the entryway. Most of them had a cold four-pack of Tropical Graffitti in their hands, a new sour brewed with dragon fruit, that had been canned on-site the day before.
I maneuvered my way to the front of the line to ask for Chris Kesler, Black Flannel's founder, but he was already waiting in the next doorway, ready to give me a tour.
After brewing its first beer, an American Kellerbier, June 1, Black Flannel opened for table service at its location in Essex July 1. Serving up brews and burgers and charcuterie from 12 p.m. to 10 p.m. Wednesday through Saturday and from 12 p.m. to 9 p.m. on Sunday, Black Flannel has already seen plenty of customers.
On the day I visited, Black Flannel boasted nine varieties of cans in their cooler, ranging from lagers to imperial stouts. Tucked up on the top shelf of the cooler was Disco Montage, the New England-style IPA that started it all.
IN 2017, Kesler, who had already been brewing beer at home in Jericho, Vermont for three years, entered Disco Montage in the statewide home-brew competition, Make the Cut. The beer won second place.
"I had been told by friends and family that the beer was good, but it was even better to be validated by other people," he told me.
Kesler followed up his second place with the distinction of Vermont Homebrewer of the Year in 2018. Not long after, his brother-in-law suddenly passed away, and Kesler said something in him shifted.
"I had a 'life is short, pursue your passion' moment," Kesler said.
And so Kelser, who also owns Ecologic, Inc, a web design and marketing company, began to surround himself with as much beer education as possible: he enrolled in a business of craft beer class at the University of Vermont, became Cicerone certified, and earned his official beer judge certificate.
Soon, the dream of owning his own brewery seemed more attainable, and after finding the funding from a combination of banks and private investors, Kesler began to recruit staff, searching for people who he called "crafts people" -- those who balance science and artistry in their work.
Dan Startwell, who came from 14th Star Brewing in St. Albans, is Black Flannel's head of brewing operations.
"I appreciate that Black Flannel is made up of people with different brewing backgrounds, both home brew and professional," he said.
Opening a brewery in the midst of a pandemic was certainly not part of the plan, Startwell said, but it hasn't impacted how they brew beer.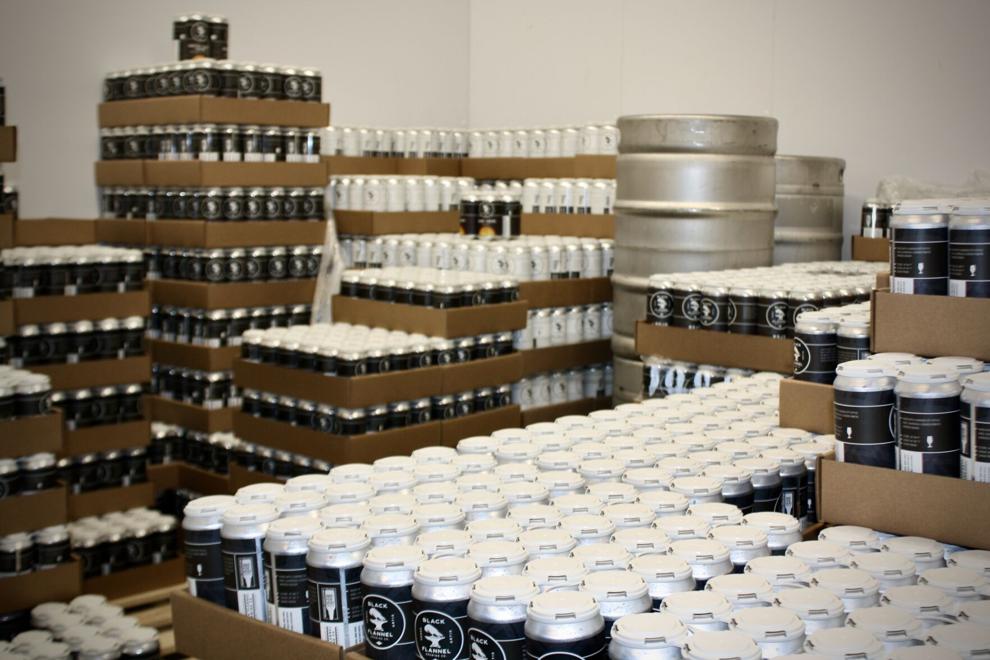 On my tour of the brewery and taproom, I also met Justin Rito, Black Flannel's assistant brewer and head of beer curriculum. Rito too got his start in the beer industry as a home-brewer, and is looking forward to setting Black Flannel apart from other breweries in the state through its educational programming.
"Chris [Kesler] had a cool vision," he said. "We are trying to both nail the classics and make beers that are new, fun and interesting."
After a walk up to the brew deck, where I got to see the brewery and its equipment from several feet up, Kesler showed me over to the distillery, just next door.
"Beer and spirits are made using much of the same equipment, so it seemed as if the hands of fate wanted us to do both," Kesler said.
We found Dave Mosher, Black Flannel's spirit master, seated on a stool in the back, labeling each bottle of a new batch of malt whiskey by hand.
"Malt whiskey is on the verge of exploding, and we want to be on the ground floor of that," he said. "We produced 50 bottles Friday afternoon, and it was sold out by Saturday."
There are three steps to spirit-making: fermenting, distilling and finishing. Most Vermont spirit-makers are only finishing their product -- aging and bottling it, Mosher said, but Black Flannel is doing all three.
Mosher, also a long-time home-brewer, made the transition from amateur to professional around 2014, when he took a craft distilling course at Vermont Technical College under the direction of Duncan Holaday, owner and founder of Dunc's Mill Distillery in Barnet, Vermont.
When Holaday retired from teaching, Mosher took over the course, giving him the opportunity to share his passion and extensive knowledge with others.
Mosher specializes in producing spirits flavored with vegetables, fruits, roots and botanicals. He is especially excited about a raspberry brandy that was fermenting nearby as we spoke.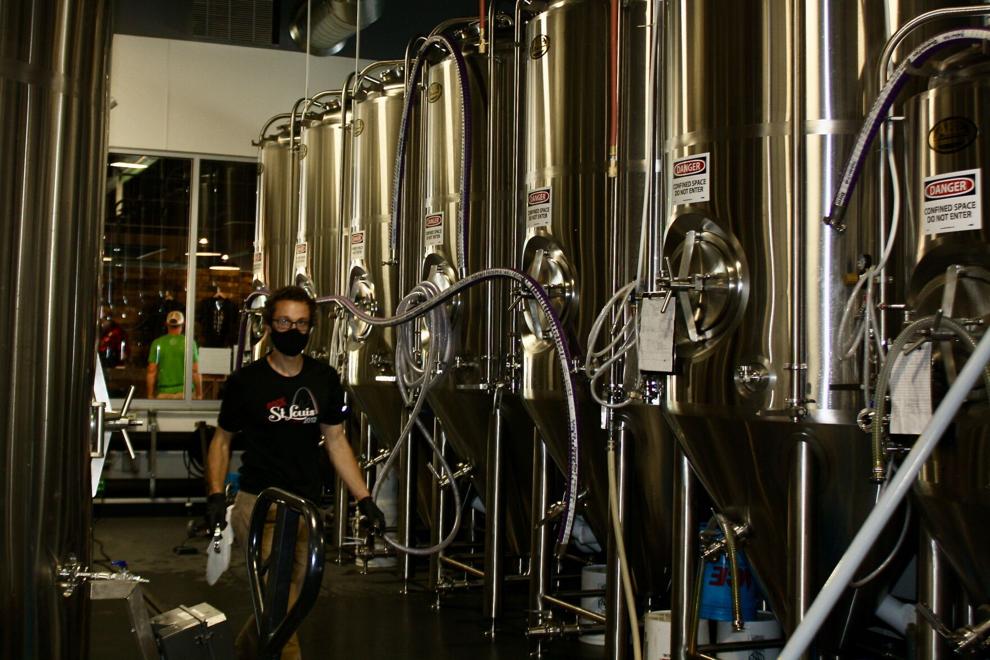 Mosher will work alongside Travis Johnson, head distiller at Black Flannel, who will split his time between the distillery in Essex Junction and working as a marine engineer in Alaska.
SUSTAINABILITY AND ENERGY EFFICIENCY were a priority for Kesler when he was designing both Black Flannel's physical space and modes of operation.
The brewery's facility in the Essex Experience Plaza is 100 percent solar-powered, the first of its kind in New England.
In addition, Black Flannel's kitchen is churning out crisp, hand-cut fries from energy efficient fryers. Local vegetables for its colorful, fresh salads will be stored in energy-saving, glycol-chilled walk-in coolers.
During the brewing process, Black Flannel is striving to use less than one-quarter of the water other breweries use to make their beer. Much of this water will be saved during the cleaning of the brewhouse, still and fermentation vessel, Kesler said.
"Not only will these energy-efficient investments save us money, they will also help us to be more socially responsible," Kelser said. "You don't have to compromise one for the other."
THE BLACK FLANNEL NAME symbolizes the brewery's mission in a variety of ways. Standing in the distillery's tasting room, Kesler explained that all of the brewery's 34 employees are masters of their craft -- from the brewers to the chefs and beyond.
The brewery's slogan, "verae artis" means "true craft" and the bowed raven standing atop an anvil, featured on every Black Flannel can, acknowledges a respect for both the practical expertise and artistic creativity of their work.
"We're crafts people," he said. "And crafts people wear flannel."