FRANKLIN COUNTY — The "kick seen around the world" lasted a moment, but the community still has more than a month to weigh in on John Grismore's actions.
His plans to become Franklin County's next sheriff became complicated when news broke that he is the subject of a state investigation and had been terminated following an incident where he kicked a detained man in the groin. 
But Grismore's name is still on the ballot, and he is claiming that he did nothing wrong. 
It's a rare circumstance when the public plays a large part in determining the result of a law enforcement investigation. Most are kept behind closed doors to prevent the public from coloring the results, but Grismore's incident is one of the few instances where a use-of-force case collides with the political practicalities of an upcoming election.
And Franklin County's political parties want him out of the way.
View from the other side
In his first public appearance since the incident, Grismore went on Northwest Access' "For the Record" – a series hosted by long-time journalist Richard Cowperthwait – to give his side of the story.
During the hour-long interview, Grismore addressed the moment in his own words. He provided no apology for the incident, and instead, he blamed the media for blowing the use-of-force case out of proportion and using untrue language and lack of context to get it done.
"It wasn't a kick. It was not in the groin," Grismore said.
At one point, Cowperthwait reads the direct words from the County Courier, which initially broke the story. Grismore contended the language read by Cowperthwait – a paragraph summing up the video – was incorrect.
The County Courier, however, was far from the only media outlet who printed the story. The public's reaction to Grismore's incident eventually blew up days later when the Associated Press picked up the story, reporting a total of five paragraphs about what had happened. 
National outlets, such as the Washington Post, eventually ran the story by using the news agency, and today, a single Google search using Grismore's name will bring up hundreds of stories about what happened.
Grismore, however, contends that it was all overblown. He said the video released doesn't show a kick to the groin. Instead, it was a thrust to the lower abdomen.
A kick, by definition, is a strike or a thrust using the foot. The groin, by definition, is the space between a person's stomach and thighs.
He also said that use-of-force is a standard part of policing, and since becoming an officer in 1997, he said he's had to use force less than five times. 
The Vermont State Police does track agency use-of-force incidents statewide. In 2021, the VSP reported 169 across the state, and at least 10 involved a situation where an officer struck someone who was intoxicated.
The verdict, however, is still out on what the VSP will do in Grismore's case. 
"The detectives hope to have their report done soon and then will send it to the State's Attorney's Office for review. We anticipate it will be a few more weeks before a decision is made by the prosecutor on whether charges will be filed," VSP public information officer Adam Silverman said by email.
As for the reason behind the kick, Grismore contends that a number of factors had created a high-stress situation for the deputies when they brought in the detainee. 
It was a hot day, he said. The deputies were responding to a high risk area. After they returned, Grismore learned from the deputies that the man had been drunk and belligerent, and at one time, the man allegedly swung at a deputy and spit in his face. 
Grismore had come into the office that Sunday to do paperwork, and he got involved when the three officers sat in the office documenting the arrest. The detainee had been shackled to a bench, and he had stepped forward off-balance to land face-down on the floor.
The other deputies entered the holding area to help the detainee, and the man asked for medical care. Grismore offered to call AmCare to check him out. 
The situation escalated, according to Grismore, when the man allegedly prepared to spit at another deputy, which could be categorized as simple assault, a misdemeanor.
Grismore said he struck the man to stop that assault.
"So in an effort to prevent myself from being assaulted, in an effort to prevent the female deputy [Karry Andileigh] who was there from being assaulted, and she was also in a compromised position, I used my foot again, this time much more quickly, and made contact with his lower abdomen.
Seconds later, Grismore put a spit hood on the man's head.
"One of the things that the public doesn't understand  — and I think that's why the video is so challenging for people that are outside law enforcement — is … That we have to use force," Grismore said. "I think a lot of people want to live in a world where we have these great new de-escalation tactics and they work all the time. They don't."
The public's role
While Grismore alleged that the media created an unfair public reaction against him, it's up to the public to ultimately decide what happens with his campaign, and there's a very real possibility that he could win as the only candidate on the ballot during the general election on Nov. 8. 
His two opponents, Mark Lauer and Gale Messier, are both write-in candidates.
The public's reaction against Grismore, however, has started the ball rolling to organize a counter-campaign.
Local political parties immediately dropped their support of Grismore after the video was released. Both parties also issued statements asking him to withdraw.
After a few backs-and-forths, local parties eventually cemented their support behind the candidacy of Lauer, a lieutenant with the Franklin County Sheriff's Office.
Thanks to the support, more signs and advertisements advocating for Lauer should be apparent this fall when the election season revs up. The Franklin County Republican committee chair, Corey Parent, said the local party will be providing campaign support, such as ad buys and campaign materials, necessary for a county-wide candidate to try to convince voters of the candidate's merits.
But if the public does give enough votes to Grismore, there is no legal issue stopping him from taking the office. Even if charges are filed against him in the future, there's already precedent this year for sheriffs to continue to do their jobs even while going through the court system. 
In Addison County back in June, Sheriff Peter Newton was arraigned on two counts of sexual assault, one count of second-degree unlawful restraint and one count of domestic assault.
But he still holds the seat.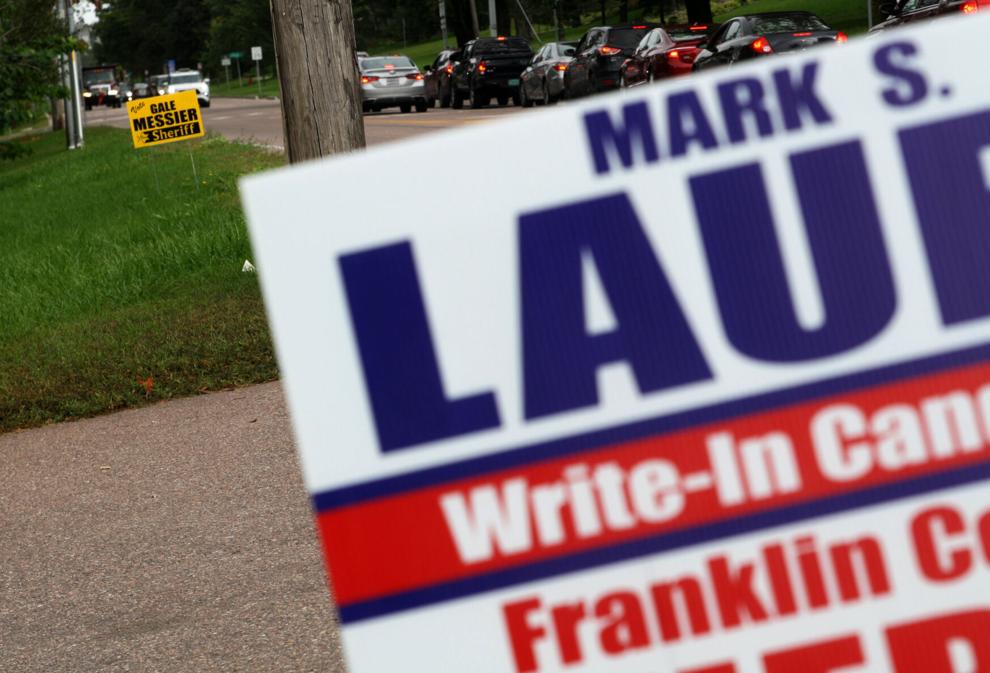 Grismore said he's had an outpouring of support after the video of the incident was released. He didn't name anyone in particular, but he said he's heard from a lot of people who know they're not getting the whole story, he said. 
"I received a tremendous amount of support. The silver lining in all of this is just how many people have gone out of their way to just give me their support," he said.
Grismore's election attempt, however, could have larger repercussions for the county and the sheriff's office.
Sheriff candidate Mark Lauer said he has the support of current sheriff's deputies, and if Grismore would return, that would create the situation of a terminated employee taking over the office.
If deputies decided to leave as a result, that would exacerbate staffing needs, which then could bleed into the office's contracted duties. At this point, however, it's largely speculative.
The Franklin County towns that hold contracts with the sheriff's office, such as Richford, Enosburg Falls and St. Albans Town, are largely taking a wait-and-see approach before making any decisions about their relationships with the office
For example, the village manager of Enosburg Falls, John Dasaro, said the village's primary concern isn't with the election but how the sheriff's office will approach already existing staffing problems.
And if Grismore is elected, they'd cross that bridge if it ever gets here.
"Whoever is elected, we have to work with them," Dasaro said
Messier and Lauer, Lauer and Messier
That leaves the two write-in candidates looking to upset Grismore's campaign. Mark Lauer has the nod from local political parties, but Gale Messier alleges that since he's more well-known, the political support Lauer has received is more symbolic than substantial.
Both candidates have law enforcement experience. Much of Lauer's career was spent working with the Vermont State Police in intelligence work, and at one point, he headed up the Vermont Intelligence Center. He began working with the Franklin County Sheriff's Office in 2017 after being hired by former sheriff Bob Norris.
Messier's experience stems from 20 years as part of the military police, and another 20 years with the Chittenden County's Sheriff's Office. Messier's brother, Dale Messier, ran the office prior to Norris, who beat out Gale Messier for the job in 2010.
Answers by both candidates have been slightly edited for brevity and context.
Q:  Why did you decide to run for office?
Messier: I saw the tape. I was the first one to step forward. I feel that somebody needs to run, and I'm qualified, so that's why I decided to jump in.
Lauer: When the situation developed at the office, we had received notice that a couple individuals had reached out to various deputies looking for their support as write-in candidates. So I thought about it and I opted to do my own polling, and based on what I found, I felt it was a great opportunity to take the initiative to run. 
Q:  What initiatives or plans do you have for the office?
Lauer: So I'm going to continue on the same path established by [Sheriff] Roger [Langevin]. Some of that will include additional diversity training, more de-escalation training and things like that — those are things that he initiated and I would like to continue with them.
Messier: I would just work closer with the towns, give them feedback on the patrols and give them monthly updates. We're here to protect and serve the communities and I'd make sure that's being done.
Q:  How would you prevent use-of-force incidents?
Messier: They do have to pass a polygraph and have a background check and a MMPI (a personality assessment). That should catch most of it. If they have an anger problem, we'd catch it when we hire or with close supervision of personnel.
Lauer: If you look historically, there have been virtually no incidents [at the Sheriff's Office]. I can't think of any during my tenure as employed by the sheriff's department. It's not systemic. It's not an overwhelming problem, but I think that we can benefit from additional training, no matter what it is.
Q:  How would you address staffing concerns?
Lauer:  Some of the things that I would like to look at doing are referral bonuses, referral incentives. If we refer somebody, if they get training and get off probation, we reward [referrers] somehow. We can look at some of the outreach programs, looking at schools and colleges, looking at career days, to generate interest in the law enforcement environment.
(Lauer also pitched looking into programs that acclimate veterans returning from overseas. He said there could be ways to hire such individuals after they go through the relevant training.)
Messier:  I would push [staffing] forward, but I would want to know where all the funding comes from. You have to make money to hire all these people.
Q: Sheriff's offices rely on contracts with towns to cover its budget needs. Would you renegotiate, or seek new contracts?
Messier: I'd try to reach out to other towns that didn't have police departments. We had Georgia, but didn't have the manpower.
Lauer: We can't necessarily re-negotiate. We can't increase our contract interactions right now, because we don't have enough manpower. Until we address the manpower situation, we're at capacity with what we have. 
Q:  Are there crimes or trends you would focus resources on?
Lauer: We are seeing a signifcant increase in drug-related activity, not only thefts but situations where we've found people incapacitated behind the wheels of vehicles. Most of the time we encounter them, they're passed out in a parking lot. Putting them through the criminal justice system is not always the right answer, so we need to work with partners to figure out how to help them.
Keeping in mind, we can't help the people who don't want to be helped, but it does cause an increase in property crimes and crimes against persons in the county. 
Messier: Probably the drugs. There's a lot of drugs around. I can see that just in Holy Cross Cemetery. You know they're up to no good, and I think that should be looked at.
Q: How do you differentiate yourself from the rest of the candidate pool?
Messier: The Sheriff's department needs new eyes. It needs someone outside of the sheriff's department to run it to see what it could do.
Lauer: I have done every single thing in the Franklin County Sheriff's Office – policy writing, transporting prisoners, court security. The most recent was as detective seargent at the Northwest Unit for Special Investigations, working on sexual assault and child abuse crimes.