MILTON — After serving french fries and burgers out of a truck in Malletts Bay for nearly 12 years, Brian Billings and his family are finally setting up a brick and mortar joint in Milton.
Bri's Fries is opening Monday, Jan. 18 on Southerberry Drive, and you can expect all manner of family members to be there — behind the counter and in the kitchen.
Transitioning from food truck to storefront
For the last five years or so, Billings had been wanting to move the business out of the food truck.
"We kept outgrowing it," Billings said. "I kept getting a bigger truck and a bigger truck, and it was only seasonal down there. Here, we can be year-round."
When Bri's Fries opened in 2009, it was first stationed out of a "hippie" school bus. Later, it moved into various trucks, all painted the brand's signature bright pink.
Located on East Lakeshore Drive, across from Bayside Park in Colchester, it was typically only open for the few short months of the summer season.
Billings said Milton is expanding, and therefore thought it was the perfect place to set up shop permanently.
"Milton is growing, very much so," he said. "I like that this is a place where my daughter and son can work — it can be ours for years down the road."
Since the beginning, Bri's Fries has been run by Billings, along with his daughter Shelby and son Tom. He isn't scared about making a big business move in the midst of a pandemic, because he knows his family will be with him through thick and thin.
"We work our business," Billings said. "We don't have someone work it for us. It's only family here."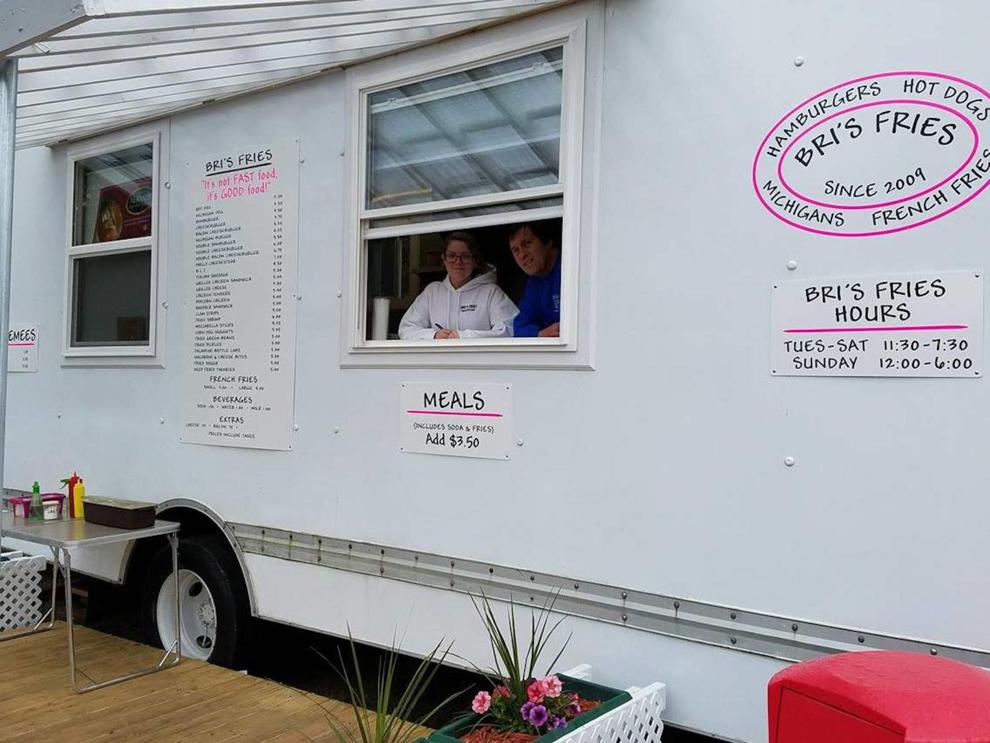 Truck fare in a diner setting
Diners can expect much of the same fare that was passed out of the truck window, like cheeseburgers, fried pickles and corn dog nuggets.
Billings will continue to make his aunt and uncle's famous Michigan sauce, which starts with a base of ground beef and then is spiced up. Try the sauce on one of the burgers, which are made fresh, not frozen.
Of course, at a place with fries in the name, ordering a side of hot, crispy fries is a must.
"We hand cut them, blanch them and prep them ourselves every morning, so they always have a fresh taste," Shelby said.
Shelby, Billings' daughter, also said she convinced her dad to add milkshakes to the menu, something they didn't have room for when they were working out of the truck.
"That's our main add to the menu," she said.
Bri's Fries is opening in the former home of Milton's Apollo Diner, so the vinyl bar stools and booth seats might cause a deja vu moment for visitors.
A shiny counter extends from one end of the space to the other, and big thick-glassed windows offer plenty of natural light.
Billings said he'll be seating guests at every other booth, in order to follow the seating capacity limits put in place by Vermont's COVID-19 guidance.
"A lot of people have been cooped up for a long time, and they do want to get out," he said.
Bri's Fries will be taking reservations for seating inside, so be sure to call ahead. For those who aren't comfortable dining in, take out will also be available.
It's all in the family 
It's been a whole family affair to get the space up and running for the grand opening on Jan. 18. All of the cleaning, scrubbing, fixing and replacing was done by Billings and his brother. Visitors will also likely see Billings' son Tom and nephew working when open as well. 
Shelby, who is 18-years-old, has been around the business for most of her life. She is looking forward to working with customers again and managing the front of house.
"Being able to work with my family is really cool," she said. "It's taught me how to start and run a business, which is something I definitely want to do down the road."
"Shelby's going to be the boss," Billings said, laughing. "I'll be back there cooking."