MILTON — Inside the glass case at Madeleine's, desserts and pastries are piled high — dusted with powdered sugar, frosted in buttercream and dipped in maple glaze. It's a batch of confectionary heaven, and Vermonters from all over are driving many miles for a bite.
Nearly ten years in, Madeleine's Bakery in Milton is perhaps busier and more well-known than ever before. Owner Erika Brice built it from scratch in 2011 with plenty of baking experience but little knowledge of finance or entrepreneurship.
"I never dreamed quite honestly that I would be here," she said. "I was a single child raised by a single parent. I always had to work because we didn't have much money. In my adult life, when I was married, my husband was a mechanic, and he tried the entrepreneur-thing. I always had to work like four jobs to so he could be the person off with the business."
After working a myriad of jobs and getting a divorce, Brice pursued a career as a baker at other people's bakeries before opening up her own. She called it "Madeleine's" because a woman she once worked for told her the name meant "magnificent" and that it often refers to a powerful woman.
"We almost closed a handful of times, but I'm proud to say we've persevered through it all," Brice said.
During the pandemic, a time when other restaurants have closed or seen a slow-down in business, Madeleine's has more than just persevered — it's exploded.
"I didn't know what was going to happen," she said. "But we've actually grown in the past year. We've become huge from COVID."
Going viralBrice estimated the bakery has seen 5,000 more customers since March, and credits much of that growth to social media and one Facebook page in particular that's given Madeleine's some unsolicited advertising.
To Go Tour, a private Facebook group with over 21,000 members, has been highlighting Vermont restaurants and eateries that offer take out. Members and administrators share recommendations, leave comments and post photos.
Madeleine's Bakery has been shared consistently — sometimes several times a day — since To Go Tour was started in March 2020.
"The thing to do has become to go to Madeleine's to get donuts," Brice said.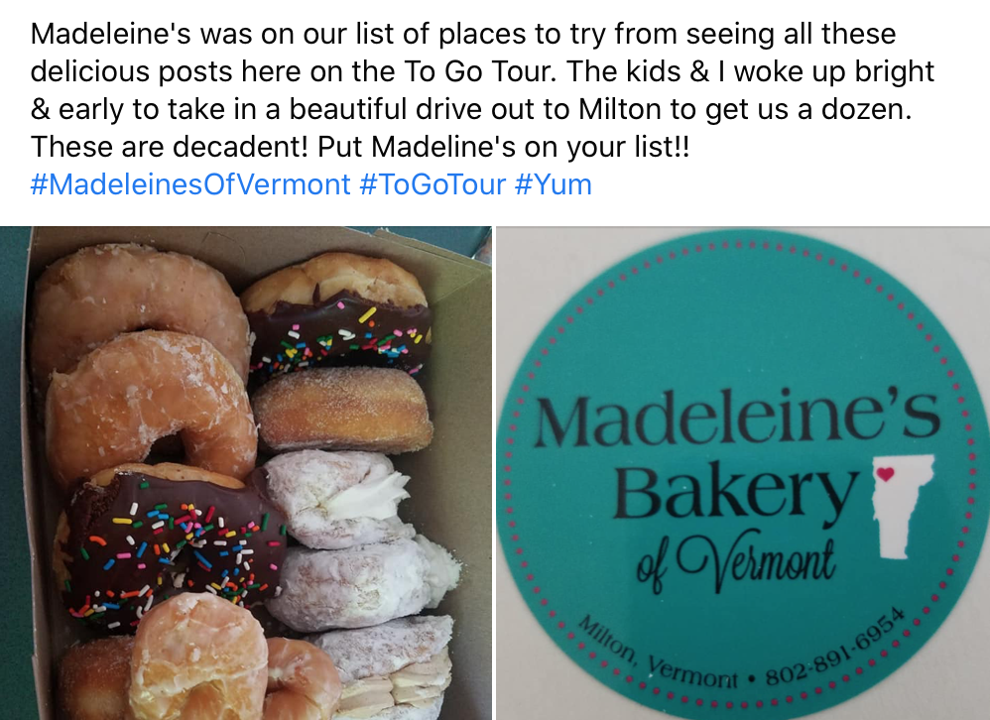 Members of the group use exclamation points, emojis and all caps to declare their love for Madeleine's donuts — especially those that are maple frosted — as well as its cinnamon rolls, eclairs, cakes and bagels.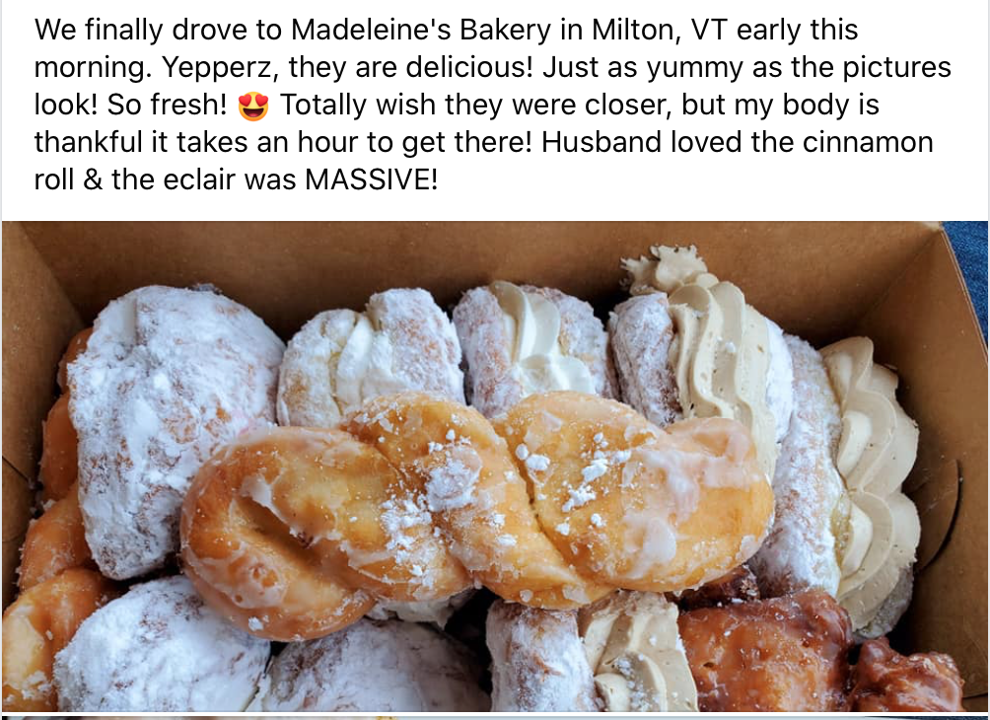 "The To Go Tour has really helped put us on the map for people," Brice said. "Milton has always been very supportive of us on the weekends, no question, but now with remote learning and people working from home, people from out-of-town are driving here mid-week."
The uptick in business might mean expansion is on the horizon. With eight people in the kitchen every day and a socially-distanced line winding out the front door, Brice could use more space. She's thinking about creating a to-go window and moving her desk out of the main room.
"My head is constantly spinning about how we can evolve and change," she said.
Learning to leadIn the last decade, Brice has grown into the leadership role owning a business has placed upon her. While she's had to work hard at developing the management skills necessary to lead her team, she's also realized other skills come naturally.
"Being a woman boss has its benefits," she said. "It makes you emotional and makes you sensitive to your employees' needs. It makes you compassionate."
But those benefits sit on one side of a teetering scale, Brice explained. In her experience, female leaders are often weighed down by unfair judgements and double standards.
"Sometimes, when a woman acts in a man's role, she's perceived as mean or overly-critical," Brice said.
Surrounding herself with other female business owners and her large friend base has been integral to her success. They talk, share experiences and learn from one another.
One of Brice's best friends, whom she met in the seventh grade, also works at Madeleine's. Having her nearby all day long helps manage Brice's stress. They bounce ideas off of each other, make each other laugh and break into spontaneous dance. Their close relationship has had a ripple effect and has helped ensure everyone on staff gets along.
"There's no drama," Brice said. "Everyone loves each other, and that I think is really what makes this place go around."