In one of her many recent interviews, Jen Ellis said she thought the frenzy that ensued from the world seeing her mittens on Sen. Bernie Sanders' hands during the presidential inauguration would quickly die down — much like other fads that hit the internet and fade away just as fast.
A couple weeks later, however, it seems as though that frenzy is staying strong.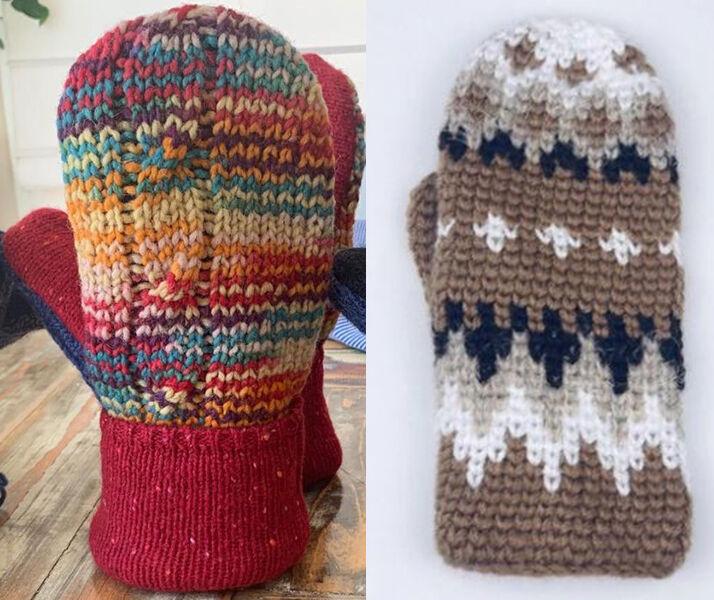 While the memes on social media may not be as popular as they were following the Jan. 20 inauguration, people continue to clamor for Sanders' style. To no surprise of Ellis' Essex neighbors and friends, there were even websites created trying to sell knockoff mittens that are labeled as being authentic.
Mittens for charity
Ellis had said she wasn't making mittens anymore. However, she did bust out the knitting needles to put together three new pairs that went up for auction last week — two for charity and the third to support her daughter's college fund.
There were 93 bids for the pair that was dedicated to aiding the college fund, with the winning bid being $6,100, but that auction fell through and Ellis had to put them back up for grabs on eBay.
There were 105 bids submitted for the pair set to support Shelburne's Passion 4 Paws dog rescue, the winning bid there being $3,800.
The winning bid — of the 30 submitted — for the pair gifted to support Outright Vermont, however, ended up just being a donation. Vermonter John Canning submitted the winning bid of $7,650; he then told Outright Vermont that he'd be giving the mittens back to the nonprofit so that it could raise more money. They then went to the second-highest bidder for a total of $14,850.
But Canning wasn't done yet.
The long-time donor to Outright Vermont told the nonprofit that if it could raise $10,000 by Feb. 5, his business, Physician's Computer Company based in Winooski, would match that amount. To donate and help Outright Vermont reach the target, visit getberniesmittens.com.
Sanders himself took the opportunity to use his likeness of donning the Ellis-made mittens to raise money for charity. His campaign store started selling crew neck sweatshirts and T-shirts with the image of him sitting at the inauguration — his mittens folded over his lap — on the front. They quickly sold out and raised a reported $1.8 million for organizations like Meals on Wheels and Feeding Chittenden.
Darn Tough Socks and Vermont Teddy Bear
More recently, Ellis has started to partner with a pair of Vermont-based manufacturers to create products inspired by the Bernie mittens. On a GoFundMe page set up on her behalf, Ellis is quoted as saying that she's hired a lawyer, media specialist, and an accountant to help her with those ventures. As of early Wednesday evening, that crowdfunding campaign had raised $6,037 of the $7,500 goal.
"So many people have experienced joy and laughter from Bernie's mittens," said Ellis, "and I want to harness that joy for a movement of generosity, because I believe that 'Generosity Brings Joy!'"
Playing off her name and mission, Darn Tough Vermont — a company based in Northfield that makes the popular Darn Tough Socks — created a line called the Jenerosity Sock.
They are Bernie mitten themed with proceeds from their sales going to support the Vermont Foodbank. Unfortunately for interested customers, the preorders quickly sold out.
Ellis has also teamed up with the Vermont Teddy Bear Company based in Shelburne to produce Vermont Swittens — mittens just like those worn by Sanders with an authentic sign-off by the original creator. A portion of proceeds from the Swittens sales will go to support the Make-A-Wish Foundation of Vermont.